Amaroun
Contact
The word "Amaroun" comes from the word fighter. The Amaroun people were run away slaves during the 17th century. They fought for their rights and set up there own civilization in the hills. They developed their own art and culture and were apart of the freeing of slaves in the Caribbean.

Amaroun is a producer and singer songwriter from Northamptonshire. Growing up in her rural village Overstone, and being the child of parents of Caribbean descent, the unique mix of cultures created an experience that was interesting and diverse. This mix of this upbringing opened her up to an array of interesting and unusual experiences.

It would be important to say that Amaroun's music was naturally embedded in the alternative scene from a young age. She naturally gravitated to her Mothers guitar at the age of 8 and began her nu-metal roots. Amaroun first established herself as a proclaimed musician when she fronted and wrote songs for her school band Memphis that she joined with her two best friends and her brother.

Emerging alt-folk artist Amaroun has announced the forthcoming release of her debut single 'Bed Bugs'. The Northamptonshire singer songwriter's first effort is a powerful introduction to her unique sound, shaped by her distinctive mix of cultures and upbringing that was naturally embedded in the alternative scene from a young age.

Drawing influences from the likes of Beck, Eels and Sharon Van Etten, Amaroun's direction and identify has been very clear from her youth, and an awareness of her sound from a technological and sonic point of view exemplifies the rising star's undoubted ability.
Amaroun's passion for music goes beyond the self; as an artist she spends time working on her collective and annual festival Greenstone in her hometown where she provides a platform for other incredible musicians to showcase their artistic talent.

'Bed Bugs' is an exciting taste of what's to come from Amaroun in 2016, with her new material set to be accompanied by a stream of animated videos that tell a story in abstract fashion, which add a beautiful display of collaboration between animation and music.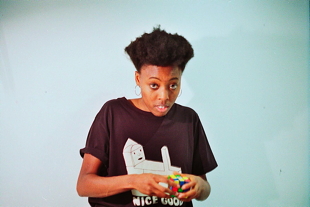 tracks=277348381