KIOKO
Contact
Formed from the remnants of various young bands, having been friends from college days, KIOKO are a group of multicultural musicians who have embarked on a journey to bring people their own brand of soulful pop heavily influenced by dub, reggae and ska.

A band of big personalities and even bigger song hooks, KIOKO! pride themselves on writing accessible, head bopping tunes, but also take pride in the fact their music is sociologically and politically relevant to todays ever changing society.

Having performed with award winning rapper Tinie Tempah, to ska legends The Specials, KIOKO have a wealth of performance experience and are set to win over, audiences old and new, with an upcoming nationwide tour and brand new E.P.

"An infectious infusion of reggae, ska, and rock that you'll find it impossible not to fall head-over-heels for"
Counteract-Magazine

Introducing KIOKO, the Birmingham-based band whose debut EP 'True What They Say' drops November 29th on Broken Records via Ditto Music. This young, multicultural septuplet serve up a stew of brassbound reggae, potent pop hooks and sharp songwriting sensibilities unequalled since the heyday of UB40. The EP's lead track 'Deadly Roots' - a sizzling blend of the conscious British roots of their spiritual successors and the contemporary chart skank of 'Magic!' - has already won KIOKO airplay on the Huw Stephens show on BBC Radio One.

The EP was produced by legendary British reggae figurehead Spider Johnson, (Lee 'Scratch' Perry, Mad Professor) who has acted as a mentor and champion for KIOKO since being introduced to the band. Recorded in Spider's studio, 'True What They Say' sets out KIOKO's table across four tantalising tracks. Jumping off with the social-commentary of 'Deadly Roots', the diverse EP takes us across the introspective bounce of 'True What They Say', to the effervescent British reggaeton of 'I'm Attracted', to the unmistakable future classic 'Don't Keep Me Waiting'. Mixing all the tastiest bits of the dubbed-out production of King Tubby, the stylistic fearlessness of Fat Freddy's Drop, and the Caribbean-laced pop of Paul Simon, KIOKO deliver a timeless feast that belies the band's tender years.

It wasn't too long ago that KIOKO were playing together in GCSE music class in King's Norton Boys' School, writing and performing their first ever song - the aptly titled 'Early Days' - for a school concert. In time, the band grew from the stage at school to opening up for a range of acts from The King Blues to Tinie Tempah and even ska legends The Specials. The strength of their energetic, horn-section enhanced live show won KIOKO, The Roundhouse's 30/30 competition, resulting in their fortuitous introduction to Spider Johnson, who took the guys under his wing and set about recording an EP.

In 2014, with the record finished, university courses completed and following a major re-branding for the band, the vibes are finally right to share 'True What They Say' with the world. KIOKO drop the heavy sound of 'True What They Say' on the 29th November before embarking on a nationwide tour. If you're looking for a band with the fire to represent the next generation of reggae, a scorching live show and songs hot enough to back it all up, well... you're getting very warm indeed.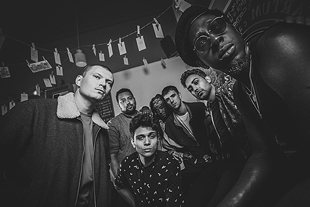 playlists=58328071
| | | | |
| --- | --- | --- | --- |
| 20 Jul 17 | | The Secret Garden Party | Huntingdon, UK |
| 22 Jul 17 | | Hare & Hounds | Birmingham, UK |
| 05 Aug 17 | | Belladrum Tartan Heart Festival | By Beauly, UK |
| 11 Aug 17 | | Boomtown Festival | Winchester, UK |
| 12 Aug 17 | | Boardmasters Festival | Newquay, UK |
| 17 Aug 17 | | Green Man Festival | nr Crickhowell, UK |
| 26 Oct 17 | | O2 Academy 2 | Birmingham, UK |
| 27 Oct 17 | | The Pickle Factory | London, UK |