Ride
Contact
Ride arrived on the scene as a bolt from nowhere, from Oxford, in 1989. Ride had tunes, noise, looks, style, confidence, everything. And they had youth: their two guitar-playing singers Mark Gardener and Andy Bell were both just 19, as was drummer Laurence 'Loz' Colbert. Steve Queralt, the bassist, was the oldest at 21.

They'd come together on a foundation course at North Oxford Art College and had been playing around the Thames Valley area for less than a year.
Justifiably mistrusting the A&R scramble that ensued, they instead signed up where they felt they belonged, Alan McGee's Creation Records.
Their first release 'Chelsea Girl' off the 'Ride EP' gave Creation its first top 75 single and paved the way for many more.

By April 1990, they'd charged up enough audiences for there to be real anticipation for their next record - the 'Play EP'' - and on that buzz alone, it went in at - unthinkable! - Number 32. Bands just didn't happen that quick. Even the Roses and the Mondays and the Scream, who'd all been going for years, had only just started to hit. "It took Primal Scream six years to become a genius band," gushed McGee at the time. "Ride have managed it in six months." Eager anticipation now shifted onto Ride's debut album.

Preceding it by a month came the 'Fall EP', the band's third, with a foreboding atmosphere about it that those hooked on the noise/pop pleasures of 'Chelsea Girl' and 'Like A Daydream' might not have foreseen. After the Smithsian daffodils last time out, the sleeve showed penguins freezing to buggery in the snow. The four tracks were headed up by their darkest composition so far, 'Dreams Burn Down'. For all the uncompromised storm clouds, 'Fall' near as goddammit matched the success of 'Play' at Number 34.

When 'Nowhere' dropped in October '90, it not only became Creation's first ever Top 75 album, but shot in at Number 11, to blanket critical appreciation. It was angst, but it was ecstatic, as witnessed by Bell's awesome closing track, 'Vapour Trail', its brooding bassline/cello finale leading up and away into infinity. A fitting climax to the finest debut album of 1990. The rest of the world was listening.

Ride were pop stars. Where so many of their contemporaries had failed to stretch their fame beyond the British coastline, Ride were truly a global success. Tickets for the Japanese tour sold out in 12 minutes, and 'Nowhere' went Top 10 there. 'Vapour Trail' from the album was also a huge US radio hit. As people, the band's time wasn't their own anymore.

....Wednesday 19th November 2014....

Laurence Colbert, Andy Bell, Steve Queralt, Mark Gardener (Ride)'s statement arrives as the following two quotes:

"Your first band is like your first love; you never forget it, and you never feel quite the same way about any other band."
David Crosby

"In noise can be read the codes of life, the relations among men.
Clamor, Melody, Dissonance, Harmony; when it is fashioned by man with specific tools, when it invades man's time, when it becomes sound, noise is the source of the purpose and power, of the dream - Music."
Jacques Attali

The Oxford four piece: Andy Bell, Mark Gardener, Laurence 'Loz' Colbert and Steve Queralt last took to the stage in the UK as special guests to Oasis at the Brighton Centre in December 1994, with Benacassim Festival in 1995 marking their last live performance - until now. It has taken twenty years for an official reunion to materialise, and fans have been pining for Ride to get back together ever since.

In the meantime Andy Bell played with Hurricane #1, Oasis and then Beady Eye, and Mark Gardener and Loz Colbert worked and played together for an album with The Animalhouse. Gardener then went on to write a solo album, with various touring and collaboration commitments in addition to his ongoing Ox-4-Sound mixing/production and soundtrack work. Colbert continued to play music, with acts such as diverse as Supergrass, Damo Suzuki and The Jesus and Mary Chain as well as Gaz Coombes' solo project, and Steve Queralt retired from a musical career altogether.

The band's name started to get thrown around during a brief nu-gaze movement around 2006 with bands like Animal Collective, Deerhunter and Panda Bear all citing Ride as heavy influences. Even Radiohead tried to persuade them to reform by requesting them as support for their South Park Oxford show in 2001, but to no avail. The planets have now aligned and Ride will finally hit the road again.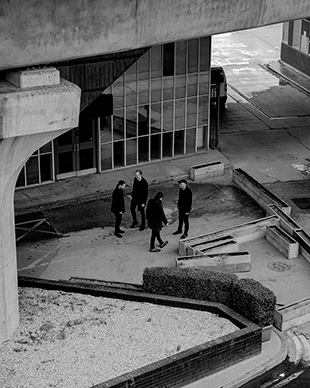 | | | | |
| --- | --- | --- | --- |
| 12 Jun 17 | | Village Underground | London, UK |
| 21 Jun 17 | | Glastonbury Festival | Pilton, UK |
| 11 Jul 17 | | O2 Ritz | Manchester, UK |
| 13 Jul 17 | | Benicassim Festival | Benicassim, SPAIN |
| 14 Jul 17 | | Latitude Festival | Southwold, UK |