Balming Tiger
Contact
A diverse music collective taking their name from the famous Asian tiger balm ointment, Balming Tiger is a self-proclaimed "alternative multi-national k-pop band" with the aim to create a global impact.
Balming Tiger's main creative vision is to reflect and represent today's younger generation of society, with also having the goal of further popularising Asian culture to the rest of the world. Members include artists Omega Sapien and Sogumm, producers San Yawn and Unsinkable, DJ Abyss, and film-maker Jan'qui, creating a group that is both talented and versatile. 
 From their first mixtape 'Balming Tiger vol.1 : 虎媄304', to the most recent release of Balming Tiger - 'Armadillo' (Feat. Omega Sapien, Byung Un), Balming Tiger chooses to approach music from a versatile standpoint rather than one recurring genre, taking advantage of the opportunities brought by using the internet as a platform for music distribution.
In particular, their first mixtape 'Balming Tiger vol.1 : 虎媄304' acts as a unique fusion between various typically separate genres such as K-pop, psychedelic, and hip-hop music, to parallel Seoul's energy of individualism but also harmony. 
 'Balming Tiger Comics' is Balming Tiger's own fictional universe. They use this comic-style with characters and themes unique to Balming Tiger for album art and promotional work. The artwork represents their musical ideas visually, making use of the narrative form that comic-style art provides.
Photo by Kigon Kwak (곽기곤).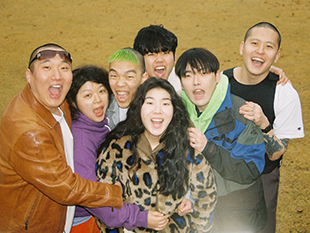 | | | | |
| --- | --- | --- | --- |
| 05 May 20 | | Les Nuits 2020 | Brussels, Belgium |
| 07 May 20 | | Cinetol | Amsterdam, Netherlands |
| 14 May 20 | | The Great Escape | Brighton |
| 16 May 20 | | The Great Escape | Brighton |
| 20 May 20 | | Kantine am Berghain | Berlin, Germany |