Col3trane
Contact
Listen to Col3trane's songs and it is immediately obvious that he's obsessed with music. A perfect synthesis of soul, R&B, and ribcage-rattling hip-hop production, 20-year-old Cole Basta makes dark and murky confessionals inspired by an eye for the spectacular.
Born and raised in North London to American parents, his earliest memories of listening to music came from long road trips where the car would be filled with the sounds of Motown, David Bowie, Michael Jackson, and his mum's favourite, Prince. Then, as a small child developing his own taste, a copy of 50 Cent's 'Get Rich Or Die Tryin' made its way into his possession, thus beginning a love affair with hip-hop. As a teenager Col3trane took a deep dive into the genre's golden era: Nas, Biggie, and more. It was inevitable that he'd end up making music himself. A lifetime of influences were bubbling under and waiting to burst out.
The early days of his work were raw. "After my 16th birthday my mum got me a pair of speakers," he recalls. "My step-dad worked in radio and gave me a radio mic too. I came home one day, I'd been smoking, and I was messing around with my brother's old laptop. I realised then that I could try some stuff so I dragged a J Dilla beat into GarageBand and started doing shit. It was fun so I kept doing it."
Soon enough his early material, including a jazz-laced cover of Mick Jenkins's 'Shipwrecked', was uploaded to SoundCloud where he became part of a busy and creative community of DIY artists freely experimenting with different sounds. He may have been a confident teenager but Col3trane knew the online world was filled with competition: rising above the noise was easier said than done. The sign that things were heading in the right direction came one night while revising for an AS level exam. An offer from a management company wanting to work with him. Although things didn't work out with them it was enough to convince him that music was a career worth pursuing.
Fast forward to November 2017 and the 'Tsarina' mixtape. Those early days listening to 'Purple Rain' and Michael Jackson's greatest hits combined on the tape with the hard-edged production found in Col3trane's love of rap to create a soulful new style. "The goal was to make people hear it," he says now. "Creatively, I wanted to show people as many different things I could do as possible. Different moods and vibes. I wanted to know what people thought of my music and i was really happy with the results."
Since 'Tsarina' dropped Col3trane has spent time in Los Angeles, connecting with different artists and producers and even hanging out at Rick Rubin's house ("the most magical place I've ever been. It's epic.") It's a home away from home in many regards. Not only is he able to hit the studio with a network of collaborators, but as a child of American parents, Cole always felt a closeness to the United States. "I always say I was raised in London but in an American house," he recalls. "U.S. culture was always in my household."
While he was out there he finished his second mixtape 'BOOT (Breathing Out Of Time)'. The tape pushes the Col3trane sound further, taking in sounds inspired by the UK jazz scene. Cole is often to be found at north London's Total Refreshment Centre, a lively hub for the current wave of diverse and collaborative artists. He cites both saxophonist Nubya Garcia and drummer/composer Moses Boyd as inspirations on his work. Across the board, a freeform way of thinking about music runs through Cole's music, including the experimental pop heard on lead singles 'Fear & Loathing' and 'Britney'.
"Lyrically it's very grounded and personal but musically I'm out there doing as many different things as possible," he says. "This tape is cinematic and powerful, picture painting songs, happy songs, sad songs, sad songs that sound like happy songs, and happy songs that sound like sad songs."
Literature is Col3trane's biggest influence outside of music and 'Fear & Loathing' is inspired by gonzo journalist Hunter S. Thompson's 1971 classic. "When I started this project I was reading a lot of mid 20th century American literature," he says. Bret Easton Ellis's 'Less Than Zero' was one such book while a copy of Lionel Shriver's 'We Need To Talk About Kevin' is currently being devoured. It's the mix of hyper reality and distorted takes on a situation that appeals. "I like writing about the things that bother me. When tough things happen in my life I write my best music."
Following the release of 'BOOT' late last summer, Cole solidified his standing as one of London's most differentiated young talents with the release of his 'Heroine' EP, which features Goldlink, Raye, DJDS and Sega Bodega. Together the tracks seamlessly navigate genres such as hip-hop, future R&B and pop and act as a compelling testament to the strength of Cole's lyricism and song-writing.
Col3trane is a bag of exciting contradictions. His music lives a life of its own; experimental. Passionate, twisted, and unusual but with an undeniable pop appeal. He's an artist equally at home on the arena stage as he was creating beats in his bedroom trying to capture the sounds exploding in his head. Ask him who his peers are and he can't answer, putting it in the simple but truest term, "My lane, it's a new one."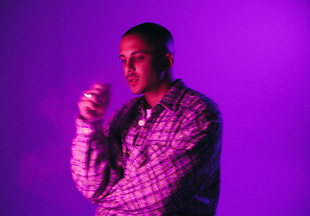 19 Jan, 2018

Many Primary Talent International artists have been longlisted in the Unsigned Music Awards. The shortlists will be announced on 7th March, and the final winners at an event at the Brighton Centre on 16th May, as part of the opening ceremony of the Great Escape Festival.

Best Male Solo Act
...Benny Mails
...Col3trane
...Puma Blue

Best Female Solo Act
...Bryde
...Joy Crookes
...Lyves
...Ray BLK

Best Songwriter
...Carmody

Best Urban Act
...Awate
...Benny Mails
...Dave