Hop Along
Contact
April 6th marks the release of Hop Along's third studio record, 'Bark Your Head Off, Dog'. Written over the course of 2016 and 2017 and recorded in the summer of the latter year by Frances Quinlan (songwriter / vocalist / rhythm guitar), Tyler Long (bass), Joe Reinhart (guitar), and Mark Quinlan (drums), the album addresses disappointment, particularly in man's misuse of power, and relates accounts from the periphery -- one's attempts to retreat from the lengthening shadows of tyrants, both historical and everyday. It considers what it's like to cast off longheld and misguided perceptions, yet without the assurance of knowing what new ones will replace them. Much like on Hop Along's first and second records, 'Get Disowned' and 'Painted Shut', Quinlan seeks in real time to work through these issues.
Throughout the album, one gets the sense that Quinlan is wandering in the thicket of a forest - a state of being that will feel familiar to longtime listeners - and on this outing, she hasn't left a trail of breadcrumbs behind her. The album's artwork, which Quinlan painted herself, invites the listener into that forest, as well. "There is a terror in getting lost," she says, "the woods are at the same time beautiful and horrifying." This curious wandering gives the album, both lyrically and musically, a heightened dimensionality.
'Bark Your Head Off, Dog' is, without question, Hop Along's most dynamic and textured record yet. Self-produced and recorded at The Headroom in Philadelphia by Reinhart and Kyle Pulley, 'Bark Your Head Off, Dog' features the familiar sounds that have always made the band allergic to genre: grunge, folk, punk, and power pop all appear, with inspiration from ELO to Elvis Costello to '70s girl group vocal arrangements. This time around, they've added strings, more intricate rhythms, lush harmonies (featuring Thin Lips' Chrissy Tashjian), along with a momentary visit with a vocoder. In more than one place, Mark Quinlan drums like he's at a disco with Built to Spill.
Most significantly, Bark Your Head Off, Dog shows the band at its strongest and most cohesive. Hop Along (which originally began as Quinlan's solo project under the moniker Hop Along, Queen Ansleis) has never sounded so deliberate, so balanced. "So strange to be shaped by such strange men" is a line that repeats on more than one song on the album. "I've been thinking about that a lot. That I just deferred to men throughout my life," Quinlan says. "But by thinking you're powerless, you're really robbing yourself. I'm at a point in my life where I'm saying instead, 'Well, what can I do?'"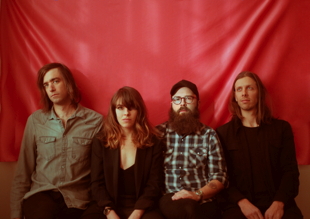 | | | | |
| --- | --- | --- | --- |
| Jan | Feb | Mar | Apr |
| May | Jun | Jul | Aug |
| Sep | Oct | Nov | Dec |