Hyd
Contact
Hyd is Hayden Dunham. Her music asks us to pause, fall to our knees, and put our ears to the ground. Like geothermal water bubbling up through dirt, or lava bursting through the cracks between rocks, the release of Hyd's self-titled EP marks the emergence of a lifetime of underground materials. More disclosure than debut, Hyd's four-track offering lets us feel the heat that's been building underneath, calling us back down to earth.
Growing up surrounded by the thin topsoil, granite rock masses, and extensive cave systems of Central Texas, Hyd learned early on about hidden pockets of darkness, the places where light never hits, and how dry land can be overcome by rushing water overnight. Moving between high-school house parties and Texas' endless oil fields, Hyd's early influences were equal parts adolescent yearning and geological time. While the adults around her hitched their dreams to speculative futures and extraction, Hyd tuned in to other earthly intimacies: goosebumps surfacing from a whisper, of rocks and minerals dissolving and eroding, the echoes of perpetual transmutation, both because of and despite human intervention.
On a writing trip to the volcanic island of Lanzarote in the Atlantic Ocean, it became apparent to Hyd that it was time to deliver her work in the form of an EP. This body of land emerged 15 million years ago from underground eruptions, and is largely formed from solidified lava streams. The heat-based processes behind Lanzarote's formation catalyzed Hyd's vision for her new music, the forthcoming EP and beyond. Bringing together a collective of close friends and frequent co-lab-orators, including A. G. Cook, her co-creator (along with SOPHIE) of the enigmatic and controversial project QT, Caroline Polachek, umru, and Nomak, Hyd synthesized a tectonic approach that cracks through the bedrock, calling for radical vulnerability, presence, and embodiment.
Hyd's EP explores what it means to move between forms, inheriting one shape while transforming into another, queer ecosystems of care. "When I lost my vision in 2017 I started being able to see differently. In total darkness you realize you are beyond your body. That is when I wrote "No Shadow." Song "Skin 2 Skin" was next in line, erupting body heat and sensuality in a whispered and wrangled pop anthem. Foreplay and full play. From there, "The Look On Your Face" speaks to Hyd's neurodivergent childhood, co-opting non-verbal modes for connecting and communicating. The lyrics direct us to listen beyond words or what is physically evident. Last in line "The One," is a reminder that each of us has agency, and that we can reimagine and reorganize this current world. It's up to us to break down outdated systems, examine the inherited landscape and disrupt it from the inside out. Across the EP's four tracks, you feel Hyd's breath on your face, eyelashes an inch apart in the dark, body heat fogging up the windows. Hyd gets in the hottest water on the coldest night, melts ice with her footprints. Hyd has your back. Hyd is home.
Deeply enmeshed in the art world and music communities, Hyd has dedicated her practice to reinventing systems - systems of communicating, systems of sexuality, systems of interacting with our environments. Whether through her large scale sculptural practice, where she creates fluid, transformative art installations for galleries across America and Europe, with works like GEL, a vapor that traveled through the air vents of Andrea Rosen Gallery, and 7 Sisters, a seven-act performance at MoMA PS1 that incorporated dance, music, poetry, video and scents, or through a clear communion with the natural world, Hyd understands the need to sew relationships with compassion. Hyd is a gentle expression of these ideas. Always curious, always evolving, always looking inward.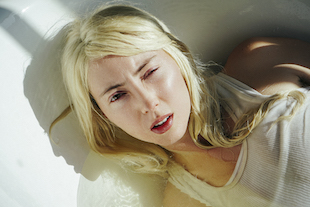 | | | | |
| --- | --- | --- | --- |
| Jan | Feb | Mar | Apr |
| May | Jun | Jul | Aug |
| Sep | Oct | Nov | Dec |