Kwes.
Contact
You probably can't remember what you were doing when you were four years old. Kwesi Sey can; he was making music. At four! Some twenty years later, at the tail end of 2011, the south London producer and electronics enthusiast we've come to know simply as Kwes signed with Warp Records - a label made for him and his lawless use of computerised sounds. He calls it -free pop", and it began in Lewisham in 1990, raised on a diet of Top of The Pops and the Top 40 Chart Show.
If anyone is a child of their time, it's Kwes. By the year of his birth (1986) the digital world was in full bloom; keyboards had become the guitars of their day; Acid House was about to redefine youth culture and dance music as a whole. Kwes would become wholly fascinated by all arms of the pop music beast, but particularly electronics, largely thanks to his first instrument, which wasn't in fact an instrument at all. He learned the fundamentals of moulding a tune on a vtech toy telephone, or at least the one-octave keyboard stuck to the bottom of it. He rarely left the house, today estimating that he spent the first three quarters of his life inside, listening to music and drawing and painting. Kwes needed little more than Top of The Pops on a Thursday evening and the radio, which he studied regardless of what was coming out of it. Be it Prince, The Pet Shop Boys or the 70s prog rock he'd grown to love, it was better than anything that was going on outside. It's precisely why today Kwes sees his creative touchstones as The Neptunes, Robert Wyatt, The Dream and multi-instrumentalist Todd Rundgren - a group of artists and producers that few would mention in the same sentence, but fewer would constantly turn to for inspiration.
You can hear it in 'Meantime', Kwes' debut release for Warp. His finest collection of songs yet, it's an EP that twinkles to life with the opening 'Klee' - a track that lays overlapping synthesisers over rustling field recordings and sparkling xylophones; a pre-tortured Fuck Buttons, if you will.
The disco shuffle of 'Bashful' and the lazily swaying 'Honey' are no less intricate proving Kwes to be quite the understated new-soul vocalist, while 'LGOYH' lives hard-and-fast to the -free pop" philosophy, incorporating everything from dirge guitar and intoxicating bass to swaths of ambient sound and what appears to be the clicking typewriter keys, looped, just how Kwes had learned on his early tape decks.
"I feel my music fits around many heads of many sizes and mental dispositions," he says; a sentiment echoed by his ability to cater for assorted pop fans. Kwes makes smart pop music ready for the radio but void of pandering; home-schooled but meticulously studied. Some will be drawn to the tape crackle, others to his unashamedly spring fresh hooks.
By the time he was seven, having whiled away the days at his grandparents' electronic organ when they weren't looking, Kwes' Nan gave him a birthday present that would change everything - a keyboard, and this time it wasn't attached to a toy telephone. "It was an amazing moment," he remembers. "It was a little bit bigger and it had a two-note polyphony instead of one-note like the vtech keyboard. That had become annoying." Soon Kwes would be composing his own songs proper and experimenting with over-dubbing on rudimentary tape-decks. It's little wonder that his aunt suggested he become a record producer, so, at the age of 14, that's exactly what he did.
2008 was hugely important for Kwes. It was the year he first collaborated with another young musician as progressive and experimental as himself. The resulting 'Kwesachu Mixtape Vol. 1' proved that Kwes and Micachu (of Micachu & The Shapes) were a match made in skewed pop heaven, as they delivered 50 minutes of cassette tape that gave birth to "free pop" - a philosophy of creating popular music that knows no boundaries, shuns no eccentricity and values inventiveness over any kind of rules that have gone before. With a second 'Kwesachu' tape due in 2012, the pair have become close friends, together galvanizing the crop of burgeoning, lawless creatives in London's underground. Ghostpoet, The XX, Elan Tamara, Sunless '97, DELS - they've all collaborated with Kwes and continue to be family-tight peers of his. He's remixed many more, from Hot Chip and Zero 7 to Damon Albarn's Monkey Opera, and in 2011 he produced Speech Debelle's second album, 'Freedom of Speech', following his highly praised work on DEL's grime-prog debut, 'GOB'.
As a man who admits to having been "very funny about putting my own music out", a follow up to Kwes' own debut single (2009's 'Hearts In Home / Tissues') wouldn't come for 18 months, in the form of 2010's 'No Need To Run' EP. Interest in Kwes' sonic experiments never waned, regardless, and both discs put him on the map as a pop connoisseur who could take synthetic sounds and make them feel not just organic but achingly human. 'Hearts In Home' yearned in its static-riddled undercurrent and Kwes' half spoken lyrics, and even the completely instrumental 'No Need To Run' felt much warmer than electronic music was ever meant to; the scattershot drums and psychedelic synth stammer of 'In & Out The UK' belonging somewhere sun-drenched and far out, where there's an endless party going on. Full of found sound and too many playful oddities to be considered straight up electro pop, and certainly not directionless enough to be frivolously dismissed as "ambient", "free pop" is exactly what these bedroom concoctions are.
In the summer of 2011, Kwes added another impressive string to his musical bow when he travelled to the Democratic Republic of Congo as part of Oxfam's DRC Music project. He was invited along by Damon Albarn to join a team of fellow producers and musicians that included Richard Russell, Actress and T-E-E-D.
On his return, Kwes would play his first live show, almost three years after the release of his debut single, in December 2011. 'Kwesachu', 'Heart In Home', 'No Need To Run' and the recently released 'Get Up' (which had been made available as a free download) all made sure that the show was sold out; all Kwes had to do was prove that his home-schooled talents could step out from behind the mixing desk. So, with a little help from Elan Tamara and drummer Georgia, that's exactly what he did. After all, when you spend three quarters of your life indoors, you're only going to leave when you're certain you've got something worth showing off.
2012 has seen the countless movements and collaborations of the last few years consolidate into an impressive body of work and Kwes finds himself integrally knitted into the fabric of the todays most relevant and exciting pop music. Now a writer and active touring member of Bobby Womack's band alongside the aforementioned Russell and Albarn he's in the unique position of being able to absorb the presence of a true legend at work and rest - performing on major TV stages from Jools Holland to Jimmy Fallon. Beyond tours, there's another anticipated tape in the works with Micachu, co-writing for The XX and stand-out production for pop singer, Eliza Doolittle.
There's Kwes remixes for the much hyped Gorillaz single feat Andre 3000 and James Murphy and a beautifully measured rework for Lianne La Havas which drags the heart-aching, soul-drenched original into experimental-gospel territory ala Prince' 'Sign of The Times'. Even for likeminded kin and kind, The Invisible, Kwes took it elsewhere, enveloping the post-rock original in heavy ambience and harmonic plates.
The humble maturity of his sound in 2012 is perhaps best expressed in this Summers presentation by Peroni & GO Opera - where Kwes reimagined Key arias from Verdi's 'La Traviata' and Puccini's 'La Boheme' and La Rondine in a bespoke contemporary structure in London, Birmingham, Manchester & Liverpool. The forthcoming Autumn / Winter production is combined with a unique dining experience with all music entirely reworked by the producer. Where all these beautiful, varied and nebulas projects find their common ground though, is rather obvious - his own music. And after all the international touring, the writing and production - there is still quiet, inspired time at home in London where all these unique experiences find their place cast in these new songs.
His best to date.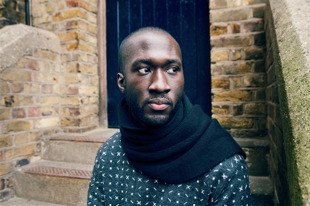 16 Sep, 2014

When Dummy put kwes.' 'ilp.' near the top of their 'British albums that deserve Mercury nods in 2014' list, we agreed with them and imagine that Hot Chip's Joe Goddard, Tom Vek, Jeremiah Jae and patten did too.

This far-ranging crew of sonic adventurers, all friends of kwes., have graciously applied their own skills to a spread of tracks from his Warp debut. Joe Goddard turns album opener 'Purplehands' into a dizzy slow motion house jam, replete with shape-shifting electro breakdown, funhouse synths and effervescent sound effects. Tom Vek takes the baton and flips 'Rollerblades' into low-riding funk pop that brings to mind Zapp high-fiving Dam-Funk with Arthur Russell in the driver's seat.

On 'ilp.' the track 'Hives' served as a grounded instrumental centerpiece, here Jeremiah Jae jumps on the mic to transform it into a vivid autumnal art-rap hit while Warp label-mate patten wraps up the EP with a mix that could be a dub version transmitted through a malfunctioning Skype connection - in the most beautiful way.

As both a reminder of the richness of the original album and a self-contained listening experience 'ilpix.' should tide listeners over until new kwes. material surfaces in 2015.

Streaming exclusively on Dazed Digital, see link below.

www.dazeddigital.com/music/article/21716/1/stream-kwes-eclectic-new-remix-ep-ilpix

13 Sep, 2013

Kwes has released a new video for the track '36', taken from their forthcoming album 'ilp', released on Warp Records on 14th October.

15 Aug, 2013

Kwes releases his debut album 'ilp' on 14th October, which features this track '36'.