Maybe April
Contact
Maybe April is a Country Americana group made up of Katy DuBois (Bishop) and Alaina Stacey. Hailing from Jonesboro, AR, and Chicago, IL, they met in the summer of 2012 at a music industry camp in Nashville, TN. They wrote a song that would later take them to Los Angeles to play at a GRAMMY week event, along with Bonnie Raitt, Kris Kristofferson, Allen Shamblin, Gavin DeGraw, J.D. Souther, Joy Williams from the Civil Wars, and many others. Since then, amongst hundreds of shows, the girls have opened for Brandy Clark and Sarah Jarosz, played Pilgrimage Music Festival and IBMA's Wide Open Bluegrass Festival, and had their video 'Last Time' premiered on CMT.
Maybe April is recognized for their harmonies, original songs, and shared roles as frontwomen, each adding something different from their musical backgrounds to create a unique sound somewhere in between Americana and Country. Their love for each other and their music continues to push them in their endeavors in Nashville, where they have been based since 2013.
Photo by Annette McNamara.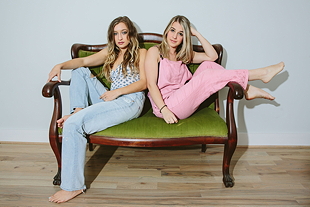 12 Mar, 2019

The SXSW festival takes place this week at various venues across Austin, Texas and features a whole host of Primary Talent International artists.

...Anteros
...Sports Team
...Maybe April
...Miya Folick
...Husky Loops
...Carson McHone
...Charlotte OC
...Novelist
...P.Money
...Sidney Gish
...Charly Bliss
...Dylan Cartlidge
...BEA1991
...Puppy
...Art School Girlfriend
...The Get Up Kids
......And You Will Know Us By The Trail Of Dead
...Bad Sounds
...Gia Margaret
...Sir Babygirl