Middle Kids
Contact
When most groups release their first single, they're happy enough to have a few friends hear it and maybe get the odd spin on local radio.
When Sydney trio Middle Kids unveiled debut offering 'Edge Of Town' in May 2016, it received considerably more attention. Sir Elton John declared himself a fan, added it to his Apple Music playlist and aired it on his Beats 1 radio show. Triple J placed the song on high rotation, while it received significant support across North America on stations such as KROQ and KCRW. To date, 'Edge of Town' has accumulated more than 2.5 million streams on Spotify. Not bad for a band that, when they recorded the single, hadn't played a show.
"The journey so far has been mindblowing," says singer-guitarist-songwriter Hannah Joy, 26. "Even just being able to play together and experiencing that has been so awesome."
Middle Kids' path to this point has been several years in the making. Joy first met producer and multi-instrumentalist Tim Fitz, 27, through mutual friends in 2014, and within six months Fitz - an established solo artist in his own right - had started producing Joy's solo material and playing in her band.
"I think Hannah's songwriting is so striking," says Fitz, who grew up in Papua New Guinea and, upon returning to Sydney, got his first eight-track recorder at 16. "There's something in the way she writes that is very insightful, she really speaks to the heart. And her voice is incredibly powerful. People will sometimes cry when they hear Hannah sing."
By early 2016 the duo's songwriting had become so collaborative they decided to form Middle Kids, pulling in drummer Harry Day, a 23-year-old graduate of the Sydney Conservatorium of Music in Jazz Performance. (Joy, a classically trained piano player, graduated from the Australian Institute Of Music in Composition and Music Production.)
"When Tim and I came together we struck something," says Joy. "We found a sound. It's obviously still developing, but we found something that resonated with us so much."
Even before they arrived at their name, the trio started recording the songs that would end up on their debut, self-titled EP. 'Edge Of Town' and the haunting piano ballad 'Doing It Right' were captured at Sydney's Parliament Studios. Other songs were tracked in Joy and Fitz's garage, such as 'Fire In Your Eyes' - an early Joy solo track, and the first number she and Fitz ever worked on together - and second single 'Your Love'> (which received high rotation on Triple J and spins by Zane Lowe on Apple Music Beats 1).
"We have a little room above the garage and there's a laundry chute connecting the two, so we'd stick the multicore cable down the laundry chute and I'd control the computer in the back room," laughs Fitz, who produced the EP. "It's a pretty ramshackle kind of set up."
While Middle Kids were pulling together the six tracks that comprise their EP - songs that fall loosely under the indie-rock banner, yet incorporate a subtle alt-country flavour, an acute sense of melody and layers of complex emotion - their reputation on the live circuit locally and internationally was growing. A trip to America midway through 2016 saw them play in venues such as the Mercury Lounge in New York and The Echo in Los Angeles ("I almost threw up from nerves before both of them," chuckles Fitz), while shows in the UK yielded a big surprise: "In London there were some girls we didn't know singing all the words to 'Edge of Town'," marvels Fitz. "Those little moments are the best."
In September Middle Kids won FBI Radio's Northern Lights competition, earning a spot on the Iceland Airwaves Music Festival in Reykjavik. It was another big achievement for a band that are destined for so many more, starting with the release of their debut EP.
"In some ways it feels like a mini-album," ponders Fitz. "We wanted it to feel like a release that had substance, and a lot of heart. We wanted it to feel urgent."
"I think there's a really lovely related contour over the EP," adds Joy, whose 2017 schedule with Middle Kids already includes a U.S. tour with Cold War Kids as well as SXSW and the Great Escape festival. "It feels like a realised vision."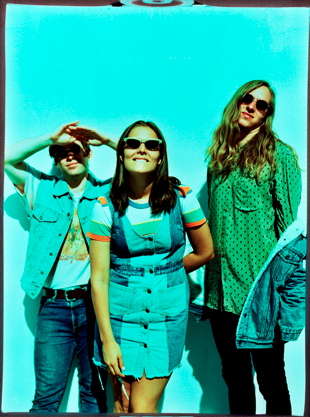 | | | | |
| --- | --- | --- | --- |
| Jan | Feb | Mar | Apr |
| May | Jun | Jul | Aug |
| Sep | Oct | Nov | Dec |