Dweezil Zappa
Contact
Dweezil Zappa was born on September 5, 1969 in Los Angeles.
He is the son of Frank and Gail Zappa. It was inevitable that from the moment of his birth his life would be filled wall-to-wall with music (his father having listed his religion as "musician" on Dweezil's birth certificate). Dweezil's early years were spent largely away from the spotlight something of a rarity for the child of a celebrity, but perfect for cultivating a close relationship with his family.
Having watched his father perform concerts from the side of the stage since he was in diapers it was no surprise that he began to show an interest in music early on. At 6 years old he received his first guitar, a Fender Music Master from his dad.
He would occasionally make noises with the guitar by plugging it in to a little Pignose amplifier. It wasn't until he was 12 that he began to show a serious interest in manipulating the instrument to make music.
Having primarily heard the music his father was working on or listening to at home while growing up, Dweezil soon found himself exposed to some new sounds on the radio. Besides his father's music he began listening to the Beatles, Queen, AC/DC, Led Zeppelin, Black Sabbath, The Who and Jimi Hendrix. Like many aspiring guitarists of his generation, Dweezil's ear was caught in a stranglehold by the trailblazing guitar styles of Edward Van Halen and Randy Rhoads.
He listened to their records for hours on end trying to figure out a way to translate what he was hearing in his head to his fingers at the other end of the guitar. Along the way, he had opportunities to ask his dad for some help. "I remember asking Frank to help me figure out the song 'Revelation / Mother Earth' from Blizzard Of Oz."
"I really didn't know anything about chords and in that song Randy Rhoads was using classical music elements that were really new to rock guitar at the time. Frank helped me learn the finger picking intro."
To gain more fundamental knowledge of technique and scales Dweezil was fortunate to have some assistance from one of the musicians in his father's band at that time, Steve Vai. Dweezil became remarkably proficient in a very short amount of time due to his intense practicing sessions.
"Steve made a notebook, which I still have, of scales and exercises and I practiced the stuff from that book at least 5 hours a day." In 1982, at the age of 12 he made his first onstage appearance with his father's band at the Hammersmith Odeon in London.
"That was a great experience. I was so excited to have been asked to play but I was incredibly nervous. Since I could only really play lead in the key of A, Frank devised a hand signal for the band to modulate the song 'Stevie's Spanking' down to A from it's original key of B. After I finished my solo he gave the cue for the band to modulate back up. It was so cool how he had so much control over the music, it almost seemed like a magic trick to me. It made a big impression on me and has stuck with me my whole life."
Later that year he recorded his first single, 'My Mother Is A Space Cadet', released on Frank Zappa's Barking Pumpkin label.
The amazing story behind that recording is that it was produced by Edward Van Halen. (On the sleeve it is credited as being produced by De Vards in order to avoid any contractual issues for Van Halen.) Dweezil was 12 years old and had only been playing guitar 9 months when this track was recorded. Edward Van Halen played the opening slide guitar riff and the outro melody with the double stop bends. Dweezil plays all of the rest of the guitar parts.
"There are no words to describe how inspirational it was for me to be able to work with Edward on that recording. I was 12, a novice player and in complete awe of his super human accomplishments. I had a terrible sense of rhythm and he tried really hard to help me with that. I had only been playing for around 9 months and I had never practiced with a metronome. He was funny in the studio. We were all so young, just 12 and 13 and Edward joked that it was time for us kids to have a milk and cookie break. When I played the solo on 'Space Cadet' Edward worked on getting the right guitar sound. That was one of my favorite parts of the session. We were using one of Frank's brown Acoustic combo amps."
"He had 5 or 6 of them that he was using on tour and Edward played through all of them to see which one sounded best. At one point he was teaching me about doing punch in over dubs, he explained that I had to play along with the parts that were already recorded so that it would seamlessly blend with the new part I was about to record. I remember it being very difficult to do since the stuff I played for the solo was not worked out ahead of time. I did the whole solo with all of the finger tapping stuff and vibrato bar dives. Edward made up a cool part that he showed me for after the solo that lead back to the vocal but I couldn't bend the unison notes in tune since my hands weren't strong enough. So he ended up playing the unison bend melody after the solo. The slide guitar intro came about around then as well. I couldn't play that in tune either since I had never played slide before and it's a specialized technique that takes a long time to master. He played that intro as well. Watching him do that stuff was so impressive. I did all of the other guitar stuff that you hear on the record".
In 1984, Dweezil contributed guitar solos to both 'Stevie's Spanking' and 'Sharleena' on Frank's album 'Them Or Us'.
In 1986, Dweezil made his debut in Hollywood as an actor with his role in the classic 80s film 'Pretty In Pink'. 1987 saw Dweezil raise his profile further with another film role alongside Arnold Schwarzenegger and Mick Fleetwood in 'The Running Man'.
In television he worked as a guest MTV VJ. During that same period he recorded and released his first full length album, 'Havin' A Bad Day'.
This album contained the single 'Let's Talk About It' which featured Moon Zappa on vocals and found itself on regular rotation on MTV. The video featured cameo appearances from Frank Zappa, Robert Wagner, Don Johnson and Jane Fonda as well.
Around this same time, Dweezil made his own cameo appearances on records for a variety of diverse artists. He played a solo on the Fat Boys' 'Baby You're A Rich Man' as well as on the Grammy nominated cover of 'Wipeout' with Herbie Hancock and Terry Bozzio from the 'Back To The Beach' film soundtrack. He was asked to join Stevie Ray Vaughan and Bonnie Raitt in contributing guitar performances to Miami Vice star Don Johnson's solo album. While Dweezil actually played on the song 'The Last Sound Love Makes' it was his appearance in the video for Don Johnson's single 'Heartbeat' that would most notably link him to the project.
1988 saw Dweezil sign a deal with Chrysalis Records, releasing his second album My Guitar Wants To Kill Your Mama. The title track and video, a cover of the Frank Zappa single, found it's way into the MTV rotation.
More TV work followed in 1990 Dweezil and Moon Zappa starred with 'Laverne And Shirley' legend Cindy Williams in a sitcom for CBS titled 'Normal Life'.
With the release of his third album 'Confessions' in 1991, Dweezil began to branch out musically, blending his heavy rock approach with touches of his father's distinct compositional insignia. Guest appearances on this album pointed the way toward the future for Dweezil, including contributions from Nuno Bettencourt, Gary Cherone and Pat Badger of Extreme and legendary guitarists Warren DeMartini, Steve Lukather and Zakk Wylde as well as Frank Zappa sidemen Mike Keneally and Scott Thunes. Both Moon and Ahmet Zappa also added vocals to the album.
Dweezil conceived and directed 2 videos from the album, 'Gotta Get To You' and 'Vanity' both of which featured Robert Wagner as a guest star.
Robert Wagner has appeared in 4 of Dweezil's videos as well as the 'Music For Pets' infomercial spoof.
There were a handful of live shows played to support the 'Confessions' album. That tour saw the band develop a unique set of skills and usher in the birth of a remarkable non stop medley that grew to contain 200 songs performed in 20 minutes.
After completing the 'Confessions' tour Dweezil formed a new band and project with Ahmet called 'Z'. The band was primed to make a new album.
Just as the band started to solidify the drummer Josh Freese exited.
Armed with a mountain of material and no permanent drummer the band entered the family owned rehearsal space called 'Joe's Garage' and rehearsed with several different drummers who ended up playing on tracks for the new album. Those drummers included Terry Bozzio, Mark Craney, Toss Panos, and Tal Bergman. Rather than move to a studio they set up for recording rehearsals. The band recorded over 3 dozen tracks at 'Joe's Garage'. The 'Shampoohorn' album was completed in 1992 but awaited it's release over a year later. It was eventually released with 2 different track listings.
The band featured Mike Keneally and Scott Thunes and initiated it's new permanent drummer, Berklee School Of Music - trained drummer par excellence Joe Travers before departing for a world tour. Thunes departed later in 1994 and was replaced by Bryan Beller who had attended classes at Berklee alongside Joe Travers. The band toured the US and Europe in 1995. They played original material as well as some more oddball medleys including the infamous 'Peavey Medley'.
It was created to take the audience on a tour of the history of music from the 60's-90's. The medley was only performed once at a NAMM show function for Peavey Electronics in 1995. Dweezil and the band were introduced that night by Dick Clark.
In 1996 released a follow-up album, 'Music For Pets', which had been pieced together over the previous three years. By the time of the album's release, both Beller and Keneally had left the band and Z gradually ceased to exist. Dweezil stayed in the public eye however with several projects including composing the theme music for the Emmy Award winning Fox television show 'The Ben Stiller Show' and on camera TV appearances including taking the role of Ajax in the Klasky Csupo animated series 'Duckman' and a TV series for the USA network called 'Happy Hour' which he starred in alongside Ahmet.
2000 saw Dweezil issue his first solo album since 1991's 'Confessions'... with the release of 'Automatic'. By this time, Dweezil's musicianship had come full-circle as he showed off his guitar virtuosity with eclectic all guitar orchestrations of 'You're A Mean One Mr. Grinch' and 'Hawaii 5-0'.
In 2003 more television work came about as Dweezil formed a band for the WB unconventional improvisational comedy 'On The Spot' and performed live in each episode.
He also composed the theme music for the WB series 'The Jamie Kennedy Experiment' and composed dozens of tracks for the music library Extreme Music. Many of these track are heard on various television shows around the world.
The next several years saw Dweezil preparing to take on an extremely difficult challenge bringing his father's legendary music back to the concert stage. In 2006, some indication of what could be expected surfaced with Dweezil's next solo album 'Go With What You Know'.
The album featured Dweezil's most creative, advanced guitar work to date and he was aided by the propulsive brilliance of Joe Travers as well as keyboardist Aaron Arntz and bassist Pete Griffin, who would soon become mainstays in the live band Dweezil was putting together.
Finally, in the spring of 2006, Dweezil's new live band Zappa Plays Zappa hit the road for their first, tour. Playing a long, ambitious set of Frank Zappa favorites and obscure gems to big audiences of crazed Zappa fans, Dweezil proved that he could reach his goal to form a core band of previously unknown expert musicians capable of respectfully executing his father's music. He was uniquely qualified to bring these compositions back to life with complete authenticity from the page to the stage. Helping to deliver the goods was his absolutely stellar band of first-rate musicians including Joe Travers, Pete Griffin, Aaron Arntz, brass / woodwinds / keyboards / obvious fan favorite Scheila Gonzalez, percussionist Billy Hulting and guitarist Jamie Kime.
Without a "cosmik crystal ball" it was impossible to see to how far into the future this project would last. Bearing that in mind Dweezil decided to add some extra frosting to the cake and invite some former FZ band members to join him on the inaugural tour. The earliest ZPZ tour included band alumni Steve Vai on guitar, Napoleon Murphy Brock on tenor sax and lead vocals and Terry Bozzio on drums.
This lineup was captured in the group's first Zappa Plays Zappa release on CD and DVD in 2008. This project netted Dweezil his first Grammy Award win for Best Instrumental Performance for its version of the Frank Zappa classic 'Peaches En Regalia'.
In 2007, the tour continued and new elements were introduced. Ray White joined the tour on vocals. This lineup of the band recorded their next live outing 'Return Of The Son Of...' which was issued under Dweezil's name in 2010. Once again Dweezil found himself up for Grammy contention when the version of Frank's guitar solo vehicle 'The Deathless Horsie' was nominated for Best Instrumental Performance.
2009 saw ZPZ undergo its first major personnel changes. Both Aaron Arntz and Ray White left the band and were replaced by keyboardist Chris Norton and Ben Thomas on lead vocals and trumpet. The band continued their run of successful worldwide tours, playing to devoted fans and showcasing a constantly-changing selection of Frank Zappa compositional gems. In October 2009 the band started to become known as Dweezil Zappa Plays Zappa, and in 2010 they embarked on a US tour during which the band played one of Frank's best-loved albums, Apostrophe (')', in its entirety. A DVD from that tour featuring performances by George Duke performing with ZPZ is imminent.
Constantly learning and evolving his guitar art, Dweezil Zappa is both the modern face of Zappa music and the person who can bring it fully-formed into the future.
Since 2010 Zappa Plays Zappa has released a few F.O.H recordings and altered it's band members. It's current 2014 lineup is known as the "rocking teenage combo"" Now a 6 piece they are firing on all cylinders propelled by the ryhthm section of Ryan Brown on drums and Kurt Morgan on bass.
Boundless energy is contributed by the rest of the line up which includes original core member multi-instrumentalist Scheila Gonzales as well as multi-year veterans Chris Norton on keyboards and vocals as well as vocals / brass / miscellaneous from Ben Thomas.
Dweezil's own music has been sidelined for nearly a decade but is currently experiencing a resurgence. With new material written and recording dates lined up, 2015 will see the debut of new releases of Dweezil's own music and the continuing evolution of his guitar style.
Dweezil's music camp Dweezilla took a hiatus in 2014 but will return in 2015 with new events in new locations. Dweezil has always enjoyed sharing his ideas with students and loves to include other guitarists he admires as teachers at his camp.
Currently Dweezil is developing a online guitar course for students by way of Truefire.com. Online lessons will become available in 2015. He has also participated with the likes of jazz legends Mike Stern and Lee Ritenour in the top notch 'Crown Of The Continent' guitar festival in Montana. 2014 marked the inaugural Frank Zappa scholarship at the festival. Dweezil plans to return to "Montana soon..." to participate and contribute to future COC events.
Dweezil's proudest accomplishments are as father to his two daughters Zola Frank Zappa (born 2006) and Ceylon Indira Zappa (born 2008). He lives in Los Angeles with his daughters and his lovely wife Megan whom he adores.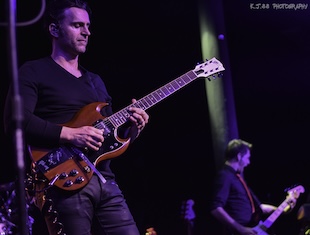 | | | | |
| --- | --- | --- | --- |
| Jan | Feb | Mar | Apr |
| May | Jun | Jul | Aug |
| Sep | Oct | Nov | Dec |