Anti-Flag
Contact
Pittsburgh, Pennsylvania's Anti-Flag have made it abundantly clear for nearly thirty years that their message and presence will always feel relevant at any given time. Never afraid to offer raw and unfiltered critiques on the failings of the modern political landscape, or position themselves across multiple genres, Anti-Flag are committed to constant evolution. While their early material was rooted in fast, anthemic, and visceral punk rock with classic albums such as Die for the Government (1996) and For Blood and Empire (2006), Anti-Flag has brought the rock back into punk rock with later records including American Fall (2017) and 20/20 Vision (2020).
Now Thirteen records in with Lies They Tell Our Children, Anti-Flag are re-emerging as energetic as ever. Powered by the intricate and electrifying guitar riffs of Justin Sane [Vocals, Guitar] and Chris Head [Guitar], along with pummeling basslines and drum patterns from Chris #2 [Bass, Vocals] and Pat Thetic [Drums] – Anti-Flag's music has taken on a colossal new weight that amplifies their message louder than ever before. "In my mind, I see all of the Anti-Flag records having a real lineage between them. It's just us getting better at writing the songs that we hear in our heads," Chris #2 says while reflecting on the band's discography.
Lies They Tell Our Children was produced by Jon Lundin (Good Charlotte, Senses Fail, Sleeping With Sirens) and offers the band's boldest collection of songs to date in the form of a compelling concept album. Working with Lundin was the perfect union for the band as Chris #2 declares, "There was no preconceived notion of what either of us was bringing to the table, and no egos were involved. It was just people who respected each other's work and were prepared to do it in a way that was workman-like. I think you can hear that in the songs, there is an urgency and that's how we recorded them. We wanted to stay on task and knew what we wanted both sonically and politically. I don't think we've worked this hard on songs since 2006 with For Blood And Empire."
As the first official concept album in the band's career, Anti-Flag meticulously addresses the greatest issues our world faces today including the need for universal healthcare and environmental preservation – all through their own historical research. "The approach we took going into writing this record was to trace back the beginning of these issues. To have a better understanding of how we can confront them and how little amount of time they have actually been in existence. What you will continually find is that all of these issues come back to a simple idea - putting profit above people," Chris #2 says on the band's anti-capitalist message that rings through in the album's themes. Justin Sane expands on this by saying, "How did we get to this place where we have so much wealth inequality, inequality that only grew during the pandemic, while people were desperate? You're rolling toward a trainwreck and meltdown when that's the case. Extreme profits for a very few people; it is completely unsustainable, and is an important theme throughout the record."
Even in these trying times, Anti-Flag are committed to showing that hope and optimism are always possible if we are able to educate ourselves and come together. Speaking on this sentiment, drummer Pat Thetic states, "We're in a very lucky position—because of the work that we do—to see that things can be different. We see people coming together at a show, and the activists we meet and talk to while touring the world. We are privileged to get to do this. Because of that, we are very optimistic." Expanding on this, Chris #2 adds, "That's one of the reasons why we let the activists who come to the shows talk on stage so that they can have someone clap for them. They are the people who are doing the work on a daily basis." The musical diversity of Anti-Flag has certainly paid off in that they have been able to seamlessly tour alongside not only every major punk act of the last three decades including NOFX, Rage Against The Machine, Rise Against, and AFI – but have also been welcomed with open arms by the heavy music community with tours featuring scene staples such as Stray
From The Path, Beartooth and Silverstein. "I think it all comes back to the first time we toured in Europe in 2003. On that first run, we played a lot of dates with Millencolin and Pennywise, but we also played festivals with Slayer, System of a Down, and a lot of heavy music. It became abundantly clear to us that we needed to have songs and intention-driven music to fit all spectrums," Chris #2 states on the band's ability to captivate diverse audiences.
In 2012, Anti-Flag established the inaugural ANTIfest in the UK, which led to several international installments of the festival which always included a lineup of progressive and exceptional acts hand-curated by the band themselves. Following the international dates, the group brought the festival back to their hometown of Pittsburgh in 2021 to finally celebrate stateside with a lineup consisting of acts ranging from punk legends Suicide Machines and Punchline to a fresh new crop of bands such as Bad Cop/Bad Cop and Doll Skin. After the success of last year's festival, Anti-Flag is pleased to announce ANTIfest 2022 where they will bring the festival nationwide as a full US tour which runs in the fall of 2022. Speaking on the impact of bringing the festival around the country, Justin Sane states "When we do a festival like this, it gives us a chance to connect with a lot of different people; from all walks of life. It shows that there is a solidarity and support network among all of us from all of these different places."
With the release of Lies They Tell Our Children, and ANTIfest 2022, the Pittsburgh punks in Anti-Flag are set to continue their artistic evolution and mission for revolution.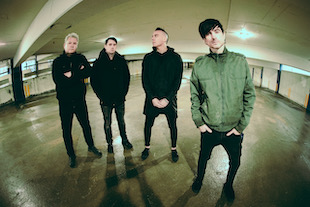 | | | | |
| --- | --- | --- | --- |
| Jan | Feb | Mar | Apr |
| May | Jun | Jul | Aug |
| Sep | Oct | Nov | Dec |