Archive
Contact
If 2012's 'With Us Until You're Dead' - Archive's first UK-released album in a decade - was a timely reminder of their manifest strengths, then the London based collective's epic new album Axiom underlines exactly what we've been deprived of - a part-orchestral, part-electronic, part-soulful, part-progressive and wholly emotion-soaked panorama of restlessly inventive, haunting beauty.
The difference this time is that the album consists of one continuous 40-minute piece of music that evolves through seven tracks ('Distorted Angels', 'Axiom', 'Baptism', 'Transmission Data Terminate', 'The Noise of Flames Crashing', 'Shiver' and 'Axiom (Reprise)'. The music shifts between styles and also singers (Pollard Berrier, Dave Pen, Holly Martin and Maria Quintile all return from the last album) to create a breathtaking sensarround sound, incorporating both dream-like and more darkly ominous passages, punctuated by a panoply of beats, and the unexpected appearance of church bells.
"Recording the bells at Greenwich church certainly set the ball rolling to what became 'Axiom'," recalls Darius Keeler, the long-standing core of Archive alongside Danny Griffiths. "I'm not a hundred per cent sure what I had in mind when I decided we should record the bells, but I just felt it would be important somehow in the genesis of the new record. The music came first; the album was written seamlessly, with one idea falling into another, one singer falling into another. It's a musical journey with a clear beginning and end, but you can certainly pull out six parts that could be distinguished as songs."
"In terms of a lyrical theme, the beautiful thing about the 'Axiom' writing process was that it was not contrived at all, so the lyrics kind of happened in real time as the music went on its journey. The interesting thing is one song's lyrics had a knock-on effect to another so it all tied together as an abstract but coherent story."
Given the cinematic nature of Archive's music, it made perfect sense to complement their most ambitious project to date with a short film, made by the acclaimed Spanish film collective NYSU. "Every time we make an album," says Keeler, "somebody says it sounds like the soundtrack to a movie that hasn't been made. Well, this time, we decided to make the movie. We've always harboured ambitions to bring together our music and the filmmaking process."
Judging by the 90-second trailer, 'Axiom' the film (shot in a beautifully rich, glowing B&W) is a dystopian fantasy, with elements of '1984' and 'V For Vendetta', reflecting the album's personal and political themes of despair and disconnection. And there are more of those church bells...
NYSU director Jesus Hernandez: "'Archive' has produced a great album that works like an entire movie script. We saw our role as composers of a kind of visual soundtrack for the music. Our challenge was to translate the band's script into images; it's the most exciting project we've ever been involved with."
Keeler: "During the recording process, it became clear that 'Axiom' was different to a normal album, and at that point we knew we had to make a film to accompany it. Then it all made sense and things just started to fall in to place."
'Axiom' the film will receive it's world premier at the London Sundance Film Festival on Friday 25th April. The band will also be performing the album live to accompany the film at a one-off worldwide exclusive performance at the London Roundhouse on May 29th. This will be Archive's biggest UK show to date, following sold-out shows in the capital last year at Heaven and Koko, confirming their homeland is finally catching up with the band's long-standing popularity across Europe.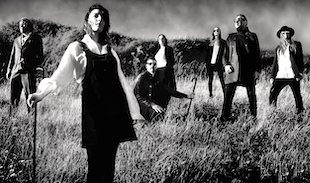 | | | | |
| --- | --- | --- | --- |
| Jan | Feb | Mar | Apr |
| May | Jun | Jul | Aug |
| Sep | Oct | Nov | Dec |