Babyshambles
Contact
"Stephen Hawking tried to put his finger on it - how wobbly particles just metamorphosize out of nothing into life. That's a bit like what happened with this album..."
Peter Doherty is sitting in the Paris sun, gamely trying to explain the winding road that has been the last six years. It's been that long since Babyshambles released an album, but somehow to the surprise of bandmembers, fans and friends alike they're stood here today with 12 rather fine new songs up their collective sleeve.
'Sequel To The Prequel', released on September 9th through Parlophone Records, is the bands most accomplished collection of songs to date.
From the album's lead single 'Nothing Comes To Nothing' (gleefully hailed "a return to sprightly form" by NME) to the spirit-of-77 punk squall that is 'Fireman', to the beautiful ballad 'Fall From Grace', it's a record that's full of twists and turns, and one that will no doubt shock and delight people in equal measure.
The real story behind its genesis, though, is that Babyshambles are lucky to be here at all. "It was a fucking shambles!" says Peter about the state of play before work began on the album. "We had no communication, no direction. And that was enough for us to be lost at sea - because without communication you can't have anything."
Guitarist Mik Whitnall nods in agreement, adding forlornly: "To be honest, there was a point not so long ago where I thought, 'Well, that s it - Babyshambles is well and truly over'." The reason for this doomy outlook? It comes down to two things. The first one is simple enough: location. Peter now lives full-time in Paris while the rest of the band are in London, which means way more planning for everybody.
But secondly? Tragedy. In July 2011, a car travelling in east London suddenly ran a red light and crashed into Babyshambles bassist Drew McConnell, who was on his bike. Drew suffered horrific injuries, breaking three vertebrae in his spine, five ribs, a shoulder and a knee.
He spent the remainder of the year trying to piece his life back together, even having to learn how to walk again. It's safe to say that for a long time, a new Babyshambles album was not at the forefront of his mind.
"I'm alright man, I'm alright," Drew says now, and you can hear the relief in his voice. "I still have to do lots of physiotherapy, because I broke some vertebrae, one of which was really badly shattered. So I'm going to have to do a lot of physiotherapy for the rest of my life. But I don't mind that at one point I might never have been able to walk again, so I just feel happy to be in a position where I can do that, and where I can get my life back to being pretty normal again."
The upshot of all this (aside from a new health kick Drew's on these days) is that the bassist suddenly found himself with a heck of a lot of fire in his belly. A period of recuperation on Spain's Coast Of Silence (Drew: "I really did talk to nobody there!"), wielded a set of new songs which, by chance, Peter took a shine to a few months later.
"Peter had started coming round my house, and we'd sit around and drink tea and talk about how we missed being on the road and making records," says Drew. "One day I asked him, 'What've you been listening to?' and he went, 'Well, to be honest mate, I've been listening to Babyshambles'. So I told him I'd been writing a few new songs while I was away, and I played him 'New Pair' and some others. He was like, 'What?! You wrote these?! Fucking hell!' And then he showed me a couple of his new songs 'Penguins' among them and suddenly we had something exciting going on."
"It took Drew to gel it," adds Peter. "After that he'd come over to Paris and make me fucking sit up straight."
In true Babyshambles style, the record came together thanks to a number of different factions, spreading far outside the nucleus of the band themselves. Aside from him, Drew and Mik, you've got long-time Babyshambles cohort John Robinson (formerly of Liverpool band The Bandits) making several songwriting appearances he helped write the brooding, colossal album closer 'Minefield' and the aforementioned 'Fall From Grace'.
Then there's Damien Hirst, who designed the sleeve, and producer Stephen Street a man who all three band members agree is essential to the mix.
"For one, we all get along with him, and secondly he just gets Peter sounding completely incredible," says Drew of Stephen. He's not wrong either. Peter's efforts throughout the record are undoubtedly special, with 'Farmer's Daughter' in particular yielding an astonishing performance. A Doherty / Whitnall classic, it features one of the finest vocals the singer has committed to tape in over a decade of being in bands. Meanwhile, 'Picture Me In A Hospital' which is Peter's favourite song on the album is one of the catchiest things he's ever written.
"It just turned up on this Dictaphone I take everywhere with me," he says of the track. "It came out all in one go, and then Drew got hold of it and straightened out the edges. To me, that song's got the whole spirit of the album distilled in it." Drew adds that he thinks the track was written about him, before going on to sum up how important the album is to him. "The thing is, even though the three of us were apart beforehand, we've found out that we've still got this great sense of togetherness, despite everything. And I don't think that will ever go.
In fact, I think that's why we do work so well together."
Or, as Peter puts it: "I've realised there's a hunger there for me not for not having enough to eat, let's make that clear but to be in this band. It's intrinsically a part of me, I think. And it's taken this album to really remind myself of that."
He takes a short pause, before a craggy smile spreads across his face.
"And bloody hell, at least it got everyone over to Paris!"
Photo Credit: Eric Vernazobres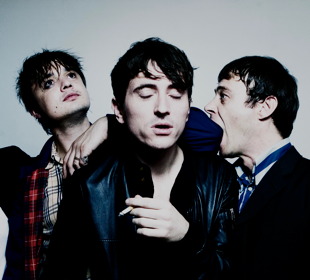 | | | | |
| --- | --- | --- | --- |
| Jan | Feb | Mar | Apr |
| May | Jun | Jul | Aug |
| Sep | Oct | Nov | Dec |