Crossfaith
Contact
Crossfaith have shown the world time and time again that they are the most unique and exhilarating of bands, and with 'New Age Warriors' and its 'Remix EP' partner following 2015's critically acclaimed album 'XENO', they cemented their place at future-rock's top table.
'New Age Warriors' took the groundwork laid by 'XENO', 2013's 'APOCALYZE' and 2012's 'ZION' EP as well as the band's vast touring history and catapulted them into a whole new league. The band recently moved up to arena level at home in their native Japan and continue to tour regularly throughout the UK & Europe.
"Welcome to the new era! It's time to get wild," says frontman Kenta Koie. "We are the New Age Warriors, and you can see the future of Crossfaith with our new songs. We're so excited about bringing out more new music to you guys, so get ready!"
Now, with their return to the UK & Europe around the corner, it's time for Crossfaith to step things up yet again.
"THE WORLD'S FINEST" Awarded 6 Ks Out Of 5 - KERRANG!
Crossfaith are:
...Kenta 'Ken' Koie - vocals
...Kazuki Takemura - guitar
...Hiroki 'Hiro' Ikegawa - bass
...Terufumi 'Teru' Tamano - keyboard
...Tatsuya Amano - drums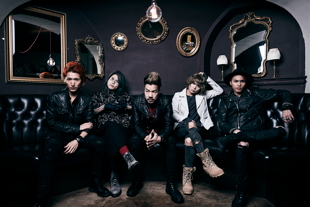 | | | | |
| --- | --- | --- | --- |
| Jan | Feb | Mar | Apr |
| May | Jun | Jul | Aug |
| Sep | Oct | Nov | Dec |