Deema
Contact
It's hard to work out what feels more exciting about 20-year-old rapper, Deema. The fact that his borderless approach to the rap is something that feels like it could only exist in Today's forward-thinking urban landscape. "I just try and make every song I do different to the last one," he explains. Or the reassuring fact that amongst a now expansive UK rap culture splintering into cross-pollinating street sounds, a fresh-faced new name can raise his head with a flow that somehow feels just timeless.
Following his explosive debut EP 'Chew Your Food' in 2020, which tore its way across streaming playlists, press and radio, which, for a bit of context, saw Deema claiming five separate tracks all in the same Spotify 'Fresh Finds Hip Hop' at the same time! Including the No. 1 spot with anthem 'Hash Brown'. Media champions ranged from the likes Toddla T and Jamz Supernova to FADER, Complex and NME. The EP dexterously showcased Deema's trademark versatility, taking us from party-bound bass-quakes like 'Hash Brown' to conscious bangers like 'Rat Race', which attempts to dissect the meaning of it all... Now he's readying the release of of next opus, 'Rainbow', that's set to take things to the next level and beyond, staying true to both his hip-hop stylings and grime roots, but hinting at a crossover ambition that looks set to make him one of 2021's true breakthrough stars.
Affiliated with notorious Lewisham grime collective, The Square, Deema is wise beyond his tender years. The SE LDN dons rose to fame from viral hits like 'Pengaleng' and 'Lewisham McDeez' with break-out star Novelist going on to crossover commercial success. Deema first earned his stripes as Square-member Elf Kid's hype-man. It was Elf Kid's 2015 Amerie-sampling hit that took Elf and a then just 16-year-old Deema on a dizzyingly ascendant ride that traded pirate radio for mainstream acclaim, culminating in legendary sets at Reading Festival and following AJ Tracey at Wembley Arena for Wiley's iconic Eskimo Dance.
Despite experiencing the rollercoaster that comes with crossover success and a close affiliation to one of grime's most notorious crews, Deema knew from the start that he was his own artist. "I've been influenced by grime, of course. But sticking to one genre would be like asking a painter to stick to one colour." So when the shimmering 90s-influenced hiphop groove of 'Maddie' followed the tracks like 'Through It All' into the ether, the classic feel of his solo flow surprised some.
"I grew up hearing my dad's family listening to OutKast and Jay Z in the background, but honestly, it's only more recently that I've joined up the dots more. I listened to my first Biggie album in 2018," he laughs. His delivery is versatile, adapting to whatever tempo or sound he finds before him. With a conscious, narrative approach and vocabulary that feels akin to classic rap names but a toughness and energy that could only be born in a post-grime landscape. Citing everyone from Brockhampton to Slowthai as recent kindred spirits, he's a breath of fresh air for UK rap going in 2020.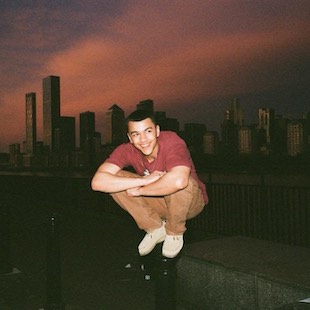 | | | | |
| --- | --- | --- | --- |
| Jan | Feb | Mar | Apr |
| May | Jun | Jul | Aug |
| Sep | Oct | Nov | Dec |