Duke & Jones
Contact
Manchester-based Duke & Jones are quickly establishing themselves as one of the most forward-thinking artists in the industry. The DJ/producer duo continuously prove that true talent doesn't need a record label or a huge co-sign to make waves – instead, they let the music speak for itself. "Less Is More" is the inspiration behind their unique sound design, which has garnered them millions of listeners on a global scale, and support from some of the biggest artists in the world. Their signature sound is characterized by minimalistic elements that embrace the power of silence and anticipation, which makes their music easily recognizable; regardless of the genre.
The duo have taken an unconventional approach for not only getting their music heard, but also connecting with fans on a new level. They were the first act to premiere an EP on OnlyFans – where they received homepage placement and full social support for funny ASMR edits of their tracks. They started a series called "adding auto-tune to random videos," which has become a worldwide viral sensation, on both TikTok and Instagram. Proving that their brand is more than just music, their YouTube channel hosts a hilarious array of content, including "Omegle Review Clips," and the "Duke vs Jones" series, where they prank each other.
With such an impressive list of achievements, it's quite evident why Billboard Dance named them as an emerging act to watch in 2020. Speaking to their meteoric rise, Duke & Jones were the first up-and-comers to sign with The Shalizi Group, where they're featured alongside Marshmello, Alesso, and many more A-list acts.
The duo seemingly came out of nowhere in 2016, and quickly emerged as UK-icons, helping propel the Manchester-scene to a fresh, worldwide spotlight. With a knack for pushing boundaries and blurring the lines between genres, Duke & Jones are ushering in a new wave of creativity, and show no signs of slowing down.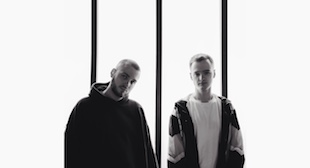 | | | | |
| --- | --- | --- | --- |
| Jan | Feb | Mar | Apr |
| May | Jun | Jul | Aug |
| Sep | Oct | Nov | Dec |