Gabe Gurnsey
Contact
If you want to know what Gabe Gurnsey's debut album 'Physical' sounds like, the first thing you should do is forget all about Factory Floor, the group he co-founded 13 years ago. Gone are the cold, lengthy, stripped back deconstructions of no wave electronica and industrial techno, abandoned in favour of something altogether warmer, torrid and... well, succinct.
"It's a real departure from Factory Floor" he explains. "Yeah, that was the intention. There's only one track over six minutes long! There's only one crossover point on the song 'Night Track', which is 6'33" - that's probably as close to Factory Floor as it gets. What I wanted to get into with 'Physical' had more to do with exploring songwriting and structure. The album is very escapist in one sense even though I don't want to escape from Factory Floor but what I do on my own has to be separate and it has to explore new avenues."
Gurnsey started writing tracks in his downtime from the group early 2017 and by the start of that Summer he had 30 demos ready for work. He admits he worked very quickly initially but then gave the tracks 12 months to develop fully into a new sound.
And that new sound - a 21st Century take on muscular electro, Balearic synth pop, EBM, proto-Hacienda militant funk, early Chicago house and minimal, Neptunes-referencing beats - can be experienced in full on 'Physical' the album released on Erol Alkan's Phantasy label this August.
Encoded into the album is a seductive narrative, which recreates a night out. Gabe explains: "The record is a story. The way the 14 tracks are sequenced mirrors a night out from start to finish."
"So even though it's electronic dance music, it's a record about clubbing even more than it's a record to be played in clubs. It's everything about the clubbing experience reflected in sound. Getting ready to go out, driving into town, arriving at the club, being on the dancefloor, how you get home afterwards early the next morning... even when you step outside to get some air, when you're outside at 3am having a cigarette... even that is represented here. It's about the whole experience."
The theme for the record also concerned how we can shed our real selves when going out, how we can almost adopt a new personality. This was an idea that helped him get used to a new part of the process and one he wasn't initially comfortable with - stepping behind the mic. He didn't want to be the singer, so in order to do it, he simply became someone else... or, to be precise, he became a number of different people. For all of the multitudes of different sounding male voices on 'Physical' are all Gabe thanks to the wonders of vocal processing. (All of the female voices belong to his partner, the Manchester musician Tilly Morris of Grimm Twins, who also helped him co-author some of the lyrics on tracks such as the Miss Nicky Trax and Missy Elliott - referencing clipped electro funk of 'Heavy Rubber'.)
He explains how the theme of changing one's persona helped him crack the approach to introducing vocals: "It's similar to how our online selves or avatars differ from our actual selves and that was key to some of the vocal pitching on the record. All of the deeper vocal stuff on there is actually me."
All dance music is utopian and even when the clubber is lost on the dancefloor there is still a longing for a deeper level of escape. 'New Kind', is the track on 'Physical' that most clearly references the club music of Manchester, the city where the album was written and recorded. It calls to mind the ecstatic and organic disco not disco of Quando Quango's 'Love Tempo' and the gritty urban post punk grooves of A Certain Ratio, with Gabe playing live guitar, drums and percussion, bolstered with brash synthesized horn stabs. Just as this music was a paean to the imagined American dancefloors of the mid-80s, he recognises the same longing for escape into the American dream. Perhaps pointing to the idea that we'll never be free from our longings, Gabe sings: "We all think we're living in L.A."
Cars and driving feature prominently on 'Physical'. Gabe says that he drew on the feeling of being "untouchable" when in the passenger seat of a car on a night out, while making one of the album's many standout moments, the pulsating and noirish throb of 'Sweet Heat'. The song references his period living in L.A. where he found himself ill at ease: "I love L.A but I missed the grittiness of England" This sense of discomfort is teased out by a typically blazing and transportative guest spot by New York saxophonist Peter Gordon.
Gurnsey admits that no matter how warm and sensuous he tries to make the music - "I wanted to explore the more celebratory sound of dance music... I didn't want to make a hostile record" - it was impossible to keep a note of unease from creeping in. "I think you can detect an air of paranoia to it. The synths I've used and the sax underline that."
This sense of paranoia suggests that not everything is as it seems on initial contact. Gurnsey admits that this is because there is a second reading of the album's theme for those willing to dig for it.
"If you wanted to see it that way", he says, "the whole album could represent a night out experienced via a virtual reality headset from the safety of your own flat."
Suddenly the lyrics to opening track 'Ultra Clear Sound' - which calls to mind Model 500, early house music from Chicago Trax and glacial European cold wave, balanced out by the human touches of spacious live percussion - make much more sense: "Maybe I just don't need you anymore." He isn't talking to a spurned lover or former friend but instead addressing a retreat from the real world itself.
He explains how the album's theme revealed itself slowly while he was writing and recording: "I didn't intend there to be a concept for the record but as I was making it, I started realising that it could be interpreted as if it were about virtual reality. So it ended up having this narrative arc where it wasn't exactly clear whether it was about a night out or a simulacrum inside the VR world."
"At one point each track was going to be a different room inside a virtual club but in the end, thanks to sequencing, it ended up feeling a lot more like a night out and I thought I'd leave it up to the listener to suss out exactly whether this was real or not."
Gurnsey praises Phantasy boss Erol Alkan for his "hands-on" approach to the album he mixed and offered additional production to: "I first met Erol when I remixed Daniel Avery's 'Drone Logic' for the label in 2013 - I was invited down to his studio to mix the track together. His production approach is great in the way he tweaks ideas that I have but doing it in a way that complements the integrity of the track instead of changing it altogether. To have that knowledge and creative energy from Erol during the writing and mixing of the record was integral to its outcome."
It's time to take a trip into a fantasy world where nothing is quite as it seems. It's time to get real.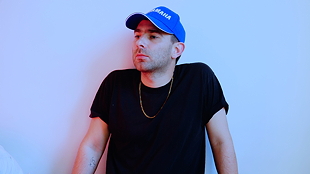 | | | | |
| --- | --- | --- | --- |
| Jan | Feb | Mar | Apr |
| May | Jun | Jul | Aug |
| Sep | Oct | Nov | Dec |