Good Cop Bad Cop
Contact
Born, raised and residing in Sheffield, a city synonymous with jarringly honest indie rock, Joe Carnall has been a reluctant figurehead of that music scene for over a decade. Eager to explore a different space, he has embarked on a new venture with the help of close friend Matt Helders (Arctic Monkeys). The result is Good Cop Bad Cop. Penned by Carnall and produced by Helders, the project resides in the not so grey area between man and machine.
The origins of Good Cop Bad Cop are deep rooted. As previous musical projects came to an end and the demands of fatherhood began to subside, Carnall found himself able to explore new concepts and ways of creating. "I locked myself away and became a master of GarageBand." This reversion to a simple set up away from the constraints of multiple human inputs allowed Carnall to create the bare bones of a record that Helders would ultimately help shape into a finished product. Long time friends and ex neighbours, Carnall sent a couple of his homemade demos across the pond solely because he thought Helders "would be into it." From that initial exchange there began a bigger conversation about Helders trying his hand at production and making the record in his soon to be completed home studio in the Hollywood Hills (affectionately dubbed The Goldie Locks Zone). 
On this topic, Helders is quite candid. "I've become progressively more interested in production over the years but have perhaps never been brave enough to take the first steps; Joe's project seemed like the perfect place to start." Carnall adds "it was great for both of us as we could afford to make mistakes without a huge bill to pay at the end. It really was just two old friends spending time together and making music in a glorified garage." There's a wry smirk as Carnall reminisces about the recording process which at times meant directing a multi million album selling drummer. "Even though we're old mates, it was surreal having someone of that calibre drumming and singing backing vocals on songs I'd written."
Drums aside, Carnall played every single instrument on this record and he passionately believes that "technical limitations often provide an element of sincerity." Such limitations have produced stunning results which regularly substitute the stratocaster for the synthesiser. Lyrically brooding and perceptive, Carnall's voice floats along Julian Casablancas-esque melodies; all of which are underpinned by a warm blanket of noise akin to the likes of Timber Timbre and, at its most experimental, James Blake. When asked if recording in Los Angeles influenced the Good Cop Bad Cop sound, both are unequivocal in their response. "Absolutely" declares Helders. "No matter where you record, the location of the studio somehow seeps into the music you make." Indeed, once you know where The Goldie Locks Zone is, it hard not to listen to the record and imagine a backdrop of palm trees and pink sunsets - a lost scene from the 2011 film 'Drive'. 
Ultimately, Good Cop Bad Cop is Carnall's way of making sense of his world past, present and future by harnessing outbursts of creativity. He writes with vigour, joy, passion, a touch of vitriol and overwhelming honesty. The collision of light and dark where, invariably, the sunshine always peaks through.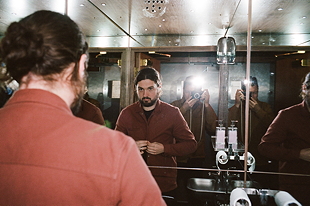 13 Jun, 2019

The Neighbourhood Festival takes place at various venues around Manchester on Saturday 12th October, including Primary Talent International artists:

...Ten Tonnes
...Sports Team
...Good Cop Bad Cop
...BLOXX
...Alfie Templeman
...Childcare
...Just Mustard
...Oscar Lang
...Social Contract
...Talk Show
...The Pale White

22 May, 2019

Good Cop Bad Cop will tour the UK & Ireland during October tickets are on sale now.

www.facebook.com/GoodCopBadCopBand