HOKO
Contact
Part wild fantasia, part warped hyper-reality, the world of HOKO is a glimpse into the magic that happens when we remove the mask of ego and live in the fullest expression of our true selves. With a sensibility shaped by some of the most beautifully bizarre art of the last century—the enchanted surrealism of Alejandro Jodorowsky's Holy Mountain, the anarchic dystopia of Terry Gilliam's Brazil—creative conspirators Nathaniel Hoho and Jesse Kotansky have dreamed up a body of work that subversively bends the possibilities of pop.
With the release of their debut singles "OK OK" and "Hellogoodbye," HOKO first revealed their lavishly realized universe—and instantly found breakout success despite keeping their identities shrouded in masks. In the making of their debut EP Heathen and forthcoming full-length Heaven, the duo expanded on the promise of those heavily playlisted tracks, and amply mined the restless creativity that first sparked the founding of HOKO.
Executive-produced by Mike Irish of Shifted Recording, Heathen and Heaven find HOKO joining forces with such producers as John Hill (Santigold, Cage the Elephant, Portugal. The Man, Khalid) and Andrew Wells (Halsey, BØRNS), purposely following their most unfiltered instincts. To that end, the EP and album unfold with a genre-blurring sound, each moment charged with the kinetic electricity of experimentation.
A perfect embodiment of HOKO's sonic unpredictability, "OK OK" delivers an exhilarating response to society's hostility toward individualism. As Hoho points out, the deliriously groove-heavy track marked a major turning point for the duo. "'OK OK' was the first song where we stepped beyond approaching music as a rock band and branched out into other genres. In doing so, we found new ways to create," he says. "Instead of second-guessing ourselves, we let the song build itself, which is how we ended up making everything from that moment on." Another creative breakthrough, "Hellogoodbye" took shape from Hoho's frustrations with working as a struggling pop writer. The final product: a darkly hypnotic track imbued with the heady intensity of alt-R&B, its lyrics speaking to thrill in breaking free from fear of rejection ("Feel like that Kubrick sort of crazy/Singing the truth but mostly faking/And now I'm not faking anymore").
Both "OK OK" and "Hellogoodbye" grace the tracklist to Heaven, an intimate document of all the chaos and danger and joyful abandon on the way to self-discovery. Lit up in shimmering textures and shapeshifting rhythms, "Big Mistake" shares a story of a toxic relationship in which sex provides a perilous form of escapism, with Hoho transforming his regret into poetry ("If you were a blue balloon/I'd pop you/Or let you float away"). In its reflection on life-changing trauma, "This Is Gonna Be Our Year" twists heavy-heartedness into an anthem of transcendence. "The idea behind this song is that things have been falling apart for a long time, and this will be the year that face it, let go and watch it all fall to pieces. When everything you know or are familiar with gets stripped away—even though it can be painful, scary, or lonely—it also brings a new unknown rebuilding," says Hoho. And on the album-closing "Look at Your Life," HOKO present a gloriously hazy meditation on living with intention. "I hope that when I get to the end of my life, I can look back and know I lived the way I wanted, as opposed to living in a way that other people expected me to," Hoho explains.
Throughout Heathen and Heaven, HOKO create a mesmerizing alchemy by tapping into their distinct talents: Hoho's dynamic grasp of pop songcraft and gift for packaging complex emotions into immediately impactful lyrics, Kotansky's finely honed musicality and singular sense of melody and rhythm. Raised on a bison farm in Pennsylvania's Great Appalachian Valley, Hoho took up guitar at the age of ten, then started writing songs in his teens after ending up on house arrest following several run-ins with the law. He ultimately left home for New York City, living in and out of his car and busking on the streets to make his name as a musician. Meanwhile, Kotansky grew up immersed in Balkan folk music thanks to the influence of his parents, a dancer and choreographer. In addition to learning to play violin at the age of two, he underwent training in classical music, jazz, and traditional music from Macedonia, Greece, Serbia, Bulgaria, and Turkey. After crossing paths in Brooklyn, the two struck up a fast friendship based on their mutual love of early Genesis and soon started collaborating.
In bringing Heathen and Heaven to life, HOKO recorded partly in Los Angeles but mostly in New York City, whose energy deeply influenced their songwriting and sound. "The story we're telling with this music has a lot to do with coming up in New York, and trying to figure out who we are in a place where anything is possible," says Hoho. "In New York you can get into as much trouble as you feel like; you're swept up into all this mayhem, and at some point you get spat out the other side. That experience can give you a lot to reflect on."
As he channeled that self-examination into his songwriting, Hoho uncovered certain truths about the interplay between authenticity and artistry. "So many of us, unfortunately, spend a good part of our lives trying to please others instead of living as our most authentic selves," says Hoho. "People live in fear of not meeting whatever expectations society's set for them." But for both Hoho and Kotansky, the making of Heathen and Heaven proved incredibly powerful in shaking off that fear and finding their way to a new sense of limitlessness. "This feels like a project we can take anywhere," says Hoho. "We're not tied to any particular genre or image, so as we continue to grow and change, we're totally free to do whatever we want with it. And that feels really right to me. That's the whole reason I started making music in the first place."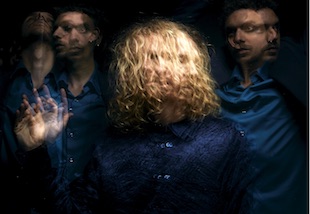 | | | | |
| --- | --- | --- | --- |
| Jan | Feb | Mar | Apr |
| May | Jun | Jul | Aug |
| Sep | Oct | Nov | Dec |