Humanist
Contact
Humanist is a rush of future rock'n'roll and an ambitious project from songwriter / guitarist / producer, Rob Marshall (Exit Calm). The forthcoming self-titled debut album (released Feb 2020, Ignition Records) features outstanding vocal collaborations from Dave Gahan (Depeche Mode), Mark Lanegan (Queens of the Stone Age), Mark Gardner (Ride), Joel Cadbury (UNKLE), Ron Sexsmith, Carl Hancock-Rux (David Holmes) and more. A heady brew, masterfully conducted by Marshall ( co-writer of Mark Lanegan's celebrated 'Gargoyle' album, which was critically acclaimed as:
"A career high" ★★★★★ The Guardian
"A bravura statement" ★★★★★ The Observer
"A Triumph" ★★★★★ Mojo
The debut album from 'Humanist' is the perfect showcase for multi-instrumentalist Rob, who plays and produces all of the music: a swirling Niagara of fuzzed-out industrial melody and noise... perhaps it's in the blood: Rob hails from Teesside in the North East of England, a land of blast furnaces, petrochemical estuaries and fiery skies.
Revered for his blistering live performances in Exit Calm, Humanist now take to the stage with a remarkable live band: a visual fest of light, image and sound. Humanist offer an immersive live experience, evocative of bands like UNKLE, Killing Joke, and Doves. This visual setting provides each track with distinctive elements, united by an overarching exploration of Humanism and performed by guest vocalists - a unique and mesmerizing show that translates across large stages as well as intimate venues.
Introductory track 'Ring Of Truth' feat. Carl Hancock Rux set the tone earlier this year:
This was followed by the first official single: kraut-rock inspired 'English Ghosts' feat John Robb (Oct 2019) which received encouraging early support from BBC6Music, with multiple plays from Gideon Coe, Lauren Laverne, Tom Ravenscroft, Shaun Keaveny and more.
The hugely anticipated single 'Shock Collar', coming in January 2020, will personally feature Dave Gahan in a blistering music video shot in New York, brought to you by Brian Eno Video Director Derrick Belcham and Arcade Fire light designer Tracey Maurice - an incredible, anthemic single, and a perfect introduction to this outstanding debut.
'Humanist' are available for UK and EU festivals 2020 and tour supports.
"Marshall evokes the spirit of Martin Hannett to join him at the console... a menacing air pervades..." - The Wire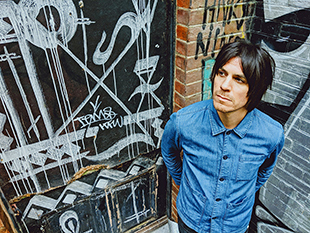 13 Jan, 2020

Humanist shares the video for his new single 'Shock Collar', featuring Dave Gahan on vocals.
Taken from the forthcoming debut album 'Humanist', released on 21st February.

13 Jan, 2020

Humanist will tour the UK throughout March 2020. The debut album is released on 21st February.