ISSUES
Contact
ISSUES is one of the '22 Artists Shaping the Future of Rock', alongside Foo Fighters, Twenty One Pilots, and Fall Out Boy, according to legendary tastemaker Kerrang!. 'Artist of the Year', 'Best Vocalist', 'Best Bassist', 'Best Live Band' (AltPress), and 'Best New Talent' (Revolver) winners and nominees, the celebrated Atlanta quartet deliver on the momentous hype with their third genre-bending album, 'Beautiful Oblivion'.
Tyler Carter boasts the vocal chops of a self-made Shawn Mendes or Chris Brown, delivering earnest odes to lost love and redemptive determination, strengthened by the catchy crunch of guitarist AJ Rebollo. The pair's sensibilities coalesce beautifully together with the fluid enchantment of bassist Skyler Acord and drummer Josh Manuel, the resulting magic the inevitable result of their collaborative chemistry.
Soulful R&B hooks, neo nü-metal bounce, prog-rock smarts, and active rock might swirl together in passionate ceremony, bridging the gap between the theatrical shimmer of The 1975 and the heavy syncopation of Meshuggah with energetic ease. Hints of classic funk, jazz-fusion, and modern pop-rock swagger weave between pulsating rhythmic punch and guitar driven riff rock, without a moment of incoherence. ISSUES have mastered the art of the mash-up, a genre unto themselves.
An international touring act (with appearances at major festivals like Reading and Leeds; a Wembley Arena gig supporting Bring Me The Horizon) and a Warped Tour staple, ISSUES have built a connection with a diverse audience through relentless touring with contemporaries like BMTH, I Prevail, Of Mice & Men, and Beartooth.
Roughly three years before the release of Beautiful Oblivion, Headspace was the 'Number 1 Alternative Album' in North America, following on the heels of the band's self-titled debut, which cracked the Top 10 on the Billboard 200 in February 2014.
After what seemed like a nearly insufferable wait to the band's fans, ISSUES unleashed the first taste of their third and most definitive album, 'Tapping Out', which quickly amassed a million streams on Spotify in the U.S. in a matter of days.
'Tapping Out' takes its place alongside ISSUES anthems like 'Mad At Myself' (13 million Spotify streams), 'Coma' (10m), and 'Never Lose Your Flames' (8m). Combined versions of 'Hooligans' earned over 12 million views on YouTube, while music videos like 'The Realest, 'Home Soon', 'Stingray Affliction', 'Princeton Ave', and 'The Worst Of Them' pushed the band's total YouTube views past 60 million.
ISSUES put literal blood, sweat, and tears into the creation of 'Beautiful Oblivion', composing close to 50 songs with only the strongest 13 making the final cut, each of them representing a different facet of the band's unique musical identity. The group teamed up with Grammy Award winning producer Howard Benson, responsible for multiplatinum landmark albums like 'Three Cheers for Sweet Revenge' by My Chemical Romance, 'Satellite' by P.O.D., and 'Move Along' by All-American Rejects.
'Second Best' is an emotional song attacking the pangs of self-doubt. 'Drink About It' is about the toxic waltz of an on/off relationship. 'Rain' is a quick upbeat rock song about the people who insist on seeing every glass as half-empty. 'Flexin' is a fun guaranteed club banger that sounds like Prince wrote a song with Meshuggah.
In 'Your Sake', Carter's vocal is accompanied only by piano, offering a plaintive and pensive explanation to old friends and lovers.
"I wrote the song about all of the women that I hurt before I came out of the closet," the singer says. "Sometimes when you fall in love with someone, it isn't 'romantic.' I would try to ride it out because I loved and respected these women, but I was scared, because I was lying to myself."
The title track is a soothing balm for the outcast, the pushed aside, and those who feel like their contributions are never quite good enough.
"The only real escape we can all agree on is music," Carter observes. "It's the only medicine, the universal language we speak. The song is about the power of music to drown out the shouting, the name-calling, the abuse, and whatever ails you. The entire album is an escape."
Transforming the most resonant and relatable aspects of their prior albums and EPs, ISSUES have landed upon a definitive masterpiece that presents the best of what's come before, with postmodern forward-thinking vision of their future. 'Beautiful Oblivion', like the band themselves, is fearless and boundary crossing. It's well rounded, focused, and altogether catchier. Refusing to dumb it down, ISSUES lean harder into their instincts, steadfast in their raw honesty and pure authenticity.
As a reviewer for Australia's Heavy observed, while there have been crossover metal acts like Linkin Park and Evanescence, "I have never heard a band combine R&B oriented pop with heavy guitars quite like this. And it's shitloads of fun." ISSUES expand the "punk goes pop" aesthetic across the heavy music landscape, planting the flag for individuality, unity, and fierce songcraft, unafraid to be heard and seen.
ISSUES are:
Tyler Carter - Vocals
AJ Rebollo - Guitars
Skyler Acord - Bass
Josh Manuel - Drums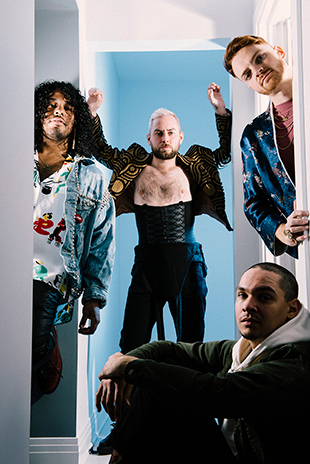 26 Sep, 2019

ISSUES will play the Slam Dunk Festival on 23rd/24th May in Leeds & Hatfield.

14 Aug, 2019

ISSUES share their new video for 'Drink About It', from the forthcoming album 'Beautiful Oblivion', released on 4th October on Rise Records.

14 Aug, 2019

ISSUES bring their 'Beautiful Oblivion' tour to the UK & Europe in October.