Johnny Lloyd
Contact
Johnny Lloyd has come a long way, along riskier roads, finding a plot of his own and starting to rebuild. In 2014, after two top 40 albums, world tours and support slots with Pixies and The Rolling Stones, Johnny disbanded the critically and commercially beloved Tribes.
Taking the hazy pop sound he'd spearheaded with his bandmates, Johnny spent little in time taking it into darker, rougher territory. He founded a new musical home and friendships with Jamie T, Mike Crossey (The 1975, Hozier) and Hugo White (The Maccabees), who helped guide the recording of his first two solo EPs.
His debut EP 'Dreamland', released in 2016 by Xtra Mile Recordings and produced by Jamie T and Hugo White is a rousing but melancholic attempt to "find a new place in life" full of "new beginnings (and) realisations". His journey continued on 2017's 'Eden' EP, which shows further depth to Johnny's sound and intentions. But after almost 200 shows in support of his new songs, in the UK and Mexico, and with plans for a debut album well on their way, a new route presented itself.
In 2017, The Rolling Stones authorised the production of 'The Quiet One', a new feature length documentary about founder member Bill Wyman. Johnny was honoured to be asked to write and record music for the film, which was later chosen for Sundance Selects and shown for audiences at Cannes.
This deviation led to a year away from his own songs and instead producing music for television and film with over 1,000 uses of Johnny's music on TV in 2017 alone. This included film trailers, the acclaimed serial-killer biopic 'My Friend Dahmer' and even getting the chance to score his first full-length feature film, 'Rare Beasts', in 2018. As productive as he was in the last 12 months, and relishing his work, a lot had begun to change in Johnny's life and his own music now needed to reflect that.
"I had all these songs by the end of 2018 that I'd been holding back from my film work. I knew there was something brewing but it all felt a little more personal than maybe I was used to in the past. A lot has changed in my life. I met someone special, and I've become a dad; my whole subject matter has changed. I wanted to make something more intimate and without the restraints of a band."
Ensconced in a 10ft square bunker in north London, far from the bright lights of Hollywood, Johnny and producer Nathan Coen laid down just one law for the debut album. "The only rule on the whole thing was: no more than three takes. I wanted it to be raw and have an element of risk to it. I love polished pop, but I'm not that." For the finishing touches Johnny called in talented mates Frank Turner, Hugo White (The Maccabees) and Adam Prendergast of Harry Styles's band. "It's always great making music with friends and I wanted that unknown element to come from people I respect and trust." 
It was a mature and rewarding decision. You can hear the intimacy and desire to convey Johnny's personal renovations and revelations on the album: the record tackles growth, getting sober and becoming a father. "I think the record is about accepting who I am, what I sound like and where I'm at. It's been about accepting the mistakes I've made and looking forward to the future." An artist and an album born within these times, as befits a new sense of responsibility, will sync with the political mess we've got ourselves into. It's most evident on the self-explanatory 'Mass Shooting'.
"I've spent a lot of time in America in the last two years. You just can't go a day without a shooting. It feels frightening and confusing. I love America but I don't agree with the politics and I felt like writing about it. It's not a subject matter I would have gone near in the past."
With the album set for release in early May 2019, and tours being booked for the UK, Europe and further afield, Johnny Lloyd is back with a renewed sense of direction, a sure and steadfast attitude that is echoed throughout the album. The blurred sonics are no longer part of his vision and a stark, solid monument to his future has been built.
When we rebuild, our foundations tend to be stronger than ever, and Johnny Lloyd's groundwork means the sky is within reach, a better launchpad to go beyond expectations, of others' and his own.
Photo by Toby Ross-Southall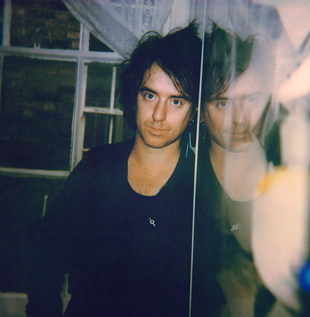 30 May, 2019

The Greenpeace Field at Glastonbury Festival, between 26th - 30th June will feature Primary Talent International & Decked Out artists:

...Dylan Cartlidge
...Jamz Supernova
...Johnny Lloyd
...Simian Mobile Disco (DJ Set)

www.glastonburyfestivals.co.uk