Kindness
Contact
Kindness, a.k.a. Adam Bainbridge, makes a highly anticipated return to their own music with 'Cry Everything', featuring a duet with longtime collaborator and friend, Robyn. Centered around thumping bass and a swirling sample of Todd Rundgren's 'Pretending to Care', 'Cry Everything' is an intricate, optimistic ode to stepping into the light and loving yourself after a particularly dark period. Pulling energy from queer, vocal house music and self-empowering funk, 'Cry Everything' is the feeling of exhaling after years of holding it in, of total catharsis, of forgetting everything that came before.

"Won't try to hide it / I'm gonna be myself this time," Robyn and Kindness sing on the pre-chorus, before exclaiming, "the skies open / I just wanna cry everything." "I feel things coming back to life," the two friends add later on, encouraging their listener - and each other - to live truthfully, and authentically, in the aftermath of chaos. "This time," they sing, "my tears feel like progress." The percussion is played by Arthur Russell friend and collaborator Mustafa Ahmed.

Co-written and sung by both Robyn and Kindness, and produced by the latter, the sessions for 'Cry Everything' began in 2014 as Kindness, was wrapping up their second album, 'Otherness'. It marks the second recent collaboration between the two, the first being the Kindness-produced 'Send to Robin Immediately', a highlight from the Swedish star's most recent album, 'Honey'.

Kindness will embark on a short run of dates with a new live band; tickets on sale 8th March.

Kindness, who uses they/them pronouns, has remained busy since 'Otherness', working across several projects: they co-produced five tracks on Solange's album 'A Seat at the Table', and contributed production, writing, and vocals to Blood Orange's 'Freetown Sound' and 'Negro Swan' albums. A sought-after DJ, radio host, writer, collaborator, and lecturer on everything from musical craft and heritage to queerness and history, they've spent the last several years performing as a DJ at venues across the world, from Palais de Tokyo to the Guggenheim Museum, hosted their own radio show on Red Bull Radio in 2016 and 2017, lectured at the Boiler Room in New Delhi and moderated Robyn's Red Bull Music Academy lecture at MOMA in New York. They were recently featured in Solange's Calvin Klein advertisement, shot by Willy Vanderperre, alongside friends Dev Hynes, Kelela and Caroline Polachek.

Photo by Michele Yong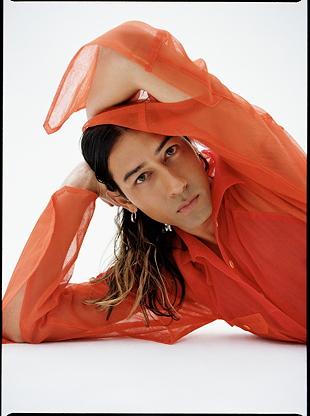 07 Mar, 2019

Kindness, a.k.a. Adam Bainbridge, makes a highly anticipated return to their own music with 'Cry Everything', featuring a duet with longtime collaborator and friend, Robyn. Centered around thumping bass and a swirling sample of Todd Rundgren's 'Pretending to Care', 'Cry Everything' is an intricate, optimistic ode to stepping into the light and loving yourself after a particularly dark period. Pulling energy from queer, vocal house music and self-empowering funk, 'Cry Everything' is the feeling of exhaling after years of holding it in, of total catharsis, of forgetting everything that came before.

"Won't try to hide it / I'm gonna be myself this time," Robyn and Kindness sing on the pre-chorus, before exclaiming, "the skies open / I just wanna cry everything." "I feel things coming back to life," the two friends add later on, encouraging their listener - and each other - to live truthfully, and authentically, in the aftermath of chaos. "This time," they sing, "my tears feel like progress." The percussion is played by Arthur Russell friend and collaborator Mustafa Ahmed.

Co-written and sung by both Robyn and Kindness, and produced by the latter, the sessions for 'Cry Everything' began in 2014 as Kindness, was wrapping up their second album, 'Otherness'. It marks the second recent collaboration between the two, the first being the Kindness-produced 'Send to Robin Immediately', a highlight from the Swedish star's most recent album, 'Honey'.

Kindness will embark on a short run of dates with a new live band; tickets on sale 8th March.
| | | | |
| --- | --- | --- | --- |
| 11 Jun 19 | | La Badaboum | Paris, FRANCE |
| 13 Jun 19 | | Kantine am Berghain | Berlin, GERMANY |
| 14 Jun 19 | | Oslo | London, UK |