LEISURE
Contact
"The Kiwi collective hasn't missed a step since first catching our ear" - Pigeons and Planes.
"LEISURE have no bad tracks to their name, so it follows that their debut album is one of the very best this year" - HillyDilly.
LEISURE: "It's been something like 700 days since we released our debut album - admittedly we had no idea what we were making, or how we were doing it, the only certainty was that the combination of the creative energies when we were all in a room was a feeling none of us had felt before.
Over the past year or so we've been capturing new moments from new places for the next collection of LEISURE songs..."
Made up of five independently talented and successful members who were looking for a new creative outlet unconstrained by over-thinking, over-planning, and excessive control.; LEISURE are an anomaly in the music industry. This unusual melting-pot of contributions means LEISURE is greater than the sum of its parts, each member bringing different influences from 70s funk, to 90s rap and R&B, all the way to dance music from the early 2000s. Each member also brings a different skill set - strong pop song writing sensibilities, experimental production techniques, and the talent to mix and master their own work.
Having amassed over 50 million streams on their debut album, which entered at #2 in the NZ charts, they have built a rabid fan following that has seen their very occasional live shows sell out and become the stuff of legends - in April this year they performed their debut, backed by the 72-piece Auckland Philharmonic Orchestra, to a sold-out Auckland Town Hall.
Their music has become a staple in the sync world, they have collaborated with hip-hop star, Goldlink, and have now signed globally to US/UK record label Nettwerk for their forthcoming album.
Their self-titled debut album release was critically acclaimed and with their sophomore album complete, fans worldwide continue to connect with their manifesto of living the good life, and their over-riding code to "keep things LEISURE".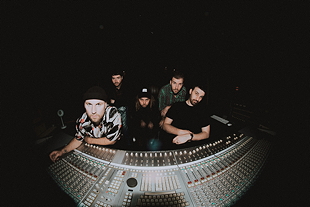 | | | | |
| --- | --- | --- | --- |
| Jan | Feb | Mar | Apr |
| May | Jun | Jul | Aug |
| Sep | Oct | Nov | Dec |