Tigercub
Contact
Tigercub have firmly displayed their ability to lacerate the surface with ease dropping their second album, "As Blue As Indigo", earlier this year to rave reviews from rock and alt press internationally. The record, that Upset calls one to "cement them at the top of the food chain", was written and produced by the band's own Jamie Stephen Hall, engineered and co-produced by Adrian Bushby (Foo Fighters, Muse) and mixed by Tom Dalgety (Pixies, Ghost, Royal Blood). Written over two years, "As Blue As Indigo" champions introspection drawing on the subjectivity of colour, paired with masterclass songwriting, mind-bending arrangements constructed with boundary-pushing production, "One of the best rock records of the year," claims Under The Radar Magazine.
The recent return to live has been a taster for further dates later in the year, including a further show with their friends in Royal Blood. The band will then tour "As Blue As Indigo" in full with a series of headlining shows to come in November and December.
Jamie, who stands 7 foot tall and is the band's sole songwriter, claims the creative fire for "As Blue As Indigo" was sparked by colour theory and the notion that what each human eye sees as colour could be totally subjective. That idea led him to explore his own personal issues through a similar prism, exploring topics including anxiety, depression, toxic masculinity, the death of his grandmother and the recent suicide of a close friend; and in turn began spinning the lyrical thread that ties the entire record together. Putting himself under the microscope was to become key:
"I never really felt in the past that I could talk about really personal things. I'd always used a mask. It's quite easy to do that because you're not exposing yourself in anyway. I'd always subconsciously tried to shy away from talking about myself," he notes. "I didn't want to do that anymore. I wanted this to be about me and process my emotions for the first time. I think that's made us more genuine and authentic as a band"
"As Blue As Indigo" is as colourful a journey as the vivid title suggests, its ten tracks span the progressive to the immediate, the gentle to the monolithic, and most of all fulfill the significant potential the band have always promised. "As Blue As Indigo" is an album that looks set to cement their place at the top table of British rock acts in 2021.
Back in 2018 the Brighton-based three piece were on the crest of a wave. As well as regular plays on daytime Radio 1 and a Rockest Record from the Radio 1 Rock Show, years of near non-stop touring had seen them sell out The Scala and play a triumphant hometown show at The Concorde 2. On their last EP, Evolve Or Die, they'd pushed the live-wired sound of their 2016 debut, Abstract Figures In The Dark, massively broadening their sonic palette and delivering Tigercub's pile-driving guitar gut-punch within an intense digital static.
It seemed like a good place to put things on pause for a bit and in the downtime the band's lead songwriter and frontman Jamie Hall started tinkering with his own brand of gonzoid psych-pop under the name Nancy. Intended only as a DIY experiment, the project massively took off. Nancy was Hype Machine's most blogged artist, Hall bagged two record deals and played a string of dates around the world. Not bad for something he'd done in his bedroom chiefly to keep his songwriting chops up. Enough to keep you busy you'd think, but Hall was itching to get back to the day job, determined to use all he'd learned from the solo project to further Tigercub on their return. And what a return it is.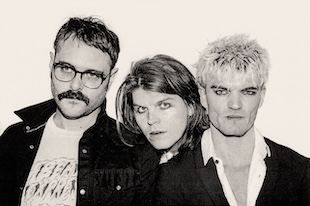 | | | | |
| --- | --- | --- | --- |
| Jan | Feb | Mar | Apr |
| May | Jun | Jul | Aug |
| Sep | Oct | Nov | Dec |