Marianne Faithfull
Contact
"I don't really do conventional..." 47 years of creative public life and Marianne Faithfull remains one of the most unique, bewitching and indeed unconventional musical artists Britain has ever produced. In 47 years she's grown from the quiver-voiced ingenue of her debut single 'As Tears Go By' (1964, the first song ever written by Mick Jagger and Keith Richards) to her peerless position as profoundly distinctive scorched-earth torch-singer and richly emotive song-writer - as evidenced today on her 23rd solo album, the sonically stunning 'Horses And High Heels'.
Recorded in New Orleans with a core of exceptional local musicians, the album features eight cover versions and four original new songs co-written by Marianne, four songs which feature the virtuoso guitar playing of John Porter, a musician/producer friend most noted for his work with Roxy Music, Eric Clapton and The Smiths. The album also includes one song with lyrics specially written for her by Irish playwright Frank McGuiness (the evocative 'The Old House'), two cameo appearances on guitar from another old friend, Lou Reed, plus further cameos from Dr. John and MC5's Wayne Kramer. It's all exquisitely produced by long-term collaborator Hal Willner, the soundscape alchemist behind the critically-lauded 'Easy Come, Easy Go' (2009), her astonishing collection of covers and duets featuring more of the kind of people Marianne calls friends, from Keith Richards and Jarvis Cocker to Rufus Wainwright and Nick Cave. Two years on and 'Horses And High Heels' shimmers with creative life, made by a woman in her 60s more vibrantly inspired than ever.
"I never stop working these days," avers Marianne in her sumptuous, throaty timbre. "Because I can do it. I'm healthy. And I love working, I think it's good for me. I'm very happy and I'm having a very good time.
I think the worst is over. And it's about time, really, isn't it?"
She is, they say, the Godmother of Goth, emblem of the night, both doomed romantic and ultimate bohemian survivor. She's lived her life, certainly, on the scenic route.
A teenage pop star, rock star's girlfriend and iconic beauty in the 1960s.
Film star and theatre actress in Chekhov's 'Three Sisters' (1967), 'Girl On A Motorcycle' (1968) and 'Hamlet' (1969).
Bedevilled drug addict lost in the shadows in the 1970s.
Resurrected rock star in 1979 via the classic album 'Broken English'.
Two decades of steady creativity in her 30s and 40s, from 'Dangerous Acquaintances' (1981) to her critically acclaimed post-heroin album 'Strange Weather' (1987, produced by Hal Willner), to the Angelo Badalementi collaboration 'A Secret Life' (1995) to her operatic recording 'The Seven Deadly Sins' (1998).
A flourishing acting career in her 50s and beyond: 'Intimacy' (2001), 'Marie Antoinette' (2006) and a Best Actress nomination for her starring role in 'Irina Palm' (2006).
A collaborative magnet across the generations, she's worked with Billy Corgan, Beck, Blur, Pulp (2002's 'Kissin' Time') and PJ Harvey & Nick Cave (2004's 'Before The Poison'), sung with David Bowie and Metallica and interpreted the songs of Kurt Weill (1995 '20th Century Blues'), Tom Waits and Morrissey.
A mythologically addictive personality, she's been teetotal since 2004, survived both a cancer scare in 2005 and clinical depression in 2008 and written two volumes of autobiography, 'Faithfull' (1994) and 'Memories, Dreams And Reflections' (2007).
'Horses And High Heels' was recorded in the New Orleans French Quarter over September/October 2010 and features a spectrum of astonishing musicianship from the city's musical pool. "We wanted to have fun, find great musicians and of course New Orleans is cheaper than New York," laughs the always refreshingly honest Marianne. It spans the spectrum of soul, blues, folk, country, jazz-pop perkiness and beguiling guitar-rock, all underpinned by her striking vocals and hauntingly influenced by the perhaps unlikely musical combination of jazz, classical music and Nick Cave's malevolent Grinderman. The cover versions see Marianne and Hal once again reprise their uncanny gift for finding beautiful, unexpected and often scandalously overlooked songs, as dramatic as they're coolly diverse. "We just do find great songs," notes Marianne, "but there's no theme...well, the only theme is me."
There's the brooding, spectral guitar-rock of Greg Dulli & Mark Lanegan's 'The Stations', the swooning, country-rock tinge of R.B Morris' 'That's How Every Empire Falls' and the bar-room blues and 70s soul revue thrills of Jackie Lomax's 'No Reason'. "We chose some soul material this time which I was very unsure of at first," muses Marianne.
"'No Reason', 'Back In Baby's Arms', 'Gee Baby', these songs are more vocally demanding and it was quite frightening. But I think we managed it." Elsewhere are glimmering 70s soul classics, from the gorgeous, steel-guitar-layered 'Love Song' (originally written by 70s song-writer Lesley Duncan and made famous by Elton John), the bewitching piano reverie of Carol King's 'Goin' Back' (definitively recorded in '66 by Dusty Springfield) and her positively Shakespearian rendition of the Shangri-Las masterpiece, 'Past Present and Future'.
Her four original new songs, meanwhile, are a revelation: the folky and unfeasibly rousing 'Why Did We Have To Part?', an elegy to the end of a long relationship "I just couldn't resist a break-up song - and the pain is over", to the rollicking, Hammond swirl of 'Prussian Blue' (a paean to her life in Paris), the rhythmically compelling, Celtic-folk-tinged 'Horses And High Heels' ("just me watching from my windows in Paris and Ireland") and the joyous 'Eternity' featuring a sampled Arabian-jazz flourish from Brian Jones' recording in Morocco with the Master Musicians of Jajouka (1968's 'Brian Jones Presents: The Pipes of Pan at Jajouka'). "It's all a very different style for me," notes Marianne, "much more rhythmic. And a very modern record, it's not looking back to the past at all. All the songs are about now, you know?"
It's a now filled with more possibilities than ever: in 2011, she tours the world, may "slip in" some spoken-word performances of her beloved Shakespearian Sonnets and has recently completed filming on 'Belle du Seigneur' (due 2012), the English-language adaptation of Albert Cohen's epic French love story, playing housekeeper Mariette alongside Jonathan Rhys Meyers and Natalia Vodianova. No wonder, at the heart of 'Horses And High Heels', is the sound of a worldly, sophisticated joy - an album as colourful, dramatic and artistically liberated as her own extraordinary life.
"Conventional happiness isn't my way, you know," notes the irresistibly unconventional Marianne. "But this is a very happy record. I'm not depressed anymore. And I think it's all been well worth it. I did have a bit of a bad time in the 70s but I think things have been wonderful. So I suppose this album is a bit of a breakthrough. I'm incredibly lucky, don't think I don't know it. I'm so grateful to be able to still write songs and express my emotion in music. And the best thing of all is working with such great people. It's inspirational."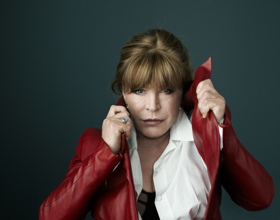 | | | | |
| --- | --- | --- | --- |
| Jan | Feb | Mar | Apr |
| May | Jun | Jul | Aug |
| Sep | Oct | Nov | Dec |