Marika Hackman
Contact
Marika Hackman; an artist who is more likely to quote proto-feminist ghost stories such as the 'Yellow Wallpaper' than align with audience expectations of a woman prepared to "sing a few nice songs with a pretty voice and then forget about it".
Clearly she's made of more substance than her contemporaries.
A captivating vocalist and incredibly attractive individual who is more interested in challenging perceptions of what songwriting can or should be in modern times, to bring us a greater sense of truth and understanding of current issues, from the forms of the past.
"All mainstream music is written in such a lazy way. It's all a formula of where to put each chorus and hook, its robotic in its creation.
People don't really have to listen because they know they'll be able to hum the chorus back after one minute, I think the clever placement of hooks and big chorus' con people into thinking they're actually enjoying it rather than being aware that it's just running along a well beaten track in their brains."
She expresses, asserting that her own frustration with this situation has coloured her approach to bring something better to the masses.
This approach links back to her approach to production, initially working with mentor Johnny Flynn and Adam Beach in a scenario in which inventive ideas were encouraged in a familial and confidence building scenario, before working with Charlie Andrew who had recently completed work on the Mercury Award Winning, Alt-J album.
"We took each song and stripped it back to the basic guitar part and vocal and then played around on different instruments to build up the layers. On retina television we decided to not use any instruments at all and try and build up the song only using sounds from my body, so as well as singing and humming I was doing stuff like tapping my teeth and jumping. We drew the line at burping though..."
This inventiveness is sprung from Marika herself as much as her production collaborators though, testified by her unique interpretations on her online covers EP which disclosed a raft of influences from Warpaint and The Knife to Nico (who she also shares a striking visual resemblance to) and Nirvana, and translated into the arrangement of her own material on the new extended play:
"When I've got an idea for a song I make a really rough demo on Garageband so I can try building up vocals and different instruments."
She explains in relation to standout track 'Plans': "The layered vocals in the verse was an idea that hit me as soon as I started recording the demo. Once I'd tried it out and decided I liked it, I was spurred on to finish the song. The harmonies in the chorus I developed by singing as many lines as I could over the original melody and then choosing my favourites."
This approach is always an extension of the lyrical substance behind each song always confrontational, with shades of Gothicism that reveal themselves beneath an accessible aesthetic like the hidden grotesque and mysteriously hellish details that can be decoded in a Hieronymus Bosch painting.
On 'Cannibal', an outwardly accessible, and eminently listenable song there are some deep ruminations about the conflicts between human evolution and personal greed.
"It's taking the idea of cutting off your nose to spite your face to a new level" she asserts "as you're cutting off your nose to consume it.
It's realising that what you're doing is wrong on many levels but being too afraid to confront it and therefore just carrying on. A fear of change I suppose, and a general level of disgust at where our 'evolution' has taken us."
Through taking previously cliched metaphors and imbuing them with the full horror of their original meaning, she asserts a fresh perspective that both shocks and provides comfort with the tools for the listener to deal with the situation of modern living.
Intrigue is at the heart of this approach, but there's something gloriously attainable about Marika as an artist, and her commitment to touring and meeting with a receptive audience who are searching for the very same antidotes the challenges of modern life, and something of more substance from their popular entertainment.
"Touring is such an unnatural way of living, but very addictive." She writes of her epic stint with Benjamin Francis Leftwich "There's such a strong sense of camaraderie when you're playing the same venues every night and living on a bus together. I think touring is a really important part of this job, gigging is where everyone starts and I think sometimes people get too wrapped up in just making records and forget that people what to see you as an artist perform."
However, she has her eyes firmly set on the future with a further collaboration with Charlie Andrew promised for this year, undaunted by the immense quality of material displayed on this current release, she is ready to surpass all expectations with the next sessions, and cement her position as the breakthrough artist who challenges the mainstream in 2013.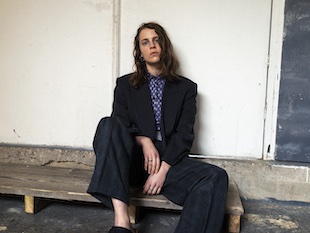 | | | | |
| --- | --- | --- | --- |
| 21 Sep 19 | | Thekla | Bristol |
| 23 Sep 19 | | Oran Mor | Glasgow |
| 24 Sep 19 | | Brudenell Social Club | Leeds |
| 25 Sep 19 | | Band On The Wall | Manchester |
| 26 Sep 19 | | Islington Assembly Hall | London |
| 08 Dec 19 | | Bitterzoet | Amsterdam, Netherlands |
| 09 Dec 19 | | Botanique | Brussels, Belgium |
| 11 Dec 19 | | Hakken | Hamburg, Germany |
| 12 Dec 19 | | Privatclub | Berlin, Germany |
| 13 Dec 19 | | Artheater | Cologne, Germany |
| 14 Dec 19 | | Point Ephemere | Paris, France |