Matthew Sweet
Contact
Looking back on the creation of the stunningly accomplished new Sunshine Lies, his tenth studio album and first for Shout! Factory (hitting July 22), Matthew Sweet asserts that never before has he felt so unencumbered. This newfound freedom hes experiencing stems in part from the intersection of rapidly advancing modern technology and the ancient art of pottery, Matthews part-time passion for the last several years, bringing an elaborate immediacy to his creative processwhich is why Sunshine Lies is such a kick in the head.
While Sweet has continued to make provocative and extremely personal albums during this decade, he hasnt sounded so charged up in at least that long. Now, I feel really free when I work, he says, not trying to hide his elation. Its easy and I have a good time. This record has come together in a way that it feels like this special little trip with some magic in itmoments where, to me, it gets crazy-great.
Without warning, this consummate artist just may have made the album of his life, not by consciously trying to recapture the brilliance of his three milestones, Girlfriend, Altered Beast and 100% Fun, but simply by following his big heart, while hot-wiring the process between inspiration and execution so that theres no longer any distance between them. With tongue only partly in cheek, Matthew describes the new records sound as power-pop-folk-rock-psychedelic-melodic-singer-songwriter-type stuff. That turns out to be an accurate general description, but the real intrigue is in the details. By turns achingly melodic and drivingly visceral, Sunshine Lies swirls with relatable emotion and bad-ass attitude, seamlessly incorporating the artists expansive aesthetic from one end (poetry) to the other (noise).
On Sunshine Lies, Sweet intermixes his distinctive brand of shimmering folk rock (Byrdgirl, Daisychain, Around You Now) and signature goosebump ballads (Feel Fear, Pleasure Is Mine, Back of My Mind), with the albums primary impulse, what he refers to as the crazy songs. These are heady, arrangement-based pieces where anything goes in terms of tone, texture and performancethe mindblowing Time Machine, the balls-to-the-wall Room to Rock, the brawny Flying and the Who-like Lets Love.
As usual, Sweet (guitars, bass, keyboards, Mellotron, lead and harmony vocals), who produced and mixed the LP at his own Lolina Green Studios in L.A., is surrounded by his longstanding triumvirate of guitar aces: Richard Lloyd (Television), Ivan Julian (Richard Hell & the Voidoids) and everybodys go-to guy, Greg Leisz (six-string, 12-string and slide guitars, pedal steel). The only other player on the record is equally familiar: drummer Ric Menck (Velvet Crush), who anchors every one of the new albums 13 tracks. Additionally, Susanna Hoffs and Matthews wife Lisa sing backup vocals on the title cut.
Sweet describes the character of the album as very direct, but seen through the eyes of nature, or rather modeled on its beauty, chaos and freedom. He introduced the theme of nature on 1999s In Reverse and fully embraced it on 2004s Living Things, an intimate, largely acoustic outing. Living Things is more like a book of poetry to me, he says, whereas this record is more whole in the sense that it more fully explores my preoccupations with nature and the universe. Complementing the organic feel of the music are the striking macro photographs of Brian Valentine, a.k.a. Lord V ( HYPERLINK "http://lordv.smugmug.com" http://lordv.smugmug.com), which grace the cover and package.
Sunshine Lies was created in two distinct phases, one of them quite recent. After turning in the original version of the album to the label early in 2008, and finishing his production of the debut LP from the sibling band Bridges for Verve, Matthew found himself struck by a new burst of inspiration. He grabbed Menck, banged out the three new songs that had appeared fully formed in his head and realized they fit perfectly onto the album, so he made the necessary moves to work them in. Whats funny, says Matthew, is the new songs ended up being a ballad, Pleasure Is Mine, a crazy poppy song in Time Machine and a rock song, Lets Loveso theres one more of each.
He decided to open the album with Time Machine, a wild psychedelic swirl encompassing a purring Mellotron, eerie sound effects and an otherworldly vocal chorale. The tough-and-tender Lets Love begged to be placed between the supercharged Flying and the spaced-out title track, a glorious Byrds-Beach Boys hybrid pitting Leiszs ringing 12-string arpeggios against billowing harmonies, while Pleasure Is Mine, centered around one of Matthews most poignantly unguarded vocals ever, slid naturally into place immediately after Sunshine Lies, providing the record with its most goosebump-inducing transition.
As for the albums visceral component, When it rocks, it rocks its ass off, Sweet says with satisfaction. Hes not kidding. The aptly named Room to Rock hits with brute force, Flying features a ferocious guitar duel, as Julian tears off madcap lines through spinning Leslie horns while Lloyd rolls out riffs as big as boulders, and Daisychain gets airborne from Sweets overdriven, crazy-beautiful, Eight Miles High-like guitar overtones, so heady they leave vapor trails.
While all this detail will be endlessly involving for Sweets hard-core fans, whats most striking about Sunshine Lies is that its FUNyes, 100%and this sense of fun powers the record through all of its musical, psychological and metaphysical twists and turns.
Of the significant bands and artists to emerge in the 90s, Lincoln, Nebraska-born Sweet is the odd man out. During a decade when cynicism, overstatement, and mean-spiritedness ruled, Sweet found a sizable audience by expressing himself with unselfconsciousness, subtlety, penetrating honesty and the sheer joy of constructing something cool.
While so many of his contemporaries disdained rock & rolls past, Sweet has deftly channeled it, picking up where his inspirations from previous decades had left off. A sophisticated aural architect, Sweet absorbed the work of 60s rocks three Bsthe Beach Boys, Beatles and Byrds, along with 70s avatars Neil Young and Big Starwith such a deep understanding of the spirit as well as the craft behind the music of the old masters that he was able to use these timeless palates in a fresh, highly personal way.
Sweet is that rare artist who seems directly and intimately knowable through his work, causing his audience to feel a close bond with himto put them on what they think of as a first-name basis. Sunshine Lies gives the artist and his fans a reason to get reacquainted, while also providing uninitiated music lovers with a perfect introduction to an altogether captivating body of work from an artist who remains as vital as ever.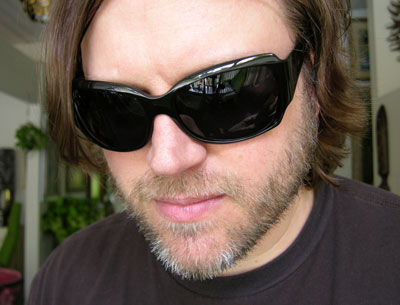 | | | | |
| --- | --- | --- | --- |
| Jan | Feb | Mar | Apr |
| May | Jun | Jul | Aug |
| Sep | Oct | Nov | Dec |