Maverick Sabre
Contact
MAVERICK SABRE has announced his third album as 'WHEN I WAKE UP' released March 2019, supported by his IRELAND + UK headline tour.
Independently released, the new record is an acutely personal and poignant body of work from the respected songwriter and artist and includes powerful features from JORJA SMITH and CHRONIXX.
Emotive second single 'HER GRACE' ft Grammy nominated artist Chronixx premiered earlier this week as a 'MISTAJAM' JAM HOT' and the new video, debuted by NOTION is a haunting, arresting piece of film exploring the narrative around domestic abuse;
Speaking on the video, Mav quotes; "With each of the videos for this album I've wanted to tell strong, emotive stories that carry across the feeling and message of the song. Her Grace is about the unspoken unheard struggles of women that go unnoticed in society and this video feels like a glimpse into an inner battle within that."
Shaun Grace, the director quotes;
"When the opportunity arose to work on something powerful with Mav I couldn't say no. I wanted to explore the day to day emotional and physical endurance needed to cope with domestic abuse and also the deeper, continuing cycles of conflict that affect both the abused and the abusers."
"I made the choice to cast my baby within this film as I knew how to get the reactions I needed from her comfortably. Even though I've watched it dozens of times in the post process, that final shot of the baby in the bathroom leaves me wondering what their future holds"
Following the album release on March 22nd, MAV will head out on his first headline tour in five years.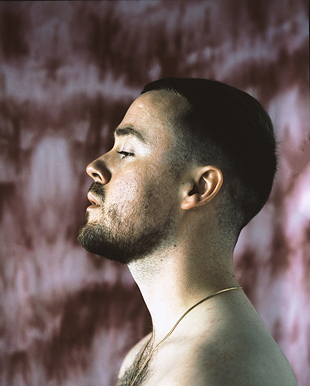 11 Feb, 2020

Maverick Sabre: New Video 'Into Hope'

Esteemed storyteller, singer, songwriter and commentator MAVERICK SABRE releases another acutely emotive and stirring visual for album track 'INTO HOPE', taken from his socially charged third album 'WHEN I WAKE UP'.

The new visual - shot in Mildmay Social Club, London - continues his reign of powerful and passionate visuals that have helped articulate the important messages embedded within his acclaimed third album. With MAVERICK SABRE taking centre stage in the lo-fi visual, his performance flickers between the dark and light shadows of his character.

Quoting on the video MAVERICK SABRE speaks;
"The video directed by OJ Deady, represents the idea of a song being able to speak to both sides of a person. The confident and sure version of yourself telling the story of the doubtful and hard up side that needs help in understanding their feelings. 'Into hope' the song was written about faith and questioning it but also searching for it within hope. Feeling detached from something you want strength from whether it's inside you and the faith of your own love or your faith elsewhere. 'Make me bleed, so I can heal for anyone."

Discussing the narrative of the video, director OJ Deady (TwelveA.M) says;
"I was really interested looking introspectively at the multiplicity of personalities. Rather than using dialogue or obvious actions, we felt that the juxtaposition of performer and audience would be the most effective way to capture those paradoxical moments. It gave way to emotional turmoil and the inevitability of needing to look inward after moments of self-destruction."

The last 18 months have seen MAVERICK SABRE reclaim his position as one of the most respected voices and artists in his genre, enjoying plaudits from SUNDAY TIMES CULTURE, COLORS, COMPLEX, CLASH, FADER, NOTION, LINE OF BEST FIT, ANNIE MAC, MISTAJAM, PHIL TAGGART and completing the album tour in the UK (closing the run with a sold-out show at SHEPHERD'S BUSH EMPIRE), the EU & USA.

'WHEN I WAKE UP' continues to cement MAVERICK SABRE as a bold spokesperson with a powerful voice, lifted through a series of outstanding visuals and short films across the project.

19 Nov, 2019

Maverick Sabre: 'When I Wake Up' Acoustic project

Maverick Sabre releases his new acoustic project 'When I Wake Up'.
featured in The Fader.

www.thefader.com/2019/11/15/maverick-sabre-acoustic-when-i-wake-up

27 Jun, 2019

Glastonbury Festival: Sunday 30th June, 2019

The Cure will headline the Pyramid Stage at Glastonbury Festival on Sunday, and the day features many artists from the Primary Talent International roster.

11.50-12.30: Circa Waves (Other Stage)
14.30-15.30: Self Esteem (Pussy Parlure)
16.00-16.40: Nilüfer Yanya (William's Green)
16.00-17.00: Joy Crookes (Pussy Parlure)
16.00-17.00: Tiffany Calver (Gully Blues)
17.00-18.00: Steel Banglez (Gully Blues)
17.15-18.15: Ray BLK (Sonic)
17.15-18.15: Loyle Carner (Other Stage)
17.20-18.20: The Bootleg Beatles (Acoustic Stage)
18.00-18.40: Ten Tonnes (William's Green)
18.00-19.00: DJ Vadim ft Kiko Bun (The Bug at Arcadia)
20.15-21.15: Dave (Other Stage)
21.15-23.30: The Cure (Pyramid Stage)
21.30-22.45: The Streets (John Peel Stage)
23.15-00.30: Maverick Sabre (Sonic)
00.00-01.00: Kasra (Arcadia's Pangea)
01.00-02.00: High Contrast DJ (Samula)
01.00-03.00: Mike Skinner DJ (The Rum Shack)

www.glastonburyfestivals.co.uk

18 Apr, 2019

Maverick Sabre: At Brighton Racecourse

Maverick Sabre is the special guest of Rag'n'Bone Man at his show at Brighton Racecourse on Saturday, 27th July.

22 Mar, 2019

Maverick Sabre: New Album 'When I Wake Up'

Storyteller, singer, songwriter and social commentator Maverick Sabre releases his third album 'WHEN I WAKE UP', ahead of his EU + UK tour which boasts a string of sold-out dates including London's Electric Brixton.

The new record is an acutely personal and poignant body of work which includes powerful features from long term collaborator and friend JORJA SMITH and the Grammy nominated CHRONIXX. exploring themes around love, hope, war, faith, society, emotion and much more.

Quoting on the album, Mav speaks; 
"This album is probably my most personal record; it's a reflection of the music I want to make with no agenda other than to release music that I'm passionate about, proud of and holds the messages and feelings that I am inspired by."

"I have spent the last two years creating a body of work that addresses topics which are so close to my heart and that have weight and importance to me; with every track I want there to be meaning attached."

Releasing a flawless series of singles over the last 6 months including 'DRIFTING', 'HER GRACE' ft CHRONIXX and 'SLOW DOWN' ft JORJA SMITH, visuals have been an integral part of the identity of the record exploring stories around domestic abuse, unspoken confessions and the communities of Ireland. Mav quotes;

"From the artwork through to the visuals I want to tell untold stories of the world around me and what goes on inside my head, everything i do has always been to connect with people and the music really does span a variety of emotions within that. I am incredibly proud of this album!"

The last 6 months has seen Mav join Jorja Smith on her European tour, his first headline show in two years headlining ANNIE MAC PRESENTS at the Jazz Cafe and collaborating with RUDIMENTAL on two tracks on their recently released album. Media nods have come from THE FADER, V MAG, VOLT MAG, COLORS, LINE OF BEST FIT, MTV, COMPLEX, NOTION, CLASH, DJ TARGET, ANNIE MAC, MISTAJAM, PHIL TAGGART, DERMOT O'LEARY and THE OTHER VOICES (TV performance).

12 Mar, 2019

Liverpool International Music Festival 2019

Maverick Sabre will play the Liverpool International Music Festival on Saturday 20th July.

06 Mar, 2019

Maverick Sabre: Performs 'Glory' on RTE

Maverick Sabre performs 'Glory' on RTE's 'The Ray D'Arcy Show'.

08 Feb, 2019

Maverick Sabre: EU Tour Dates

Maverick Sabre has announced EU tour dates for April.
See his artist page for full details.

28 Jan, 2019

Maverick Sabre: UK & Ireland Tour

Maverick Sabre's March / April tour of the UK & Ireland is selling out quickly.
The new album 'When I Wake Up' is available on the 22nd March.

02 Jan, 2019

Maverick Sabre: Performs 'Her Grace' For Colors

Maverick Sabre & Chronixx perform 'Her Grace' live for Colors in Berlin.