Peking Duk
Contact
Peking Duk are an Australian electronic music duo made up of disc jockeys and music producers Adam Hyde and Reuben Styles. The pair first garnered attention in 2012 with the release of a Passion Pit bootleg remix. Their biggest hit 'High' reached #5 on the ARIA Singles Chart, achieved a triple platinum certification and won the ARIA Award for Best Dance Release at the ARIA Music Awards of 2014.
Peking Duk was formed in 2010 in Canberra, Australia by Adam Hyde and Reuben Styles, both from suburbs of inner northern Canberra. Previously, Styles had played bass in a local band called Rubycon, and Hyde had performed as an MC in local stellar hip hop groups.
Upon the release of their Passion bootleg remix in May 2012, the pair gained attention from music blogs. Since then they have released two singles, both of which have hit number one on the ARIA Club Chart & featured in the Australian Single Charts. They have played numerous shows around Australia, Asia and North America, and their music has been supported by artists such as Tiesto, Steve Aoki and A-Trak.
In 2013, Peking Duk placed 5th in the Australia wide InTheMix Top 50 competition. This was their second year in a row in the top 10 of the competition (6th in 2012). 2013 also saw Peking Duk receive strong support from national youth broadcaster Triple J. Along with having their tracks added to rotation, Triple J also gave Peking Duk the opportunity to be a Triple J Mix Up resident which saw them present and host a weekly DJ Mix on Saturday nights for a month.
Notable festivals Peking Duk have performed include Falls Festival, Splendour in the Grass, Parklife Music Festival, Shore Thing, Big Day Out and Stereosonic.
In February 2014, they had their first Top 40 hit on the ARIA Singles Chart with their track 'High' featuring Australian vocalist Nicole Millar.
In August 2014, Peking Duk signed a worldwide record deal with Sony Music Entertainment in conjunction with RCA Records.
In July 2015, Peking Duk Released a new single called 'Say My Name' featuring Benjamin Joseph, which was premiered on the 'Hamish and Andy Show'.The track was released as a single through Vicious Recordings imprint Vicious Bitch in Australia & New Zealand, and saw an international release as part on an EP released on RCA / Sony called 'Songs To Sweat To'.
In December 2015, at a show in Melbourne, a fan (David Spargo) accessed the backstage area by editing the band's Wikipedia article page and inserting himself as a family member. Upon showing the article and his ID to the security guards, he was granted access to the band with whom he shared a beer. The band reacted positively to this scheme, stating "He explained to us his amazing tactic to get past security to hang with us and we immediately cracked him a beer. This dude is the definition of a legend." However, Hyde did add: "It goes to show, never trust Wikipedia".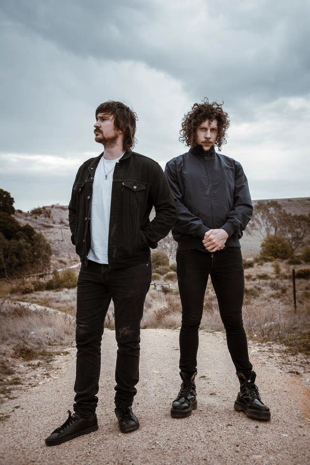 | | | | |
| --- | --- | --- | --- |
| Jan | Feb | Mar | Apr |
| May | Jun | Jul | Aug |
| Sep | Oct | Nov | Dec |