Pixey
Contact
Emerging performer, producer and multi-instrumentalist Pixey grew up in the sleepy but picturesque village Parbold, Lancashire before moving to Liverpool for school and remaining there to this day. Now signed to Chess Club - a label famed for breaking new talent, where recent exciting signings include Alfie Templeman and Phoebe Green, and past successes include Jungle, Wolf Alice and Easy Life - Pixey is making more waves than ever before.
Recent single 'Just Move' was written, recorded and produced in Pixey's bedroom in Liverpool - with additional production added by frequent Gorillaz and Jamie T collaborator James Dring in London - and drew attention from BBC Radio 1 DJs Jack Saunders (who made Pixey one of his Next Wave artists) and Huw Stephens amongst many other admirers like Radio X's John Kennedy who added the band to the X-Posure playlist at the station in October. Internationally, 'Just Move' is currently the most played track on KINK FM in the Netherlands right now. Pixey has also featured as the cover artist of Spotify's Indie Brandneu (GER) and Peach editorial playlists of late.
Pixey first discovered music as a toddler - she remembers not even being able to walk yet but desperate to sing and dance to Queen - before discovering the likes of Kate Bush, Björk, and George Harrison, whose classic songwriting struck a chord with her in her youth. The catalyst for Pixey's musical coming of age, however, was a near-fatal viral illness suffered in early 2016 which hospitalised her, she says: "When I thought I was going to die I thought of all the things I wish I'd done, and music was the first thing I thought of. As soon as I started recovering, I started learning to record and produce." She taught herself Ableton production software before mastering guitar and eventually drums and bass after her previous (and current) boyfriend(s) left their instruments lying around to prove she could learn it quicker and play it better.
Once able to carve out her own sound, Pixey turned to The Verve, The Prodigy and De La Soul for sonic inspiration, adding: "I particularly like the idea of using samples/making my own rif s sound like samples which was heavily inspired by the [De La Soul] album 3 Feet High and Rising. Starting out initially though Grimes was a huge catalyst when I realized she wrote, recorded & produced herself." Her prolific and unusual songwriting style stems from an original rif or beat, with further layers added as she records and produces, and lyrics being added last - the process taking only a day or two.
With a whole arsenal of unreleased material readied on her new label home, Chess Club, Pixey is primed for big things in 2021 and beyond.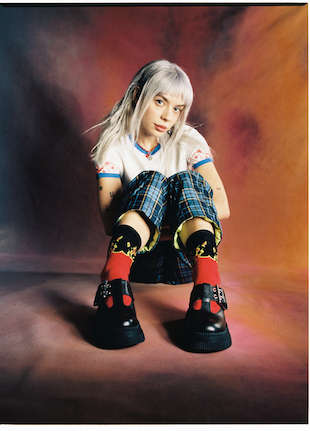 | | | | |
| --- | --- | --- | --- |
| Jan | Feb | Mar | Apr |
| May | Jun | Jul | Aug |
| Sep | Oct | Nov | Dec |