Indigo Girls
Contact
On their 16th studio album, Indigo Girls tell their origin story.
They have reunited with their strongest backing band to date to create 'Look Long' - a stirring and eclectic collection of songs that finds the duo of Amy Ray and Emily Saliers chronicling their personal upbringings with more specificity and focus than they have on any previous song-cycle.
These eleven songs have a tender, revealing motion to them, as if they're feeding into a Super 8 film projector, illuminating a darkened living room. Saliers and Ray are tackling the mechanisms of perspective.
"We're fallible creatures shaped by the physics of life," says Saliers. "We're shaped by our past; what makes us who we are? And why?" In this moment of delirious upheaval, 'Look Long' considers the tremendous potential of ordinary life and suggests the possibility that an honest survey of one's past and present, unburdened by judgement, can give shape to something new - the promise of a way forward. With the energy of a vast and loyal audience beneath their feet, a weather eye toward refinement, and an openness to redefinition, Indigo Girls exemplify that promise.
Plans for 'Look Long' materialized over morning tea with producer John Reynolds (Sinéad O'Connor, Damien Dempsey) on a stop during the duo's recent, sold-out tour of the United Kingdom. "We were talking about life and music and by the end of breakfast we'd reached the conclusion that it was time to make another record together," says Ray. Their relationship with Reynolds dates back to the summer of 1998 during the second Lilith Fair Tour when a shared main stage headlining slot with Sinéad O'Connor and her formidable backing band, featuring Reynolds on drums, bassist Clare Kenny, keyboardist Carol Isaacs, cellist Caroline Dale, and lead guitar player Justin Adams, blossomed into deep, mutual admiration and collaboration. Ray has called the relationship, "one of the most important moments in our musical growth." The group recorded Indigo Girls' next album, 1999's 'Come On Now Social', with Reynolds acting as both producer and drummer, before embarking on a worldwide tour. Twenty years later, with the addition of longtime, touring violinist, Lyris Hung, 'Look Long' marks the complete return of the lineup Saliers calls, "our musical compass."
Tracking commenced in early January 2019 at Peter Gabriel - founded Real World Studios, a state-of-the-art recording studio tucked into the English countryside outside the city of Bath. "Emily and I were so excited by John's arrangements," Ray remembers. "It was a good lesson in trust." Before flying to England, the two had agreed, "Whatever happens in the studio will happen," says Saliers. "A lot of magic unfolded because of that decision."
A similar magic began unfolding in 1989 when their eponymous major label debut shifted over two million units under the power of 'Closer to Fine' and 'Kid Fears' and turned Indigo Girls into one of the most successful folk duos in history. Over a thirty-five-year career that began in clubs around their native Atlanta, Georgia, the Grammy-winning duo has recorded sixteen studio albums (seven gold, four platinum, one double platinum), sold over 15 million records, and built a dedicated, enduring following. Collaborations with a new generation of devoted peers like Brandi Carlile, Justin Vernon (Bon Iver), Sierra Hull, and Matt Nathanson continue to bring newcomers to Indigo Girls' audience. Says Vernon about growing up with Indigo Girls' music, "I adored them more and more - the more they had strength in the face of their adversity... They're my favorite group ever." Committed and uncompromising activists, they work on issues like immigration reform (El Refugio), LGBTQ rights, education (Imagination Library), death penalty reform, and sustainability in Native communities. They are co-founders of Honor the Earth, a non-profit dedicated to Indigenous environmental justice and green energy solutions.
"I told myself I wasn't going to put boundaries around what should be an Indigo Girls song," Ray says of writing album opener 'Shit Kickin'.' The funky, back road-strut is both a love letter to her Southern heritage and a refusal to be complacent about the region's legacy of prejudice and racism. "Damn that trickery / it got the best of me," Ray sings over Saliers' slide guitar, "I'm gonna tear it down and start again."
"Everyone I know can sense Armageddon," sings Saliers on 'Look Long', the expansive title track (a showcase of her compositional grace) that coalesces past, present, and future into a unified perspective. "People feel lost in these political times." 'Look Long' means "let's lament our limitations, but let's also look beyond what's right in front of us, take the long view of things, and strive to do better." Ray is equally focused on the search for common ground on 'Muster,' a frank accounting of the American gun-violence epidemic she began writing after seeing a televised town hall meeting held in Parkland, Florida. "I was struck by these citizens' willingness to meet and try in earnest to have a dialogue between the two sides." She asks, "Is this the best we could muster / Custer or just prayers for the slain / I wanna get this right and not the same ole thing."
Saliers' angular electric guitar sends a current through 'Change My Heart,' a rocker that pairs politics and physics. "The four fundamental forces came to play / In the American schism," she sings. "I was reading about electromagnetism and gravitational law... we are physical beings, we vibrate. And we can achieve higher vibrations, so to speak."
Saliers and Ray both became parents (each a daughter) since their last studio album; the experience permeates these songs of self-discovery.
'Howl at the Moon,' a joyful, rallying-cry for personal liberation, "is something I always do with my daughter when we're out in the woods," says Ray. "I did it as a kid with my friends too, we'd howl like wolves - it means you're happy, you're free. Explore the irreverent but also honor the things that you should. Don't be afraid." Reynolds' rhythmic approach brings the lyric to life amidst mandolin jangle and clever counter-melodies in what Ray calls a "glorious swirl of motion."
"I wrote about something that I'd been afraid to write about my entire life," says Saliers of her elegy for her younger sister, 'Sorrow and Joy.' "We have to hold these opposites in life. It's the secret, it's the key, it's the way that things are made - by opposing forces that inform each other. I was looking at her photo, thinking how strange it is that when someone dies young, they're forever frozen in your mind as youthful. The contradictory emotion of seeing their vibrancy and knowing that they're gone."
The twist-time, B-52s-tinged 'Favorite Flavor' evolved out of a game of call and response between Amy and her daughter. "When I'm writing, she'll come sit with me and play along on a drum or shaker. She knows I always have candy in the music room," laughs Ray. "One day while we were just having fun playing back and forth, I said, 'Okay, sing the next thing you think of' and she sang, 'wild cherry is my favorite flavor!' I realized later there was the beginning of a real song there."
"I wanna be that boy / I wanna be that girl / I wanna know what it's like to fall in love like most of the rest of the world," Saliers aches over a lovely layer of strings on 'Country Radio.' "This is the way I felt doing those four-hour drives from Nashville, listening to country music radio," she says. "I could almost put my own life story in these songs, but I can't. There are gender divisions and heteronormative realities. There's a lot of self-homophobia that I've had to work on in my own life that plays into this as well."
Ray was reflecting on ride share apps when she penned 'K.C. Girl,' a power pop, suburban nocturne. "It's a transaction built on trust but also detachment. Even in silence, you're both leaving clues about who you are. No one wants to be read the wrong way."
'When We Were Writers' is a pop-savvy ode to what Saliers calls "the two most influential years of my life" spent at Tulane University in New Orleans. "Amy and I were starting to embark on really what was the beginning of our career," remembers Saliers. "Today, we joke about being old, but what is old when it comes to music? We're still a bar band at heart. We are so inspired by younger artists and while our lyrics and writing approach may change, our passion for music feels the same as it did when we were 25-years-old."
"As time has gone on, our audience has become more expansive and diverse, giving me a sense of joy," she adds. To hear those collective voices raise into one, singing along and overpowering the band itself, one realizes the importance Indigo Girls' music has in this moment. In our often-terrifying present, we are all in search of a daily refuge, a stolen hour or two, to engage with something that brings us joy, perspective, or maybe just calm. As one bar band once put it, "We go to the doctor, we go to the mountains... we go to the Bible, we go through the work out." For millions, they go to Indigo Girls. On 'Look Long' they'll find a creative partnership certain of its bearings, forging a way forward.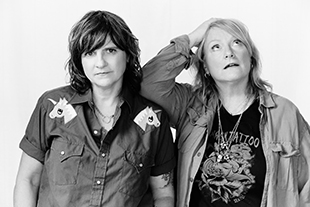 | | | | |
| --- | --- | --- | --- |
| Jan | Feb | Mar | Apr |
| May | Jun | Jul | Aug |
| Sep | Oct | Nov | Dec |