Indigo Girls
Contact
20 years after they began releasing records as Indigo Girls, Amy Ray and Emily Saliers have politely declined the opportunity to mellow with age. You could say its just not in their constitution: Devoted environmental and social-justice activists and lifelong music-industry mavericks, the Girls have spent their entire career pushing boundaries on a variety of fronts. Why stop now?
Both Saliers and Ray agree that Despite Our Differences, the 10th Indigo Girls studio album, is a record defined by change and newness: On the business side of things, its the first CD theyve released since signing a new record deal with Hollywood Records earlier this year. And on the creative side, its one they made far outside the confines of their established Georgia comfort zone; Differences was recorded over a speedy month-and-a-half this spring at veteran producer Mitchell Frooms home studio in Santa Monica, California.
Making this record was really different for us, Saliers says. We were all in the same room together: Amy and I with Mitchell and the engineer, David Boucher, and the band, which here includes session-pro drummer Matt Chamberlain and Indigo regular Clare Kenny on bass. It was like a little family experience, which is really, really different from being in a huge, cold studio where everyones isolated. And there was a really strong trust factor with Mitchell. He has a great musical ear, particularly for harmonies and things like that. If he heard a note that didnt sit well with him, hed tell us. It was a real exchange.
We felt intimidated by Mitchells abilities, Ray admits. To go in and just put ourselves out there and trust that hes gonna take it and work with itthat felt like a risk, but in a good way. Its nice to get your adrenaline up. At this age you really have to keep trying things youve havent done.
The result of that experimentation: perhaps the freshest-sounding album in the Indigos ample discography. Differences pulses with warm acoustic guitars; crisp, tasty keyboards (played by Froom and longtime band member Carol Isaacs); and, of course, the singers trademark intertwined vocals. Guest appearances from two Indigo Girls fans, Brandi Carlile and Pink (returning the favor the Girls did her when they performed and sang on Dear Mr. President from Pinks album Im Not Dead), inject the record with this inspiring energy, Saliers says. Theres an understated immediacy to the music that evokes the deep-rooted chemistry of the artists live show, which Saliers admits was part of what she and Ray were after. Amy and I had learned the songs, she explains, and we just wanted to go in there and cut them with the rhythm section. Mitchells not an overproducerhe wants the song to come alive.
The tunes on Differences are certainly a batch worthy of that effort. Plainspoken yet rich with literary detail, they address the growing unrest in the world, as well as the smaller push-and-pull that takes place every day between two people. Opener Pendulum Swinger takes on institutional sexism and what the Girls view as President Bushs wrongheaded approach to the war on terrorism. Even though its a pop song, Saliers acknowledges, its saying youre not gonna win this with a bullwhip or posing with your hands on your hips like Mr. Tough-Guy President. The only way to stop this madness is through love. Thats a simple sentiment, but I believe it at my core. I Believe in Love, a gorgeous folk-soul lullaby, proves the point with its message of tolerance and the necessity of understanding despite our differences. In Little Perennials, the albums lively lead single, Ray describes getting something for all this loves labor over a throbbing backbeat embroidered with strummy fuzz-roots guitars and swirling, helium-high keyboards.
I think its remarkable that Amys life and my life coincided like this, Saliers says, that weve been able to make music and stay dear friends through all these years. Ray echoes her bandmate: I remind myself that weve been together for such a long time and that were lucky to still be together, she laughs.
Though she admits shes not one for making a big fuss over a milestone like the Indigos 20th anniversary of recordmaking, Ray says this new chapter in the bands career does reaffirm the principle thats always driven the duo. Its all about living in the moment that youre in and trying to make it better than the moment that came before, she explains, pointing for example to the bands ongoing work with Honor the Earth, a Minneapolis-based non-profit dedicated to energy justice within the Native American community. We just want to keep evolvingthere isnt a point where that doesnt apply.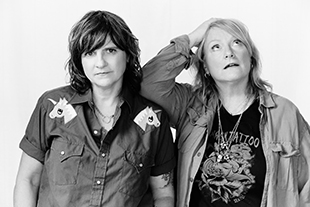 03 Feb, 2020

Indigo Girls will play The Big Top at Beautiful Days festival in Devon, between 21st-23rd August.