PRETTY SICK
Contact
In the time since New York native Sabrina Fuentes released Pretty Sick's debut ​self-titled​ EP in 2016, the now 20-year-old Fuentes graduated from high school, modeled for the likes of Opening Ceremony and Converse, and enrolled in a popular music program at Goldsmiths University in London. Fuentes started the band when she was just 13-years-old, and in the course of a relatively short, formative span of time in her life she's become a vital presence in the youthful New York City scene where skaters, visual artists, rock'n'roll-obsessed teens, and jazz heads all rub shoulders in the wide avenues, shoebox apartments, and galleries of the Lower East Side. Fuentes weaves this creative community into her sometimes raucous, sometimes restrained, and always personal songwriting and visuals. Pretty Sick's new video for the aptly titled "Allen Street" is a case in point for this community-oriented approach. Directed by frequent collaborator Manon Macasaet, Fuentes and her friends drive along Allen Street as Fuentes' friends float by on skateboards, cheekily flipping off the camera, and fuzzy dice swing from the rearview mirror.
Over the past half-decade, Pretty Sick have performed across New York City at now-defunct DIY venues like Shea Stadium and Silent Barn. This might seem like it would be prohibitively intimidating to someone so young, but Fuentes always felt singularly compelled towards making music. "It was just the only thing I ever wanted to do. I don't have any other interests, honestly. I'm kind of obsessed," she says. Songs that Fuentes wrote when she was 12-years-old coexist with ones that she wrote just more recently on Pretty Sick's upcoming EP, the band's first release for British label Dirty Hit. Fuentes's songwriting neatly fits within a long, storied lineage of New York City rock'n'roll, but given that she wrote them over a span of 8 years, these songs uniquely capture what it's like to come of age in New York City. "I appreciate a good pop song and more than anything I want to know if I hit the nail on the head with them," Fuentes says of the new music, which builds on the grunge-indebted sound of Pretty Sick's earlier releases to encompass more mature themes and complex arrangements.
Pretty Sick's self-titled EP found Fuentes on bass and lead vocals with her friends Ella Moore and Eva Kaufman on guitar and drums, respectively, and the band now consists of Fuentes, drummer Austin Williamson of New York City experimental jazz group Onyx Collective, guitarist Wade Oates, formerly of The Virgins, and bassist Orazio Argentero. She met Argentero in her Goldsmiths program, where they quickly bonded over their mutual love of rock music. Oates and Fuentes met through filmmaker Richard Kern. They became fast friends and collaborators, making songs together on drum machines. Fuentes met Williamson through mutual friends Adam Zhu and Isaiah Barr after Pretty Sick opened for Onyx Collective, of which Barr is also a member, at a Halloween show that they both played at a few years ago. "I thought we really sucked, but [Williamson] said he wanted to play drums for us after our set," Fuentes recalls.
Given that Fuentes wrote the songs on the upcoming EP over such a long span of time, she can't quite relate to all of them anymore. Some chart the difficulties of communicating, while others are preoccupied with the feelings of being stuck in a cycle of complacency and self-destruction. The presence of New York City looms large in all of them, an energizing force that cuts through each song on the EP in different ways. "It's just about experiences being a teenager in New York. New York is a big theme in all of my music for the most part," Fuentes says. "It's such a deeply human city, even if it's at risk of being taken over by gentrifiers and developers. There's nothing you can't do in New York, and there's nothing the city can't handle. It inspires so much, and it inspires so many people. It's given me everything I have."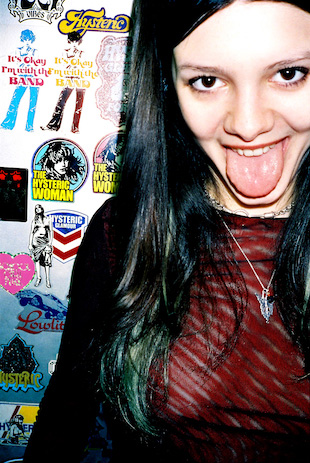 | | | | |
| --- | --- | --- | --- |
| Jan | Feb | Mar | Apr |
| May | Jun | Jul | Aug |
| Sep | Oct | Nov | Dec |