RX Bandits
Contact
For a band that's always been looking ahead, 2013 marks a rare time when RX Bandits is looking back.But it's not a regression. Think of it as more of a rejuvenation. And a celebration.
You see, 2013 marks the tenth year anniversary of RX Bandits releasing their landmark album 'The Resignation'. And to honor the occasion, the band is playing the whole album on tour and putting out a new EP.
Two exciting events that may surprise long-time fans, who weren't necessarily sure of the next time they were going to see or hear the band.
"A lot of bands will mark the ten-year celebration on an album as a good business move," says RX guitarist Steve Choi. "But for us, we look back on that record, and we're like 'we're really proud of ourselves for what we did when were 22'. It's not embarrassing! That record was responsible for a lot of our career."
A creative and commercial watershed, 'The Resignation' showed RX Bandits further augmenting their sound with a more complex palette, incorporating elements of Latin, prog-rock, dub and blues - ideas they further transformed through 2006's... 'And the Battle Begun' and 2009's 'Mandala'.
"We've pretty much had the same lineup since 2002, right around the time we were recording 'The Resignation'," explains RX frontman Matt Embree.
"And we've kind of done things the same way since then. It's been putting a premium on musicianship. For our records, we'll rehearse a sickening amount and work out all the kinks in the same room. And then, when we record, we'll leave parts in the songs wide open, where we can make something really cool happen. It gives our material life."
Still, after six studio albums, a few side projects, some record company kerfuffles and few thousand shows (including stints at Warped, Bonnaroo and Coachella), RX needed a break. In mid-2011, they announced a touring hiatus, leading to some rampant speculation on the band's future.
"It was always open ended on what we were going to do next," says Embree. "I do wish we had been more clear."
"We only wanted to come back when it felt right," adds Choi. "There had to be a moment when we could take stock in everything, get on the same page and see RX for what it was. So it could have been a six month break. Or eight years. It just happened to be about two."
Along with a tour (complete with horns), RX will be releasing a covers EP in the near future, the band's first recorded material in four years.
While not new songs, the record - featuring covers of everyone from Weezer to Fugazi to Blonde Redhead - still showcases the band's eclectic tastes and expert musicianship.
"We wanted to do the songs we love, whether they were obscure or popular," says Choi. And the bonus of getting material out now is apparent. "Putting out new music now...it was an easy way to get back into the recording groove."
A covers EP in tow, the band will be hitting the road for a summer tour, both across the U.S. and in several European festivals, including Reading and Leeds. "Our fans love us most for our live shows, and we're really here to celebrate the fans," says Embree (which helps explain the band's quote plastered across their social media accounts: "We are a band with the greatest fans in the world. You're either in, or you're out")
"And you can't replace a good live show," adds the singer. "You can't replace the thousands of hours it took to get there."
Still, beyond the tour and the EP, the group has no firm plans, content to see where the road takes them.
"I liked to say we live in a garden of ambiguity," says Choi, laughing.
"Let's just say whatever we're doing, we're always evolving and changing, never resting our creative laurels."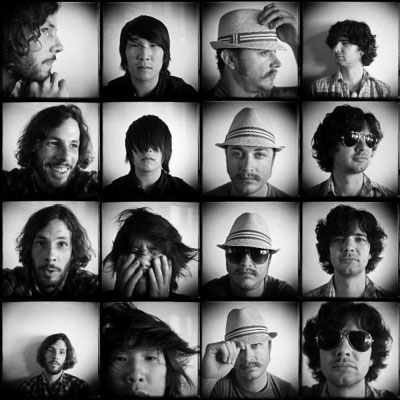 | | | | |
| --- | --- | --- | --- |
| Jan | Feb | Mar | Apr |
| May | Jun | Jul | Aug |
| Sep | Oct | Nov | Dec |