High Contrast (DJ Set)
Contact
"The name High Contrast is a philosophy," explains Lincoln Barrett, the man behind the moniker, "When I started making drum & bass in the late '90s it was very dark, masculine and techy-sounding. I really wanted to flip that, to sample disco and be more feminine. People laughed at me but it was ahead of the curve, and more people started doing that. Now it's time to find another way of changing it..."
High Contrast has been at the leading edge of the scene for 15 years. He curated music for the 2012 Olympic Opening Ceremony; he's worked with everyone from Underworld to DJ Fresh; he's headlined festivals; he did a timeless Fabriclive mix; and he's one of dance music's elite remixers, achieving acclaim for reworks of Adele, Duke Dumont, White Stripes, Kanye West and, of course, London Grammar's 'Strong'.
He grew up in Penarth, where he still lives, the son of Paul 'Legs' Barrett, once Wales' leading rock'n'roll promoter/agent and the man who discovered Shakin' Stevens.
"I grew up only hearing '50s rock'n'roll," Lincoln recalls, "As I've grown older, I've gone back to my dad's music. It fits in my obsession with clever, catchy hooks."
As a boy, though, Barrett was drawn to film. He was a seriously ill child, in and out of hospital with hooping cough and multiple other ailments. He spent his time watching old horror films, working his way from the black'n'white Hollywood classics to the modern era. He even made a zombie flick, aged 10, starring his dad. His first musical adventures were in his mid-teens, as the MC for a punk-metal band called 187. He even tried his hand at MCing drum & bass events but found it wasn't his forte. He was into both hip hop and drum & bass and the DJ Zinc remix of The Fugees' 'Ready or Not' was a key tune that influences him to this day.
"It was this massive hip hop hit and there's this crazy jungle version of it," he enthuses. "I loved that combination. It's stuck with me ever since. I don't like remixing drum & bass records, I don't see any point in it, they're already what they're intended to be. Whereas, say, Adele's 'Hometown Glory', I still think it's her best song. It gives me something fresh and different to work with. I also did one of 'Hello' which has done very well for a bootleg quickie." Indeed, the latter made Annie Mac's 'Hottest Record in the World'.
He went to Newport University to study film but was increasingly sidetracked by music. A friend lent him Depth Charge's seminal breakbeat album '9 Deadly Venoms' and Barrett realised the potential of sampling, of his filmic knowledge, and, using a demo of Cubase, plugging his VCR into the back of his PC, he started playing around.
"The reason I got into making it when I was studying film is that you can get a track going pretty quickly, whereas a film is a long process that involves many people," he explains. For two years he was also the resident drum & bass brain at Cardiff's only dance music shop, Catapult, which dramatically expanded his musical ideas.
"I hated house music," he admits, "and Catapult exposed me to other genres. I became interested in applying the filtered French house sound to drum & bass. No-one had done that before."
Just before he graduated Lincoln signed his first record deal with Hospital, went straight into music and "shelved the film thing". The next years were a whirl of global travel, establishing his DJ name and firing out genre-defining tunes along the way. 2002's 'Return of Forever' from his debut album 'True Colours' was the first High Contrast cut to break scene-wide, played by everyone from Fabio to Hype to Andy C. It was a groundbreaker in that it was melodic, uplifting and epic, but was also light and not aggressive.
Another tune that took things up a level was 2007's 'If We Ever', a dancefloor monster that saw Lincoln returning to classic junglist rave anthems, and featuring Diane Charlemagne, the late, great voice of drum & bass. It came from the album 'Tough Guys Don't Dance', which was also home to, perhaps, High Contrast's best-loved tune 'Kiss Kiss Bang Bang'.
"Things I sampled back into the '90s still crop up," says Lincoln. "One of the first things I ever sampled was Julie London's 'Cry Me A River', which was used in the rock'n'roll film 'The Girl Can't Help It' in 1956, my dad's favourite film. It took ten years to work it into my music but eventually it became 'Kiss Kiss Bang Bang'."
Lincoln has directed is own videos but the most grandly cinematic event he's been involved with was undoubtedly overseeing the musical side of the athletes' opening parade at the 2012 Olympics.
"Underworld got in touch with me out of the blue around 2010," he recalls, "They asked me to collaborate on a tune for the album 'Barking', which led later to my involvement in the Olympics. It was a surreal experience, working on this music, trying to forget a billion people are going to hear it, then on the night there's Muhammad Ali and the Queen and Paul McCartney and my tunes playing. What the hell were they thinking?! It was a once in a lifetime thing and I'm forever grateful."
High Contrast went on to co-produce Underworld's latest album, the revitalized sounds of 'Barbara, Barbara, We Have A Shining Future'. If that connected him with his roots, he also worked with DJ Fresh and Dizzee Rascal last year on the Radio 1 A-listed 'How Love Begins' single. Barrett doesn't like putting limitations on himself. He wants to engage with his muse wherever it takes him, whether that's experimental or pop, or preferably both. And so to the new album, recently signed to 3Beat Records...
"I used to think you could be more prescriptive making an album," he says, "then I realised you can't control it in advance, you're better off just following your heart and not overthinking it. Music is an escape from the linearity of narrative and language and from a whole lot else."
And when High Contrast wants to escape, it is a very tempting proposition to go with him.
High Contrast photo by Larry Rostant.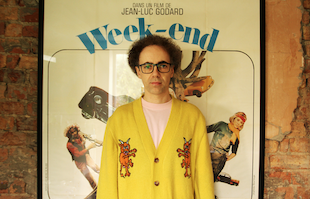 | | | | |
| --- | --- | --- | --- |
| Jan | Feb | Mar | Apr |
| May | Jun | Jul | Aug |
| Sep | Oct | Nov | Dec |