Viji
Contact
Referencing the easy, fuzzy sounds of the 90s, Viji – real name Vanilla Jenner – is pioneering a new scene of indie sleaze.
Her debut album, So Vanilla, is filled with layered guitar melodies that touch on the slower end of Sonic-Youth, paired with the pop hooks and slow, soulful soliloquies.
The album was recorded predominantly in London, in partnership with four-times Mercury Prize nominee producer Dan Carey (Fontaines DC, Kae Tempest, Wetleg and Slowthai). The pair don't remember the exact moment they were introduced, both swearing that a member of each other's team suggested they meet. Down, the second track on her album and her first single, starts off slowly with elegant vocals and gentle guitar. In true garage punk style this builds to add a drum and guitar line. By the time she reaches the middle-eight the sound flips to an upbeat vibe, Viji's voice reminiscent of Kim Deal's magical voice horn.
Having finished the album in November, 2022, Viji relays that every song had a different writing process – some saw her and Carey playing guitar chords together for hours, until the sounds fused into one, and others came from late night ramblings at home. Down's writing session originated from a frustratingly happy period in her life: "I feel more creative when I am going through something," says Viji, "If I am happy, I find that there is little to say." This is the topic of Down, questioning whether or not we have to suffer for our art, 'rewind the part that hurts the most, cos it didn't hurt me enough….Do I have to feel down to reach?'. While she was writing it, she was reading Murakami's The Elephant Vanishes, a collection of short stories by the iconic Japanese writer. One story spoke to Viji, "Sleep," it tells the reader of a woman who has not slept for 17 days, but does not feel tired. Instead she uses this newly-discovered spare time to eat chocolate and read, her passions premarital life. "It goes somewhere different in the end," confesses Viji, "but it was an inspiration to me, like, wow, is that the only time individualism comes through, when we are free of social constructs or romantic relationships?"
But it was the last track on the album, Ambien, that was the hardest to write. "I chipped away at the lyrics the whole summer. The song has so many verses, I wrote around 13 in the end, and was very deliberate over which would make the final cut."
Born and raised in Vienna, Austria until the age of 16, she travelled first to the US and then to Brazil to stay with family. By her own admission there was no alternative music scene in Vienna while she was a teenager, but that didn't stop her from having an emo punk rock phase aged 13, "I was like, 'Yep this is what I want to do,'" she says. Her father is a luthier, making and repairing renaissance stringed instruments such as lutes and violas. There were always instruments available for her to play, it was a really normal part of her life - she even built her own mini-harp as a kid. She says. "I started playing classical guitar aged seven, and then I changed to acoustic." Pretty soon after she was begging her older cousin for use of his rehearsal room where she'd play electric guitar with a drummer friend as a two-piece, who eventually performed in school much to her teacher's chagrin.
After Brazil, she moved to the UK to study music production in Brighton. Although she had written her first songs aged nine, and had carried on writing through her teens, she had never recorded them, and understanding the technicality of production techniques allowed her to grow as a writer and performer. "If you can be self-sufficient you can get stuff done way quicker. If you can make your own music, your own demos, you don't need to rely on anyone. For writing it means you are not constrained to your voice and an instrument, it opens up a new spectrum of songwriting and creativity," she explains. After finishing the course she moved to London and started to figure out her own sound. Releasing a single and an EP on Dirty Hit, which pushed her onto the radar of leading cultural figureheads, Viji built a loyal fanbase and received support from the likes of the FADER, DIY, NME, NYLON at press, BBCR1 and BBC Introducing at radio, and playlist support on Spotify from Lorem, Fresh Finds, Our Generation and more.
Now signed to Speedy Wunderground, she cites many of her friends and label mates as part of the current scene in London. "There's a lot happening here post-covid," she says. "I end up at around two shows every week, it's really fun." Heartworms and Pretty Sick are only a few contemporaries moving around in the same circles.
Coming up with the visual concepts for the video elements of her music stretches her creativity even further. "I make most of the treatments myself," she admits. Although for the first music video that accompanies the album, she worked with Zachary Bailey, an LA based director, known for his slightly twisted and surreal visuals for the likes of Offset and Jean Dawson. Indulging in the weirder side of her ideas ensures that there is a fun and playful element to making music.
Her approach to shoe-gazy rock, raw instrumentals and vocal delivery makes her stand out as one of the most exciting UK artists to watch, pioneering what rock music can sound like in the modern era.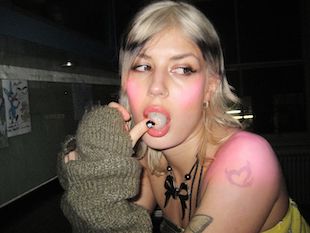 | | | | |
| --- | --- | --- | --- |
| Jan | Feb | Mar | Apr |
| May | Jun | Jul | Aug |
| Sep | Oct | Nov | Dec |