Viji
Contact
As a teenager in Austria, rising alt-pop artist Viji – aka Vanilla Jenner – was always searching for something more. Fueled by an obsession with US TV shows and pop culture of the time, she dreamt of making an imprint on this world. As a budding musician, she longed for peers who took being in a band as seriously as she did. "There were musicians around but no one who wanted world domination," she laughs. "Nobody was writing songs." 
Years later and now signed to Dirty Hit, the artist is building a world for herself that fulfils all her desires. Since releasing her debut single 'Cherry' in 2020, she has marked herself out as a creative new force in the alternative sphere – both through her hook-filled songs and the inventive visuals that accompany them – with a streak of determination driving her forward. 
"Put my head down and work hard / Reach my hand out super far," she sings on 'Cali', the balmy title track from her upcoming third EP and a love letter to one of her dream states. "I've forever and always had an obsession with California," she explains, noting that in the future, she'd like it to be somewhere she calls home for at least some of the year. "I always say I'm gonna work hard, and then once I'm there – wherever there is – I'll move to Cali." 
With the determination to write her own story, Viji left home at 15 to spend a year in Colorado. Following many summer breaks abroad in the states (including Hawaii), she made one more stop in the south of the continent, spending time with her Brazilian side of the family.
Just as America seems to have been a constant in the new talent's life, so too has music. Her grandfather was a classical pianist, her cousin was in a band growing up, and her dad builds instruments for a living. Even her name comes from an album. "My dad does a lot of folk instruments and Renaissance instruments, and apart from old school rock'n'roll, he's also into weird elvish folk," she says. "There's this band called Blowzabella and they brought out an album called 'Vanilla'. He was like, 'That's a pretty name for my future daughter'." When Viji was embarking on her own musical journey, friends suggested she use her first name as her stage name, but she refused: "I don't personally relate to whatever vanilla stands for in this world." 
If vanilla is typically associated with something plain and unadventurous, then Viji is here to challenge that perception. Over the last 15 months, the London-based musician has built the foundations of her career on songs that breathe new life into '90s and '00s-inspired guitar-driven sounds, upping her inventiveness with each release. It's something that's already won her praise from the likes of DIY, The Fader, The Line Of Best Fit, Nylon and more. Her debut EP, 'Are You In My Head', was more straightforward plaid-tinged grunge-pop, before 2021's 'Suck It' EP invited fresh synth elements into the mix, adding more dimensions to her core sound. 
Her third EP, 'Cali', moves things forward once again, leaning into some of the less six-string focused of Viji's musical loves. You can hear components of hip-hop and R&B in her infectious, sing-songy vocal rhythms, while instrumentally, she takes new adventures in electronics as well as the hefty guitar lines she's deployed thus far. "I listen to Frank Ocean religiously, but also Tyler, The Creator, Mos Def and a lot of hip-hop and pop artists," she notes. "I think that always translated a little before – the beats were never straight rock beats – but now I've tapped into it a little bit more. The more you write, the more you develop what it is you write." 
If the 'Cali' EP finds Viji refining her artistic voice, it also finds her growing stronger in herself personally, too. Throughout its tracks, she addresses certain past situations in her life, and putting up boundaries against them. On the minimal, melancholy 'Skin Deep', she declares: "I cannot give more than I get from you." The Strokes-inspired 'Mercy', meanwhile, finds her envisioning the end of the world, unfazed by those who've wronged her's cries for forgiveness. It's a powerful refusal to give in to the demands of those who don't have her best interests at heart.
The EP finishes with 'Parasite', a one-minute-and-four-seconds lo-fi recording that highlights Viji's DIY abilities. She recorded a demo in her room at home with just her guitar and one microphone. When she tried to re-record it in the studio, she found it lacking something. "It just wasn't much of a vibe anymore," she shrugs. "A lot of artists I listen to like Elliott Smith and Daniel Johnston have that intimacy [to their songs], so I just kept the original." 
Viji's passion for DIY also led her to making her own music videos, like the stop-motion visuals for 'BFS' or the lo-fi VHS clip for 'Cali'. "I only take on what I think I can do sufficiently by myself," she explains. "But if you know what you want, then DIY is perfect – a lot of times if you work with someone, it becomes more of a compromise." 
One area of her artistry that Viji has been forced to compromise on so far is performing live. Like most new artists who've broken through in the time of COVID, gigging is an opportunity yet to be afforded to her. Other than getting on stage at last, the creative force is staying focused on a goal that's very important to her – making records that people want to listen to on repeat. It's a habit she's had since she was young, listing off the likes of Nirvana, FIDLAR, Blood Orange and Alex G as artists who've all been on endless rotation at various stages of her life. "I feel like it's a breath of fresh air when you find something you really love," Viji says. As her most infectious release yet, the 'Cali' EP practically demands you hit 'repeat all' – you'd be foolish to try and resist it.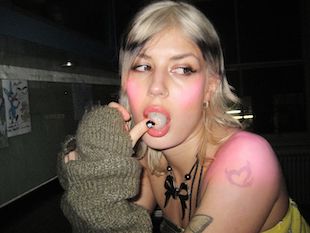 | | | | |
| --- | --- | --- | --- |
| Jan | Feb | Mar | Apr |
| May | Jun | Jul | Aug |
| Sep | Oct | Nov | Dec |