Santino Le Saint
Contact
For Santino, exposure to a variety of genres is second-nature. The Brixton-based vocalist recalls driving to his grandmother's house in Somerset as a child, his father's rock, R&B, and soul-based CD providing the soundtrack to their repeated journeys. "He burned this CD which had Otis Redding, Curtis Mayfield, Marvin Gaye, Ozzy Osbourne; just a bunch of different people on there. It was my first experience of music outside of passive listening," he shares.
The DIY creation forms an integral part of Santino's identity as an artist; he still listens to this CD in 2020 appreciating elements of both R&B and rock respectively. Outside of his father's quintessential CD, Santino found his own identity in his earlier years burying himself in the discographies of Linkin Park, Three Days Grace, Nirvana and Bullet For My Valentine. He cites their style of music as forming instrumental parts of his sound as it pertains to rock; from chord progressions to their sonic directions. Elsewhere, James Brown and Jimi Hendrix also helped in building Santino's contemporary artistic canvas.
Professionally known as Santino Le Saint, the singer marries his soft-rock offering with new-age R&B establishing his own identity at the intersections of both genres. "I've never been one to create straight R&B. It's always needed to be rockier or have an edge to it," he concludes. Closely inspired by the alt-R&B purveyors — including The Weeknd — he remembers listening to works such as 'Trilogy', instantly in awe with the experimentation throughout as an early teen. Juxtaposed with this awakening, was Santino's involvement with a plethora of heavy metal bands, he played the guitarist during his early years at Glenthorne High School.
As he progressed throughout his teenage years, Santino Le Saint found refuge in music, admitting that it saved him from turbulent pathways. "It's funny, as a male, in a lot of environments you can be steered into negative decisions. I think that music helped in keeping me away from negativity." Ironically, at age 16, the artist would often play songs in his bedroom for his friends and peers, entertaining them for hours on end. "No matter what my friends were doing, I could go home and play the guitar or sing and they'd all want to listen. Imagine a bunch of south London kids listening to an emo song," he laughs.
Departing from music briefly in his first year of college, he finally committed to the artform as a vocation when his second love of basketball was put to a halt. "My coach didn't choose me to play in Europe," he pins this down to favouritism. Santino shares that he became tunnel-visioned at 17, silencing baseless relationships, instead finding further solace in his college's music rooms. "I picked up the guitar again and realised 'this is my sh*t, I'm doing this now. I became the 'popular loner' because of it and loved it," he explains.
Spurred on by an unwavering self-belief, Santino Le Saint began his solo career, soon after founding the Cloud X collective alongside David Dabieh and Benjamin Cross. Together the trio created Santino's debut EP 'CLOUD 304' in 2017. The four track project is moody in its sonic-offering, lamenting across trap-soul, R&B and pop-rock. Honing in on his desires for love, his vocals are ghoulish and distinct, quickly marking him as an alluring British vocalist. "We met in the summer of 2017, I went to their studio in Brixton, right on my doorstep and we quickly started making music. They executive produced ['CLOUD 304']."
In 2020, Santino Le Saint is bigger and bolder than ever. Leaning further into his emo-laced offering, the 22-year-old borrows from the late Lil Peep and XXXTentation, the electric guitar for instance forms an core part of his Empire debut 'Rage Of Angels'. However, it's Santino's vulnerabilities and lyricism which allow him to construct his own musical landscape on British shores. On 'Bullet With My Name On It' he adopts trap flows, his vocals pure, innocent and convincing as he laments over his relationship fears. "I like writing about my personal experiences, sometimes it scares me to get so deep, but I ultimately make songs about real life all the time. I'll have my iPhone and notes at the ready," he summarises.
Santino also incorporates classic Hollywood movies into his universe. When speaking about his dual release, he cites 1999's 'The Matrix' as the foundation for his 'Blue Pill' and 'Red Pill' EP's. "I've watched 'The Matrix' so much and obviously we all know about the relationship between Trinity and Neo. But the idea of the blue pill and the red pill, I found it so interesting to flip within the conept of love; the blue pill would be the concept of not giving a fuck, with the red pill being the romantic side. The blue pill is the night before and the red, the morning after."
'Blue Pill' sees Santino Le Saint in an ignorant domain, unwavered by responsibility or consequence. Outside of its lead single 'I Know', the four-track project features hybrid-hip-hop rapper INFAMOUSIZAK as well as Spanish act Cruz Cafune. The former assists Santino on the euphoric and refined 'Ecstacy', the pair are relentless in letting go for a moment, their only concern being material gain and temporal gains. Part of the appeal of 'Blue Pill' is its minimalism, its themes are easily relatable for younger millennials and Generation Z. "I love 'The Party' the most," he gushes. "The song is so reckless and it's the epitome of what 'Blue Pill' is about. It's my inner bad boy coming to life."
It's on the crooner's second EP 'Red Pill' that introspection takes centre-stage. Here, numbers such as '118' flirt with electronic rock, Santino laying bare his sensitivities. His contemporary vocals are weighted across the EP, the deeper and huskier elements providing a sense of maturity to his already firm canvas. In 2021, a deluxe version of Red Pill is set for release, and the strongest example of his gravity is in the projects closer 'Battle Scars' this stands as one of the most important songs on 'Red Pill', due to its familial ties. "My dad showed me the chords for this one and it was recorded at my grandmother's house. It references war and bruising from relationships, it's about the work, the commitment." Featuring only a piano as a part of the song's production, Santino's effortless falsetto guides 'Battle Scars' showcasing his dynamism as a singer.
Both projects quickly earmark Santino Le Saint as one of the most ambitious R&B acts in modern Britain. With his forthcoming debut album, features from some of the UK's biggest artists and award worthy visuals, he seeks to lean further into his experiences as a renaissance man. Armed with backing from platforms such as COLORS, Notion and Soho House, he says that he will continue to challenge masculinity, stating that he enjoys showcasing vulnerability. "The idea of sharing feelings meaning that you're emasculated is insane for me. I really don't mind sharing my emotions, I actually enjoy it. I guess I don't give a fuck," he candidly shrugs.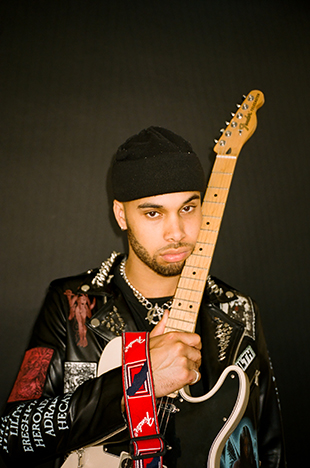 | | | | |
| --- | --- | --- | --- |
| Jan | Feb | Mar | Apr |
| May | Jun | Jul | Aug |
| Sep | Oct | Nov | Dec |