Santino Le Saint
Contact
Santino Le Saint. His quietly confident, spry manner belies that he is the next generation's rockstar. Towering well over 6 ft, he is softened by an endearing grin and an infectious, youthful optimism. Of Jamaican-British heritage, his effortless swagger is born and raised South London through and through, having been raised between Brixton and Morden.

It is easy, yet all to reductive to label Santino an R&B singer. His unconventional and at times almost feminine vocal draws its flow from the many rappers and hip hop artists who have taught him. His delivery and intelligent lyricism combine with electronic - at times psychedelic - synths, spacious drums and dirty rock guitar to testify to one thing: Tino's intrinsic understanding of melody, noise and silence.
He is a musicians musicians and the people's musician at the same time.
Music is Santino's lifeblood; and Santino is contemporary music's lifeblood. To put it simply: Santino is about to be one of the hottest artists in London, Britain and the world.

Santino Le Saint is a multi-instrumentalist specialising in guitar and piano, a producer and a singer songwriter. The vast majority of contemporary artists work with producers who create their tracks - often multiple producers working on a single project - and it is ultimately this fact that means that many artists fail to create a sound that is as truly distinctive or as cohesive as Santino's. He will sit among the true great sonic game changers, so many of whom, regardless of genre and time period, produce their own music: think Kanye West, J Dilla, The XX and James Blake. That Santino can choose to work with other artists or producers, or work alone, gives him ultimate flexibility and creative control. He has been influenced by production styles from the likes of Timbaland and Metro Boomin and combines them with real, live instruments to create something entirely timeless yet very contemporary.

His love of classic Rock & Roll and 2000s Indie, from Nirvana, Hendrix, Guns and Roses to Bombay Bicycle Club has deeply influenced his dirty electric guitar solos. He's as comfortable referencing classics, which for him include artists as diverse as Slipknot, Wu Tang and Al Green, as he is Partynextdor, Post Malone and OVO crew: "my music is a mix of my old influences, the genres that taught me to play Instruments such as keys and guitar, and the current 'trap' style that has elements used in a lot of different scenes. I look and think about flows and production elements in hip hop and rap when making music". Somewhere between Rockstar & Rap Icon, his magnetism is evident in his vivacious yet tender live shows. With effortless charisma and a mesmerising connection with his guitar, he will certainly leave the next generation wanting to pick up their own instrument.

That Santino is a self-producing multi-instrumentalist who has just turned 19 means, undoubtedly, that he has not reached the apex of his abilities. He is still open to new sounds, new instruments, new ways of working - anything that sounds good to him. As he says often "All I want to do is learn and educate. It's that simple". As music and musicality is at Santino's core, he has already and will continue to effortlessly combine genres and cleverly cross boundaries. Integrity, honesty and instinct guide Santino's musical direction. He has three EPs as well as multiple singles prepared, meaning he has what would normally be two years worth of creative output for most artists.
His first EP talks of late night and early morning phone calls, rejection, humiliation, yearning, and much more. He's a raconteur, talking about emotions universally experienced expressed in neat, accessible hooks: "Its 4AM and you call just to tell me I'm worthless".
You'll laugh, you'll cry, you'll remember when it happened to you. And that's because Santino is fundamentally one of life's great storyteller's.

Whether its captaining his men's basketball team, or finding new talent for the label that he has co-founded - CLOUD X - Santino displays an enviable ease as a leader and a visionary. He's not afraid to make himself uncomfortable. Restless yet focused, his artistic passions will inevitably ignite other fields, fashion and film are certainly on the menu. With a keen eye for style his aesthetic is minimal yet powerful, understated monochrome garments brought to life by carefully chosen bling and neat hanging braids. Lets not forget his signature flame-red, embossed gold custom Marshall guitar to match.

Though It's early days for Santino, its London first, then America, then the world. Santino is the voice of the next generation. Santino is South London's latest song bird. Santino is the musician's musician. Prepare yourself.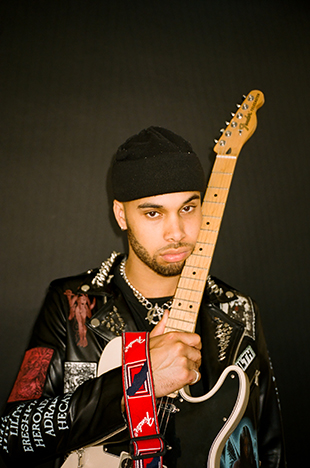 05 Jun, 2017

Santino Le Saint shares his new video for the track '4AM', taken from the 'Cloud 304' EP.