The Night Café
Contact
"It's sounding heavy." says singer Sean Martin from The Night Café about their impending debut album. Like, 'heavy heavy'? Are we talking about head-thumping, riff-tastic, rock epics? "Nah, I mean like heavy," he insists. It's a Scouse term the rest of the band agree fits the bill and whether you're from their hometown or not, if you're familiar with this lot, you'll be starting to get on their wavelength.
It's still a work-in-progress, with a release slated for the second half of 2019, but watching them play the songs live sends big signals where they're going. The lyrics hit harder than before, the melodies are sweeter and the scope for where these songs are heading is even wider.
If the string of singles and EPs they've released so far act as infectious rushes of melodic indie magic, these songs both thrill and linger, leaving a satisfying aftertaste.
Most of this is down to the task they've set themselves; to make a timeless album that'll propel them into being one of the nation's biggest bands. A daunting feat for any musician in this climate, but not this lot. "It's so exciting making a massive piece of music rather than a single. We're using synths, pianos, everything. We're really going for it. We all know that's it's going to be boss," Sean says. Drummer Carl agrees that it is "feels like we're making a massive piece of art."
The band formed in their native Liverpool as an "excuse not to do the homework". School friends Sean, Josh, Arran and Carl bonded over a mutual admiration of Bombay Bicycle Club, Kings of Leon, Fleetwood Mac and Title Fight and would jam together in music class. The band then started working on their own material and though they all pull from different scenes - Arran is a techno fan - they found a middle ground in the song's melodies and structures. "It was more about chord progressions than actual genres of music," Sean says.
Writing original songs is something that the band insisted they wanted to do before they hit their home cities venue circuit. While some of the scene's local giggers were incorporating covers in their sets, The Night Café wanted to make their mark with original material. Early songs like 2015's 'Addicted' showcased the boys' skill for crafting relatable love songs made for falling head-over-heels with the one, while later singles like 'Together' and 'Mixed Signals' have casually racked up a few million streams due to their killer choruses.
The impact of Liverpool runs deep in each member. Sean says that the city "has made us who we are" and calls it "the best place in the world". Arran concurrs and calls it the "centre of the universe." But they acknowledge how the city's perception has wrongly coloured people against them. "We get treated a little bit different just because we're from Liverpool, but we act differently to all the bands in Liverpool scene," Sean says. "It's not where people are from, it's what they're about that people remember."
Indeed, it's not where they're from that should matter - it's where they're going that truly resonates. And they've been everywhere. The band's reputation has been cemented by their reveltory live show, one that they've taken all around the country and back again. Each gig - whether it be out in the regions or in the big cities - are met by a fervent fanbase ready to party regardless what night it is. It's that close contact with each other that has laid such a strong foundation.
"We chat a lot of shit", Sean admits. "We've rubbed off on each other so much. We spend seven days a week practising and then on tour it is literally every single minute. We basically live in the practise room."
That dedication is paying dividends already. The band recently joined hometown heroes The Wombats on their nationwide arena tour and will do the same in the coming months. "It was amazing to see a band from Liverpool like The Wombats smash it in arenas and be bigger now than they ever were," says Sean, with the professional touring culture rubbing off on them, also.
But before they dream too big, there's the album to finish. Trying to get a straight answer out of the band with how far they've got with the record is tricky - they all suggest a different percentage - but know this; it's going to be corker. They've done the hard work, the big tours and had a blast while doing it all, but what comes next then? "World domination," Arran says semi-jokingly. Sounds heavy.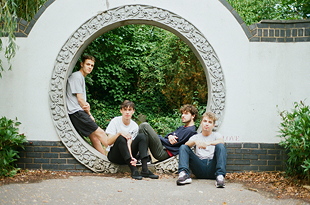 | | | | |
| --- | --- | --- | --- |
| Jan | Feb | Mar | Apr |
| May | Jun | Jul | Aug |
| Sep | Oct | Nov | Dec |