The Partysquad
Contact
Ruben Fernhout and Jerry Leembruggen, better known as international DJ formation The Partysquad have been the architects behind the Dutch eclectic scene for well over a decade.

Their long list of global releases can be traced all the way back to 2009 on labels like Spinnin' Records, Universal, Mad Decent and Dimmak and is stacked with extraordinairy collabs with the likes of Major Lazer, M.I.A. and Afrojack. And anyone that knows anything about the Dutch charts, knows that The Partysquad practically live there, with over 12 singles all the way up in the Top 40 over the past 10 years.

While combining some of the worlds greatest genres into a new wave that pushed boundaries aside, revolutionary tracks like 'Original Don', 'Oh My' and 'Double Bubble Trouble' quickly took over every dancefloor, festival and radio station known to man. And while the success of their releases turned into worldwide gigs, their secret weapon has always been their energetic and highly sought after live show. Tomorrowland, Glastonbury, Ultra and many more experienced what's best described as flawless creative chaos.

While racking up awards, accolades, tours and over 25+ million Spotify streams, they recently teamed up with the largest independent dance giant of the world Spinnin' Records to found their very own label 'Rebel Yard'. Finally creating the perfect platform to push all their favorite sounds and artists of any genre at any time.

After patiently putting their puzzle together piece by piece, it's time to finally show you the bigger picture. The Partysquad are gearing up and ready to unleash what you've have all been waiting for.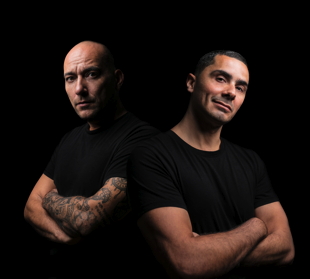 tracks=91393497
17 Jan, 2018

Full Crate teams up with The Partysquad and Nick & Navi on 'Hot', released through Full Crate's FCXH label in Europe and Diplo's Mad Decent in North America.

The official video, directed by Full Crate himself has just been premiered.

14 Nov, 2016

The Partysquad featuring Alvaro, present a new video for their track 'Lights Out'.

17 Aug, 2016

The Partysquad present their new track 'Pum Pum' as free download, on their label Rebel Yard.
Download from the link below.