Vanity Fairy
Contact
Vanity Fairy is the new solo project of solo artist Daisy Capri.
Her debut EP 'Lust For Dust' was written and mostly recorded at her home, with Capri co-producing everything alongside collaborators Sammy Yamaha and Simon Byrt (Pixx, Babeheaven).
Her debut single, 'He Can Be Your Lady' released 11.10.18 was described by Clash Magazine as a "remarkable post-disco jewel... de-constructing gender norms has rarely been so infectious."
She describes her music as "nostalgic fantasy", saying it's "sincerely sentimental. I'm trying to make myself remember memories I don't necessarily have; feel things I don't necessarily feel; believe in the unbelievable".
Live, Capri has made the striking decision to dispense with a live band and perform her entire set karaoke. "For me, every time you play live as an artist, you're kind of covering yourself anyway. Always chasing a version of that first moment of inspiration, or whatever, when you first come up with the idea for a song. So, I wanted to look at that idea, that tension in trying to produce a sincere performance of a song every time you sing it. It just seemed like an interesting thing to do to make that explicit by literally singing cover versions of my own songs every time I perform. I also like the freedom of not having to play an instrument; it means I can really do the kind of moves I want to, and get down on my knees and so on if I'm feeling really emotional at a particular point in the set. It's kind of like X Factor when I perform - I have a smoke machine and really try to live the moment - except without much of an audience."
Her influences include Todd Rundgren, The Bee Gees, Prince, Ariel Pink, Michael Jackson, early Madonna, Marvin Gaye, Japanese smooth jazz, 80s machine funk, Yacht rock, obscure old disco B-sides, 70s soul classics, lounge-jazz, 70s and 80s FM radio. On the subject of influence, Capri says "I think of my music as semi-slick, sort of an amalgam of analogue wonk and hi-fi Yacht rock inspired production values".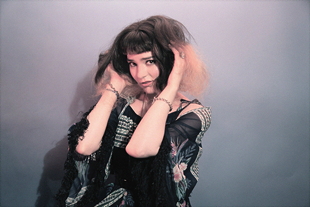 11 Oct, 2018

Post-disco newcomer Vanity Fairy shares debut track 'He Can Be Your Lady', the first offering from her 'Lust For Dust' EP out later this autumn.

Co-produced alongside collaborators Sammy Yamaha and Simon Byrt (HMLTD, Pixx, Babeheaven), Vanity Fairy is the new project from Daisy Capri - a wonky, weird and wonderful reimagining of late 70s disco dance-floor fillers.

Highlighted by Capri's stunningly smooth, trembling vocals, 'He Can Be Your Lady' is a lost disco classic for the post-gender generation.

Discussing the release, the solo artist stated: "I'm trying to make myself remember memories I don't necessarily have; feel things I don't necessarily feel; believe in the unbelievable".

Vanity Fairy's debut single 'He Can Be Your Lady' is released 12th October and will be available on all digital platforms.

Featured in Clash Magazine.

www.clashmusic.com/news/listen-vanity-fairy-he-can-be-your-lady