Imogen Heap
Contact
Imogen is an eccentric, innovative musician who blends aspects of the world around her into a beautiful universe of song. @Jack, founder Twitter
A Grammy nominated multi-instrumentalist, who began writing music by her 13th birthday (and broke America by her 28th), an innovative singer-songwriter with a quirky and inspirational character, a tech savvy musician with an eccentric sense of style and uniquely graceful music, Imogen Heap is a profoundly English artist whose songs transcend time and place to conjure captivating digital dreamscapes of love, loss and hopefulness.
Imogens distinct, eclectronic-style, a brilliant kaleidoscopic symphony of voices, beats, sounds and emotions - mixing beautiful lyrics with breathtaking melodies, traditional instrumentation with computers, to create a sound thats folk-hued and digital and sparks the imagination - has won her over 350,000 friends on MySpace and more than 250,000 followers on Twitter. Fans include Brian Eno, Jeff Beck and Scrubs star Zach Braff, while US chat show hosts David Letterman, Jay Leno, Carson Daly and Hollywood mega blogger, Perez Hilton, have all championed her ability, musically and physically, to transfix. Imogen is, in all senses, an EXPERIENCE.
Age 5, she crept downstairs in the middle of the night, carved her name in BIG letters on the grand piano lid and swore it wasn't her. Age 12 she learned how to layer sound with an Atari and sequencing software. Age 18 she signed her first record contract and age 20 she released her debut album, 'iMegaphone'.
An anagram of her name, 'iMegaphone' mixed angst with vulnerability, quirky noise with sombre reflection, to be refreshing and intriguing. An aurally delicious blend of emotive piano, understated technology and haunting melodies, it was a promising experiment in turning emotions into something tangible. Produced by David Kahne, Eurythmic Dave Stewart and Bjork / Madonna collaborator Guy Sigsworth it attracted a loyal following and her first film credit ; single 'Come Here Boy' featured in Rupert Penry-Joness 'Virtual Sexuality'.
2002 saw a new side to Imogen as she embarked on a short collaborative journey with Guy Sigsworth, forming electronica duo Frou Frou. Their album, 'Details', shifted from the darker 'iMegaphone' to an airy, dream-pop landscape. Laden with skipping beats, cool synth layers, and stunning attention to detail, its glittering melancholy was punctuated with beautifully intricate and poetic lyrics. Together Imogen & Guy were able to take computer music and bring from it real sensuality and emotion . Frou Frou toured Europe and America, and became an underground hit after Scrubs star Zach Braff used 'Let Go' in his film 'Garden State\. The duo also recorded a version of Bonnie Tylers 'Holding Out For A Hero' for the closing credits of 'Shrek 2'.
With new confidence and determined to have complete creative control, Imogen remortgaged her flat to fund her second solo album. Working almost entirely alone, 'Speak For Yourself' took Imogen exactly a year to write and produce. It was released in 2005 on her own Megaphonic label. An album of extreme joy, desperate sadness and a little bit of wondering what it would be like to be a stalker, its Imogen laying bare her soul over 12 tracks. Stunningly original and creative, incorporating everything from piano to blips and boops, carpet tubes, passing trains and a frying pan, a shimmering vehicle of electro and lustrous orchestra, the album delivered huge pop hooks, atmospheric soundscapes and lyrics to make you consider the intricacies of your own life. Therapy on a disc, a journal read aloud and set to music, this time Imogen took all shed learnt musically and lyrically to a whole new dimension.
Utilizing the internet to market 'Speak For Yourself', Imogen pioneered a new Artist/Audience relationship. She was one of the first artists to bring her music to a new audience via MySpace, iTunes, YouTube and her blog. The inclusion of sparse vocoder/harmonizer song 'Hide & Seek' in the season 2 finale of hit TV show 'The O.C.' was an another jump start for Imogen's career, sending the song to #8 on the US iTunes Hot 100 Songs and to #1 on iTunes UK. 'Hide & Seek's rise led to licensing deals with Sony BMG on both sides of the Atlantic, ensuring the album got the full release and promotion it deserved.
Electrifying performances on David Letterman, Jay Leno and Carson Daly cemented Imogens US success. Unique sets at Sundance and Coachella, and extensive touring, established her as an unparalleled live experience. No two gigs are alike. Treading a fine line between chaos and brilliance, live shes technology meets edge of the seat spontaneity in a one woman show. With fairy lights, a MacBook Pro, clear Perspex piano, Keytar and a mbira, she sends shivers down the spine, looping sounds and hitting switches, and bringing it all together into one of the most intimate and intoxicating shows imaginable. New and exciting every time, she doesnt just play music, live she IS music.
In 2005 and 2006 Imogen became songstress of choice for US film and TV. 'Goodnight And Go', 'Speeding Cars' and her cover of Leonard Cohens 'Hallelujah' were all used in 'The O.C.' She Heap-ified childrens nursery rhyme 'Im A Lonely Little Petunia In An Onion Patch' for an episode of HBOs 'Six Feet Under', covered the Classics IV song 'Spooky' for Reese Witherspoon film 'Just Like Heaven' and wrote, performed, recorded and produced 'Cant Take It In' for 'The Chronicles Of Narnia: The Lion, The Witch And The Wardrobe'.
From English eccentric to celebrated artist, Imogen was nominated for Best New Artist and Best Song Written For Motion Picture for 'Cant Take It In' at the 49th Grammy Awards in 2007 and caused quite a stir on the red carpet when she turned up wearing a lily pond themed dress complete with Gary The Grammy Frog.
After touring 'Speak For Yourself' across Europe and America, Imogen was eager to get back to recording and start work on her third solo album, 'Ellipse'. For inspiration, she set out on a writing trip which took her to Maui, Tasmania, China and Japan. The albums first song, 'Wait It Out', was started sitting at a piano in a house in Maui, overlooking the Pacific Ocean, in March 2007. When she came back to England, Imogen took on her childhood family home and fittingly transformed the room she used to play in as a child into her studio.
From the writing trip to building the studio, recording to mixing, tweaking to re-tweaking, Imogen kept fans regularly updated on the albums progress via Twitter, MySpace and YouTube. Partly out of love for her fans, partly to maintain her sanity, she pioneered a new kind of creative process, one thats open, inclusive and asks fans to participate. From bursts of late night craziness via 12seconds.tv, to little snippets of songs in her 40+ YouTube posts, the always upbeat Ms Heap video-blogged the hell out the recording. An artist who has gone above and beyond just making an album, redoing, fixing, ripping apart and piecing together the picture perfect record, she worked herself into near madness, documenting and sharing all the tantrums. Amazingly accessible and down to earth for such a luminary, Imogen truly understands the relationship with her fans as a human one, rather than one married to business. She even encourages fans to be creative, writing her press biog and helping her design album artwork. The Twitter biography itself defines Imogens innovative, fresh and fun approach to everything she does.
If the vBlogs heightened expectation, the first new track to emerge, 'Not Now But Soon', assured fans wouldnt be disappointed. First airing on hit US show 'Heroes', it once again confirmed her ability to transport to another level, pushing boundaries with raw beats and ethereal melodies.Imogen also found time during recording to remix former Sneaker Pimp Chris Corners 'IAMX' single 'Spit It Out', giving it a slinky new outlook and re-record 'Hide & Seek' for Rupert Hines Songs For Tibet charity project. She contributed to Brian Enos 'Plague Songs' album, collaborated with Nitin Sawhney on 'Bring It Home', played at the wedding of 'The O.C.' creator Josh Schwartz, co-wrote and produced a track for Mikas second album and donated an unfinished track, 'The Song That Never Was', to the Twitter charity event Twestival fans donated to download Imogens vocals and add their own music; there are now more than 400 versions of the song.
A multi-instrumentalist with what seems to be limitless creative ability, the culmination of eccentric style and a sound which is unlike anything else, Imogens an artist who isnt afraid to experiment, either with her music or with her relationship with her fans. Her new album once again seduces you into a world where fantasy and reality meet in an atmospheric dream state, to be the musical soulmate of both 'Casablanca' and 'Bladerunner'. Its organic electronica. Hauntingly beautiful computer music. Avant-garde. Otherworldly. Comforting. Tantalising. Heaven on a disc.
Imogen Heap is my sweet religion! Her music makes me shine. And if you dont like her, I will put you in a headlock! @Perezhilton
Biography: written & inspired by fans via Twitter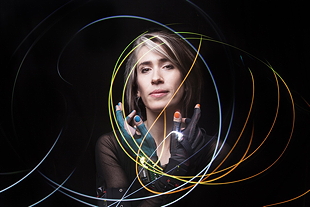 | | | | |
| --- | --- | --- | --- |
| Jan | Feb | Mar | Apr |
| May | Jun | Jul | Aug |
| Sep | Oct | Nov | Dec |