Wolf Alice
Contact
"a stone-cold masterpiece full of confidence and magic" - NME, 5* "Their best album" - The Guardian, 5* "a band celebrating ten years together in the best way possible: by making a masterpiece" - Sunday Times, Album of the week "The London quartet have made something so undeniably brilliant" - DIY, 5* "Brilliant, bold third album cements their place as the best band in Britain" - iPaper, 5* "Write it large; Wolf Alice's imperial phase has arrived." - Dork 5* "A decade into their career, Wolf Alice have stepped matters up" - The Telegraph, 5* "If you imagine their old songs as rally cars, the new ones are still driven as wildly, but with steelier focus and in-built roll cages" - The Independent, 5* "Elegant, petulant, abrasive, foreboding" - TIME, Top 10 Albums of 2021 "The celebrated dream rock quartet has never sounded as grand and big as they do on their third studio album, a feat of expressive, immersive sonic storytelling" - NYLON, Nylon's Favourite Album of 2021 "Blue Weekend cements their status as UK rock royalty." Cosmopolitan, The 34 Best New Albums of 2021 "It's a well-documented fact that Wolf Alice know how to go big, but midway through their gorgeous new record Blue Weekend, they go impossibly bigger." The FADER, The 50 best albums of 2021 "Their biggest but no less brilliant new album" - USA Today, 10 best albums of 2021 On their third killer album, London's Wolf Alice continue to set themselves apart from the pack. Again, it is their sonic range that puts them at another level." Good Morning America, >50 best albums of 2021
Wolf Alice are Ellie Rowsell, Joff Oddie, Joel Amey and Theo Ellis.
It has been a decade since the band began as a duo of Ellie Rowsell and Joff Oddie, later expanding to a four-piece, with Joel Amey and Theo Ellis joining the group.
In 2022 they won Best Group at the BRIT Awards. In 2021, they saw their third album Blue Weekend soar to No.1 in the UK charts, following on from their Mercury Prize-winning second album Visions Of A Life, and their 2015 gold-selling debut album My Love Is Cool.
They are the only band who have been nominated for the Mercury Prize for all of their albums.
Since forming, and in addition to winning the BRIT, the band have also picked up a GRAMMY nomination for Best Rock Performance, taken home three NME Awards, and the 2021 GQ Award for Best Band.
Wolf Alice have graced the stage at various worldwide festivals including the Pyramid Stage at Glastonbury, Reading & Leeds Festival, Radio 1's Big Weekend, Coachella and last summer headlined Latitude Festival
Their most recent album Blue Weekend produced by Markus Dravs (Arcade Fire, Björk, Brian Eno, Florence + The Machine) sees Wolf Alice embrace a newfound boldness and vulnerability in equal measure.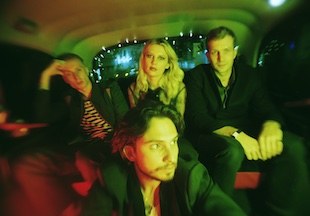 | | | | |
| --- | --- | --- | --- |
| Jan | Feb | Mar | Apr |
| May | Jun | Jul | Aug |
| Sep | Oct | Nov | Dec |