Young T & Bugsey
Contact
Every movement needs a leader, a name, a home.
Welcome then to Young T & Bugsey, the two young kings who are bringing the 5 (a local term for Nottingham) outside central England's Midlands region and into car speakers, stereos and raves across the country, charging ahead with their uniquely urgent sound. The merging of their Nigerian and Jamaican heritage and Notts upbringing is sprinkled with elements of rap, culminating in a bubbly tone that's intoxicating, original, instantaneous and - in a stroke of deserved luck - Justin Bieber approved (the male solo star has been pictured vibing to the pair's track 'Gangland').
Both aged twenty years old, Young T & Bugsey are energetic, charismatic personalities. They buzz in each other's company, at times finishing each other's sentences in a manner normally befitting of twins instead of two school friends. Though they long shared a mutual friend, T and Bugsey didn't meet until they were 15 years old. From that moment on they started to make music together, bringing their undeniable chemistry into studio sessions where they originally recorded as part of a collective.
Recording sessions initially took place at T's cousins house, where other local MCs such as Mez and Snowy would congregate. They would stay there, sleep there, record - rinse, smoke up, repeat. Over time however the clique T and Bugsey were a part of fell apart, namely due to the fact no one was taking the music as seriously as them. "It was never a hobby to us," Bugsey defiantly explains. Since long before they started making music together the duo had separately been watching MTV Base and - looking on at the artists performing - decided "This is what I want to do when I grow up, this is what I aspire to be, this is my profession."
T - who has produced a large amount of beats for the pair and taught himself piano in school - is an ideal match for Bugsey. They compliment and contrast at just the right moments, just as elements of the production do the same thing. Take recent single 'Greenlight' for example - there are the icey synths reminiscent of grime but they combine with a catchy, addictive hook that has more in common with the tunes they would both blast on MTV Base back in the day.
Though break-out singles 'No Mickey Mouse Ting' and 'Glistenin'' are the tracks that brought Young T & Bugsey a smattering of attention, the pair see a release as far back as 2012 as a pivotal moment in their career. Then 15 years old, they released a remix of Drake's '0-100', uploaded it to YouTube, received a quick 10,000 views, then went on to perform the song at a local party. "When that happened it took us to a whole other level in Nottingham," remembers Bugsey. Young T continues: "It solidified that we did music - people saw it with their eyes." Bugsey jumps in again: "Now we're releasing better quality music, everyone knows we're the real deal."
The track kicked off the journey for Young T & Bugsey in Nottingham and also solidified the importance of performing live and being artists that can touch all bases. "We cover everything so we have a universal sound. When we're trying to make a chorus it has to be one that everyone will understand. You can have bangers but you don't want people going away from your show saying 'He's shit live'," says Bugsey.
Ultimately the duo make songs that tick several boxes, whether that's going off in the rave or bringing some shine to your day through some headphones. As Young T explains "You have to make a song that can be played in a car with your friends. A song that can play in the background. You have to make a song that can be played live. Those are all the different bases."
Since then the pair's rise has grown organically with a community based spirit - one that started in Nottingham but is now set to take their city and its lifestyle across the country. And it's all coming from a good place, too. They named Notts as the 5 because, as Bugsey notes, "the area code is 0115. Everyone has the number. 5 is Nottingham. There's no separation. It's unity."
Between the bangers, the hooks, the ad-libs and the overall flavour of the music is the idea that Young T & Bugsey are having fun and want to use their music to bring more people together, to see more success all round. They might be putting the 5 on the map but they also don't want to do it alone. Bugsey puts it like this: "When all is said and done this Nottingham thing is gonna be a ting, and man are gonna know we done a lot for it. To be honest I want it to be a thing where we take it as far as possible and the next yout smashes it."
The leaders of the movement are here, may the next steps commence.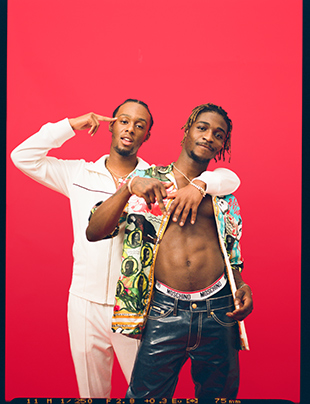 27 Jun, 2019

Saturday's line up at Glastonbury Festival features a whole host of Primary Talent International artists.

11.30-12.15: Swimming Girls (John Peel Stage)
11.45-12.45: The Proclaimers (Pyramid Stage)
12.45-13.30: Ama Lou (The Park Stage)
13.00-13.40: Sports Team (William's Green)
15.15-16.00: Hamzaa (Pussy Parlure)
15.40-16.05: Self Esteem (BBC Music Introducing)
19.00-20.00: Neneh Cherry (West Holts)
19.00-20.00: Jamz Supernova (WOW)
21.00-21.45: Young T & Bugsey (WOW)
21.15-22.15: Kate Tempest (The Park Stage)
23.00-00.00: DJ Vadim (Samula)
00.30-02.00: Riz Ahmed (Gully Blues)
01.00-01.45: Fredo (WOW)
01.20-02.20: The High Contrast Band (Truth Stage)
05.00-06.00: The Prototypes (The Cave)

www.glastonburyfestivals.co.uk

09 Jan, 2019

The NME have announced their list of '100 Essential New Artists for 2019', which includes many Primary Talent International artists:

...Alfie Templeman
...Amelia Monét
...Art School Girlfriend
...Avalanche Party
...Bad Gyal
...Beabadoobee
...Dylan Cartlidge
...Fredo
...Fuzzy Sun
...Hana Vu
...Just Banco
...The Night Café
...No Rome
...Sports Team
...Wicca Phase Springs Eternal
...WWWater / Charlotte Adigéry
...Young T & Bugsey

www.nme.com/blogs/nme-radar/the-nme-100-essential-new-artists-for-2019-2426835

29 Oct, 2018

Young T And Bugsey will play UK dates in December 2018.

www.facebook.com/youngtandbugsey