Circa Waves
Contact
Written throughout the pandemic and produced by Kieran Shuddall himself, 'Never Going Under' is the most comprehensive Circa Waves album to date, both thematically and musically. On the song 'Northern Town', Shuddall sings of his father delivering him on the landing of their house, which leads onto 'Carry You Home', reflecting on the birth of the frontman's own child – the 11 tracks here carve a path through the frontman's entire life, and onwards into the future.
They say that becoming a parent changes your entire perception of the world, and it rings true for Shuddall. Becoming a father for the first time during the pandemic, the songwriter immediately began looking at the world around him differently, and seeing a different purpose for the songs he was writing. The band's fifth studio album sees Shuddall and his band looking at a confusing, uncertain world through a new lens, but musically they have never sounded more sure of themselves. The path ahead is completely unknown to them, but they're ready to tread it fearlessly.
Musically, it's also the most wide-ranging record they've produced, from the sprightly indie-pop of 'Do You Wanna Talk' to the gigantic 'Hell On Earth' and blissful 'Your Ghost'. Shuddall describes a "sad euphoria" at the core of his musical inspirations for the album. "Even if I'm talking about something quite moody or something a little bit down in the lyrics, it's good to put a spin on things," he says. "The album's called 'Never Going Under', which we want to be a resilient message, and for kids to feel like they can dance around to it in a cathartic way, because everyone's been pent up for the last few years. I used to love bands like MGMT who wrote really big songs that were euphoric, but ultimately they were quite sad in their lyrics." Shuddall calls the album "a snapshot of the fear we all feel today and the resilience we will need to get through it," and the music on the record is plenty big and bright enough to grasp hope from hopelessness.
Shuddall says: "'Never Going Under' speaks to that uniquely modern phenomenon of genuinely not knowing what type of world our kids are going to find themselves in in 30 years. Physically, environmentally, politically – we are completely in the unknown. That scares us all, but ultimately we know we can never give up on the future, because how can you? The songs on the album are written differently from the previous work we've put out. They are written from the perspective of my son and also from my own current experience of the climate today."
'Never Going Under' also arrives at a point where Circa Waves have adapted and evolved in an ever-changing industry, becoming a self-sufficient machine. While Shuddall is on production duties, the band's guitarist Joe Falconer directs their music videos, with bassist Sam Rourke helming the musical and aesthetic direction of the band's live show and drummer Colin Jones doing their promotion on social media. It's a portrait of a band who emerged in a different time but are adapting for the current moment and the future. "As a modern band, you have to do that a little bit," the frontman says. "There's not tonnes of money floating about anymore, so it's good to be frugal. With that, you also become more creative."
When reflecting on 'Never Going Under', Shuddall pinpoints a new fearlessness in his creativity, one that has produced his most honest songs yet. "I don't think I would have written on previous records about worrying about whether I was a good enough man or a good enough father, these expectations of masculinity," he says. "There are certainly lyrics on the record that I wouldn't have said before. Maybe it's cathartic, or maybe this far into my career. I'm a bit like, 'Fuck it! I may as well just say these things!'
"I'm not trying to be particularly cool anymore," the frontman adds. "I'm happy just to write the songs that make me happy and make the band happy. I think the best art is when you serve yourself first, and then hope that people jump on board afterwards."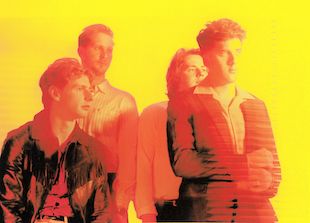 | | | | |
| --- | --- | --- | --- |
| Jan | Feb | Mar | Apr |
| May | Jun | Jul | Aug |
| Sep | Oct | Nov | Dec |