Echo Ladies
Contact
The Swedish Shoegaze Trio Echo Ladies released their debut album 'Pink Noise' via Sonic Cathedral & Hybris on June 8th. The short eight track album were recorded by the band with their producer Joakim Lindberg and came just a few months after their self-titled EP, which received attention from BBC Radio 6 Music, BBC Radio 1, Radio X, Beats 1, The Line of Best Fit and Clash, to name a few.

The album was recorded 2016 by Matilda Bogren, Joar Andersen and Mattis Andersson, where they perfect their mix of guitars, synths and drum machines. "The studio was in the middle of nowhere, near a small town in southern Sweden called Vollsjo," they explain. "It was an old farmhouse and had everything you could think of. We hung there for four days and built a wall of amplifiers". This is evident from the instrumental opening track, simply called 'Intro', which sees the band indulging in some A Place To Bury Strangers-style total sonic annihilation. The band quotes Cocteau Twins, Lowlife (The Scottish Dreampop Band) and the Jesus And Mary Chain as the most important musical influences on the album. 'Pink Noise' convey the feeling of nostalgia and hope for the future, mixed with worries and concerns about defining who you are and what you will be. This explains their blend of melancholy, euphoria, anger and soreness as well as a sense of emotional confusion.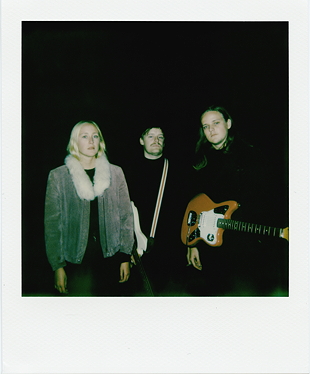 13 Nov, 2018

Rough Trade have published their 'Albums of the Year 2018', which includes releases by Primary Talent artists:

...Leon Vynehall - 'Nothing Is Still'
...Anna Calvi - 'Hunter'
...Django Django - 'Marble Skies'
...Hinds - 'I Don't Run'
...Sunflower Bean - 'Twentytwo In Blue'
...Echo Ladies - 'Pink Noise'

26 Oct, 2018

TVAM's show at The Lexington, London on 14th November is now SOLD OUT!. Special guests will be Echo Ladies.

09 Oct, 2018

Following the release of their eponymous EP and debut album 'Pink Noise' earlier this year, Swedish shoegaze trio Echo Ladies return with a brand new single on November 16th. It will be available on orange or silver 7" vinyl (as well as digital) and coincides with their UK and Ireland tour.

Cocteau Twins legend Robin Guthrie has taken the Disintegration-meets-slightly-out-of-focus-Saint-Etienne of 'Overrated' (one of the highlights of Pink Noise) and turned it into just under four minutes of classic indie-pop - like Lush, The Primitives or Strawberry Switchblade, but with a dreampop sheen.

If that wasn t enough, the AA-side features an incredible cover version of David Bowie's 'Rebel Rebel', which the band have slowed down and hollowed out - the guitar riff replaced with a synth; the glam replaced with gloom.
| | | | |
| --- | --- | --- | --- |
| 19 Nov 18 | | YES | Manchester, UK |
| 20 Nov 18 | | Think Tank? | Newcastle, UK |