DELPHii
Contact
It says a lot about the lightning pace of the industry, that the very concept of an artist biding their time is beginning to seem unusual or antiquated. In this respect, West Midlands-born, Brighton-based singer-songwriter Angelene Holmes is a refreshingly rare figure, only now launching her solo career after years contributing to other people's projects. What makes Holmes a truly exceptional proposition, however, is that her debut EP as DELPHII was worth every single second of the wait.
"It's been a spiritual journey," Holmes says of the three-year creative process today, which saw her overcoming self-doubt to deliver one of the strongest artist introductions in recent memory. The atmospheric Lilac is less an EP and more a compact musical universe, skillfully fusing elements of neo-soul, dream-pop, jazz, electronic music and psychedelic rock, while delving deep into ideas of identity, interpersonal issues and the complexities of society as a whole. Holmes is rightly proud not just of her work but of the perseverance she's shown to get to this point, though she credits the discovery of her alter-ego as the key to unlocking her imagination.
Named after the city that housed the ancient Greek oracle - one of the most powerful women of the classical world - DELPHII is less a character to hide behind and more a vehicle for Holmes to explore her vision unfettered. "I can leave behind the stuff that's gone before," she explains. "The projects that have come to nothing, the difficulty: [DELPHII] doesn't have any of that. She just has the glory and takes me along with her.
She continues, "I've always seen her as an oracle that just pushed her way through to me on her own, because I don't know where my need to make music came from. My family aren't really artistic people. They love music, but in a more ordinary way. Whereas I always had a crazy, outer body experience listening to certain music, which was just something I didn't get from anything else. I developed this obsession with it - and this need to do it - that I haven't ever been able to shake off."
A shy child, Holmes remembers immersing herself in her parents' record collection, pouring over the catalogues of Led Zeppelin, Thin Lizzy, Cat Stevens and Carole King. Encouraged by teachers, she entered and won singing competitions at secondary school, leading to her studying Music Performance at college in nearby Kidderminster. It was there that Holmes first fell for Ella Fitzgerald, Erykah Badu, Jill Scott, and Jeff Buckley, artists who would ultimately prove hugely influential on her style as a vocalist. She grins, "It turned out I was good at jazz improvisation. Who knew?"
After finishing college, Holmes left the West Midlands for Brighton, where she threw herself into the local music scene, playing in various bands. "It was very much like a boys club still," she reflects of the experience. "I'm not a pushover; I like to lead. And I think that's why things haven't worked out for me in band situations: a lot of guys don't really like being led." From there she focused on session work - singing backing vocals for bands like Superfood, Demob Happy and Vant, as well as featuring on songs by dance producer J Tropic - before switching her focus to academia, studying for a degree in Psychology and Sociology.
After a long period of writer's block, she finally broke her creative deadlock when a close friend loaned her a copy of Steven Pressfield's 'The War Of Art'. Centred around demystifying the creative process, the self-help handbook helped Holmes break the deadlock by creating 'Lilac', the title track of her debut EP. "'Lilac' just wrote itself, it was really the strangest thing" she recalls. "And immediately it felt like that was the song that would define DELPHII: it was decided right then. I saw it as DELPHII just pushing herself through."
A slice of deceptively sunny soul, blessed with breezy, call and response-style vocal harmonies and a triumphant chorus, the song actually discusses the subject's desire to sleep to escape their mental health issues. 'Stay High' occupies a similar area, discussing the ways in which we - as a society - attempt to escape our problems, be that via drink and drugs, immersing ourselves in intense relationships or through pure dissociation.
Elsewhere, 'The Times' is a haunting examination of contemporary anxiety while 'Tell Everyone' makes peace with the idea that your side of the story will likely get twisted, while offering a gorgeous, laidback groove that proves the perfect vehicle for Holmes' glorious, honeyed tones. She harnesses the full extent of their powers throughout the EP, with astonishing performances that range from a graceful, melismatic coo to a powerful, Prince-worthy falsetto.
Having self-recorded and produced the bedroom demos for the EP, Holmes laid down the final arrangements with her partner Thomas Armstrong (Demob Happy) at Eastbourne's Echo Zoo Studios, while engineering was overseen by Christoph Skirl (Tom Misch, The Magic Gang). "We wanted to maintain the integrity of the demos, retaining that kind-of bedroomy and personal feel," Holmes explains.
For all its sonic diversity, there's a gloriously hazy atmosphere underpinning the entire collection, and which notably comes to the fore during the EP's two dream interludes. As Holmes herself concedes, the roots of her fascination with the unconscious mind runs deep, having suffered two traumatic, near-death experiences growing up. After surviving an extreme allergic reaction as a young child, Holmes was struck down with meningitis at the age of 16, resulting in a long spell in ICU in which she was put into a morphine coma.
"I came out of that experience a different person, because I had an understanding of the fragility of life. The side effects slowed me down cognitively too, making me find it really hard to concentrate and triggering a really big dip of depression. I was angry with myself for not finding life easier and I think that's what you can hear in 'The Times' as well - me exploring those feelings of having been cheated and defeated by the world."
In hindsight, perhaps this was the experience that taught Holmes not to waste another moment on unfulfilling pastimes or people? She smiles. "I definitely began to refuse to pull other people along or to compromise what I wanted, and it's taken me all this time to build the confidence to do this by myself." However long it took, we can only remain thankful she did, because 'Lilac' is a debut worth waiting for.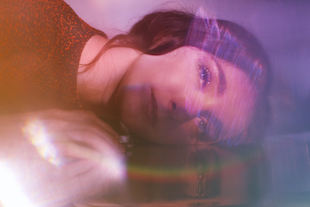 | | | | |
| --- | --- | --- | --- |
| Jan | Feb | Mar | Apr |
| May | Jun | Jul | Aug |
| Sep | Oct | Nov | Dec |