Husky Loops
Contact
Husky Loops are not your average rock band. In fact, they want to redefine what a rock'n'roll band can be. Sure, there's three members - Danio Forni (vocals/guitar/production), Pietro Garrone (drums) and Tommaso Medica (bass) - but instruments certainly doesn't mean that they're stuck in familiar territory rock music has found itself in. They're far more forward thinking than that.
"We play the required instruments that means we are considered a 'classic band,'" says leader Danio, knowing that the term "band" is littered with assumptions. "When our first single 'Dead' came out in 2016, we were called 'art-rock' because we're not that normal. But I want people to know Husky Loops is not just 'indie-rock' or 'art rock' or whatever - we can do so much more than that. I'm proud of what we do and being a live band, but those terms aren't who we are."
So what on earth are Husky Loops all about, then? The London trio, by way of Bologna, Italy find it hard to put a single label on it themselves, but that is part of the charm. Each song takes on a unique framework that is informed by new and diverse experiences - the DNA of this band is an ever-changing and exciting prospect. One song will utilise the basslines from modern day hip-hop or the ambitious production usually saved for electronic music, with the next incorporating beats typically found in modern-jazz or even UK Garage.
Danio jokingly suggests that people new to the music should expect something like "Mark Ronson if he were in Led Zeppelin", basically a creative polymath that meets with a bombastic live band.
"I'm not saying I'm as good as Mark Ronson, but production is a big thing for me. The Led Zeppelin part is because we're proud of being a live band, not because we sound like them. Like, if you come see Husky Loops, you'll see a good band. You can love it or hate it, but what we do is completely live and real."
Want proof of this diverse spirit? Go check out their mixtape from last summer, 'Good As Gold', released on the band's label, Fighting Ourselves. Crafted in just seven days to a self-imposed deadline, it's a breath-taking journey full of unexpected detours. On it, there are collaborations with their ever-growing pool of musician friends and admirers, like US singer Mother MaryGold and pop renegade Count Counsellor. They've since found friends and collaborators in the shape of Jammer, from seminal grime group BBK, as well as members of the experimental pop collective Superorganism.
Their debut album 'I CAN'T EVEN SPEAK ENGLISH' - a tongue-in-cheek nod to their continental roots in divisive times - builds on that playfulness. Take the lead single 'Everyone Is Having Fun Fun Fun But Me' and its video, shot on Peckham High Street in the middle of the night. The reflective take on modern-day disconnect is paired with a video that apes The Verve's 'Bitter Sweet Symphony' and Richard Ashcroft's sullen stroll down a busy London street. "That's my favourite video ever and I thought I'd be honest and just copy it. The Verve did that too when they copied Massive Attack's video for 'Unfinished Sympathy'. Maybe someone else will copy us," Danio smirks.
Though the band first met in Bologna while playing in punk and "weird Italian rock bands", it was a move to London nearly seven years ago that proved the catalyst for the birth of Husky Loops. Pietro arrived first to study at the city's iconic art-school St. Martins, with Danio and Tom soon arriving in Kilburn. They'd go stand outside of Abbey Road studios, hoping to capture the same swinging '60s spirit that was innovated by some of their favourite artists.
To flex their musical muscles and get the ball rolling, the band challenged themselves to craft a stonking and unforgettable live experience. In their early days, the band would head up perform at warehouse raves in Seven Sisters in front of "fucked ravers" at 4am just to get a feel for it. The band's pulsating live show was enough to keep the crowd going, and their time in Bologna's live scene prepared them for any eventuality. "When you play in front of no-one for like 6 years, you really have a don't-give-a-fuck attitude. That's how to learn how to play loud."
The band then moved to the other end of London, finding a community in the creative scene in Peckham and the surrounding areas. "The club night Steez was a huge influence for us. There would be a group playing jazz, and then the next artist would be rapping grime tracks - it was a different vibe and everyone was there and into it. That was exactly what we wanted to do, to make everyone have a great time where genre doesn't even matter."
If that was their mission statement, their album 'I Can't Even Speak English' is a job well done. There's 'Yes I Know What I'm Gonna Do' a euphoric bubbler that's their most pop moment to date. Meanwhile, the roar of 'Temporary Volcano' captures the chaos and joy of a messy and unpredictable night at the Bussey Building in London.
While Danio's favourite albums like The Beach Boys' 'Pet Sounds' and Pink Floyd's 'Dark Side Of The Moon' are other-worldly and spiritually inclined listens, 'I Can't Speak English' is decidedly more human and in touch with the lifestyles of young and diverse communities. It's an on the nose and hard-hitting journey, something they desperately wanted to capture. "If you're not on the edge, you're never going to be able do that," Danio says. "You should always push the boundaries because if not, what's the point?"
The album was produced by the band at EastCote Studios in Kensal Road, and features contributions from friend and collaborator Fred Gibson (Plan B, Charli XCX, Stefflon Don), and is mixed by Spoon's drummer, Jim Eno. But it is merely the start of where the band wants to go. Danio says that the band is working on custom-made outfits for their tour, mind-blowing visuals and a game-changing artwork to accompany their album.
It's all fitting for a band that could perhaps only exist right now.
"I'm from a generation that has no scene - everyone listens to, enjoys and creates whatever they want," he says. "I want to do everything - make music, create fashion and art, absolutely everything. Its a good time for Husky Loops to be alive."
See, not your average rock band.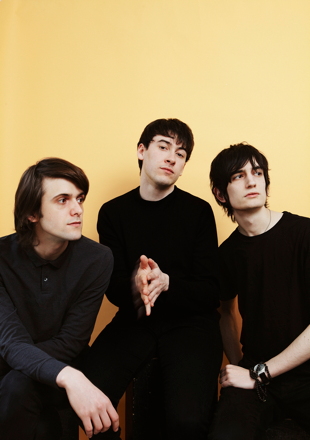 | | | | |
| --- | --- | --- | --- |
| Jan | Feb | Mar | Apr |
| May | Jun | Jul | Aug |
| Sep | Oct | Nov | Dec |