Destroy Boys
Contact
Formed in 2015 and carrying on the riot grrrl legacy, Destroy Boys are redefining Left Coast punk. Delivering a blistering take on teenage grind, Destroy Boys is what would happen if Blondie stumbled into a Misfits recording session. Lead singer Alexia Roditis' alternately sarcastic and wistful singing and Vi Mayugba's shredding guitar are both an homage and an evolution of all things classically punk.
Their first album 'Sorry, Mom' was a searing reminder of how recklessly expressive punk rock was designed to be and earned them a mention in Rolling Stone magazine by Green Day singer Billie Joe Armstrong in 2016 before either had graduated high school.
Destroy Boys' 2nd LP 'Make Room' was a huge step up for the group - tighter, harsher and smarter. Adding drummer Narsai Malik, the band toured the US & UK with SWMRS and again with Mannequin Pussy in 2019.
With new recordings on the horizon and a recent single 'Fences', the band head into 2020 with dates across the US already announced and more to come...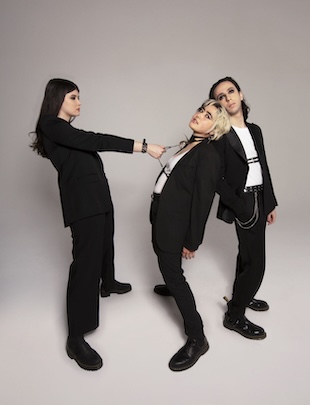 18 Feb, 2020

Destroy Boys share the lyric video for their new single 'Fences', out now.