Everyone You Know
Contact
"Do you miss raving?" "This hit me in the feels." "Gave me goosebumps, just amazing to see." "Man… this is the definition of 'vibes.'" "This is what music is about. Bringing everyone together for the good times." "Best lockdown track imo hands down."
Say it again: do you miss raving? As proven by those YouTube fan comments, everyone you know does, and so do Everyone You Know. One evening in mid-May the duo rocked up to London's Southbank for an impromptu performance of Just for the Times, the title tune from their new EP. The weather held, the Police hovered and the small crowd lost their springtime shit as the beatmaking, party-making pair brought some long-overdue, much-needed good times to the streets.
As attested by the track's combined 680,000-and-counting views – and those You Tube comments from appreciative fans – we needed this. We needed a dance. We needed this band. Everyone You Know are back, with Just for the Times, and just in the nick of time.
As that song goes: "This one's for the daydream believers, the parents turned teachers… to the late night lovers, boxset watchers in duvet covers, round-the-clock mothers and part-time clubbers, remember: we're all going through the same thing."
And there's more where that came from: another nine tracks and three skits that manage that unmanageable thing – to provide a soundtrack, a sign of the times, for the last 15 or so months. The highs, the lows, the deeper lows, the nostalgia, the frustration, the pent-up energy, the hope – it's all there, skewered in pin-sharp rhymes, layered over precision-tooled bedroom beats. Just for the Times is the sound of the summer and beyond, we need more than ever.
Everyone You Know are Rhys Kirkby-Cox (25, Man United through and through, a young father) and Harvey Kirkby (21, QPR till I die, a young studio geek). Technically – genetically – they're half-brothers, sharing a dad but not a mum. But really – actually – they're just brothers, best mates and simpatico songwriters who produce tracks out of their Denham based studio which their dad Steve built for them back in 2019 and which allowed them to work throughout the various lockdowns over the last 15 months or so.
In the distant months BC (Before Coronavirus) they were one of the most exciting breakthrough acts in the UK. Back in spring 2019 their track The Drive blew up, the tale-spinning lyrics striking a chord ("We're all jack the lads with bad habits/backing Jack, stacking fag packets in our jackets/drinks come in pints and the drugs come in packets/spilling cheap liquor on our Reebok Classics") and the video, conceptualised by the boys, going viral, racking up 6.5 million views to date.
A deal with Reebok followed, as did a FIFA 20 placement for summer 2019's track She Don't Dance (6.3 million You Tube views).
"With She Don't Dance and The Drive booting off, that was the moment where the momentum shifted," remembers Harvey.
"I don't know how many millions of people worldwide buy that game," says Rhys of FIFA. "so that exposure is unreal. Then we did our first festival season – Reading and Leeds, which was amazing. We opened the BBC Radio 1 Dance tent, and it was sick. We turned up at Leeds on Thursday night, got to the festival first thing in the morning, and thought: 'If there's a couple of hundred people here, cushty.' But we come out onstage and the whole tent was packed! Everyone was going mental!"
"Growing up, for me Reading and Leeds was the first proper weekender festival you went to," says Harvey. "It's a big moment – you leave school and have a proper time. So to go back three or four years later and perform there was so surreal."
Then they had their own six-week UK tour, then shows in Germany and France, then a tour with Professor Green which closed out the year. Into 2020 and the boys were all set.
"At the beginning of January, we'd just booked in another UK tour, and a US tour. Then we went to Monnow Valley in February for two weeks – proper iconic, legendary studio," marvels Rhys.
"Mate, it was mad!" chips in Harvey. "The room we were recording in, there was a photo of Liam stood in the same room singing, Noel on the guitar. I think they were recording Supersonic! It was just a legendary place to record new tunes."
One of those tracks was Charlie. Released by EYK last December as the first taster from the EP, it features a sung sample from The Streets' Weak Become Heroes: "kids on whizz, darlings on Charlie".
In the words of Harvey: "Mike Skinner is a legend, and a massive inspiration to us."
In the words of Rhys: "He's been a massive part of our growth as musicians. Just to know someone like Mike has heard your tune and is alright with you using their lyric is mind-blowing."
Back in London in early March 2020, Everyone You Know played two supports with DMAs, then an Annie Mac Presents night at the Old Blue Last in Shoreditch.
"Then someone said we might have to push back our US tour 'cause of Covid," remembers Rhys. "We were like, yeah, whatever, that'll blow over. Five days later, everything was cancelled. We put out our tune Seen It All on 21st March, two days before the national lockdown. That tune just got lost – no one cared! People had other things to think about, which is totally fair enough!"
"It felt like we'd been flying," nods Harvey. "Then the world just stopped.
The brothers couldn't see each other for months. But they ploughed on, making music remotely until the easing of Lockdown 1.0 in summer 2020.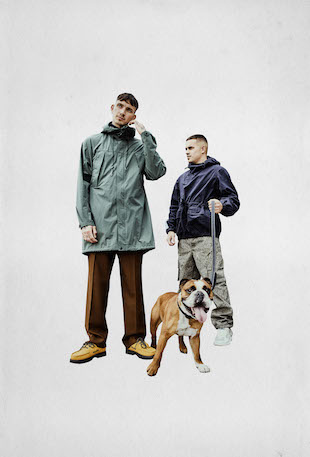 25 Aug, 2019

The third & final day of the Reading & Leeds Festivals, continues with these artists from the Primary Talent International roster, performing at both sites.

Reading Festival: Sunday
...Mayday Parade
...Sundara Karma
...CHILDCARE
...Everyone You Know
...nothing,nowhere.
...Anteros
...Æ MAK
...Vistas
...Big Heath

Leeds Festival: Sunday
...Counterfeit
...Bad Nerves
...Sports Team
...The Japanese House
...Sons of Raphael
...D-Block Europe
...Bexey
...Aitch
...Belako
...Alfie Templeman
...Steel Banglez

22 Aug, 2019

The Reading and Leeds Festival weekend begins on Friday, with The 1975 headlining the main stage at Reading and featuring a whole host of Primary Talent International artists, across all stages at both events.

Reading Festival: Friday
...The 1975
...The Wombats
...You Me At Six
...Twin Atlantic
...Kawala
...Dave
...Fredo
...Circa Waves
...Pale Waves
...The Night Café
...BLOXX
...Bowling For Soup
...Puppy
...Patent Pending
...Ten Tonnes
...No Rome
...Zuzu
...DigDat
...Tiffany Calver
...Deno
...Just Banco
...Swimming Girls

Leeds Festival: Friday
...Mayday Parade
...Sundara Karma
...CHILDCARE
...Everyone You Know
...nothing,nowhere.
...Anteros
...Æ MAK
...Vistas
...Big Heath

10 May, 2019

Day two of The Great Escape festival in Brighton features a whole host of Primary Talent International artists.

Friday 10th May:
...Amahla
...Greentea Peng
...LEISURE
...I See Rivers
...The Intergalactic Republic of Kongo
...Keyah / Blu
...Just Mustard
...BEA1991
...Blaenavon
...Chappaqua Wrestling
...Jockstrap
...Rachel Chinourri
...Murkage Dave
...Gia Margaret
...Self Esteem
...Aitch
...Everyone You Know
...Sports Team
...Mollie Collins
...High Contrast (DJ Set)
...404